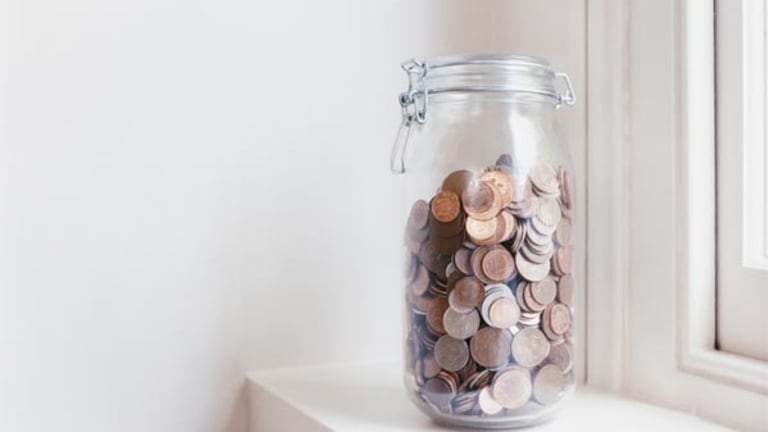 Big Banks: FOMC Losers
Bank stocks showed initial strength following the release of the Federal Open Market Committee minutes, but ended with declines.
NEW YORK (
) -- The nation's largest banks took it on the chin following the release of the minutes from the Federal Open Market Committee's meeting on July 30 and 31.
The
Dow Jones Industrial Average
(I:DJI)
was down 0.7%, while the
S&P 500
( SPX.X) was down 0.6% and the
Nasdaq Composite
(I:IXIC)
ended with a decline of 0.4%.
The
KBW Bank Index
(I:BKX)
was down 1% to close at 64.07, with all 24 index components showing declines, except for
Cullen/Frost Bankers
(CFR) - Get Cullen/Frost Bankers Inc. Report
of San Antonio, which was up 1% to close at $73.65, and
Bank of America
(BAC) - Get Bank of America Corporation Report
, which was up a nickel to close at $14.34.
Investors were focused on the release of the minutes from the most recent meeting of the Federal Open Market Committee. When the FOMC issued its last statement on July 31, there was no change in policy and the language of the statement was nearly identical to the previous one.
The
Federal Reserve
has kept the short-term federal funds rate in a range of zero to 0.25% since late 2008, and the FOMC has repeatedly said this "highly accommodative" policy was likely to remain appropriate at least until the U.S. unemployment rate dropped below 6.5%. The July unemployment rate was 7.4%, improving from 7.6% in June.
A more immediate concern for investors is the expected tapering of the Fed's monthly purchases of $40 billion in long-term agency mortgage-backed securities and $45 billion in long-term U.S. Treasury bonds, which has been going on since last September. The market has looked ahead to the expected rise in long-term interest rates that will be brought about by a limiting of Fed expansion, by pushing the market yield on 10-year Treasury bonds to 2.88% from 1.70% at the end of April.
According to the FOMC minutes released at 2:00 p.m. ET, committee members "generally continued to anticipate that the growth of real GDP would pick up somewhat in the second half of 2013 and strengthen further thereafter." That would tend to support tapering of Fed bond purchasing by the end of the year.
Then again, "A number of participants indicated, however, that they were somewhat less confident about a near-term pickup in economic growth than they had been in June; factors cited in this regard included recent increases in mortgage rates, higher oil prices, slow growth in key U.S. export markets and the possibility that fiscal restraint might not lessen."
The minutes spelled out the FOMC's view on Federal Reserve bond purchases, with a pretty clear timeline, all things considered. Key comments are italicized.
"First, almost all participants confirmed that they were broadly comfortable with the characterization of the contingent outlook for asset purchases that was presented in the June postmeeting press conference and in the July monetary policy testimony. Under that outlook,
if economic conditions improved broadly as expected, the Committee would moderate the pace of its securities purchases later this year. And if economic conditions continued to develop broadly as anticipated, the Committee would reduce the pace of purchases in measured steps and conclude the purchase program around the middle of 2014."
So there you have it. The FOMC broadly supports the views laid out in July by Federal Reserve chairman Ben Bernanke, and the central bank's balance sheet expansion should end by the middle of next year.
While the long quote above was rather specific, "in the view of the one member who dissented from the policy statement, the improvement in the labor market was an important reason for calling for a more explicit statement from the Committee that asset purchases would be reduced in the near future," according to the minutes.
The committee members discussed whether or not to provide "additional information on the Committee's intentions regarding adjustments to the federal funds rate after the 6-1/2 percent unemployment rate threshold was reached, in order to strengthen or clarify the Committee's forward guidance." But no additional guidance for the eventual lifting of the federal funds rate was included in the FOMC statement on July 31.
While the minutes were a bit more specific on the timing of the Fed's tapering of bond purchases, the details were unlikely to have surprised investors.
Then again, UBS economist Kevin Cummins said in an interview that the FOMC minutes were "
pretty consistent with a September taper
" of bond buying.
Other Economic News
The National Association of Realtors said
existing-home sales during July hit a three-year high
, rising to a seasonally adjusted annual rate of 5.39 million. Existing-home sales rose from a downwardly revised annul pace of 5.06 million during June, and were up 17% from a year earlier.
Meanwhile, it was clear that rising long-term rates were starting to take their toll on residential lending, with the Mortgage Bankers Association saying its Refinance Index had
declined 62% from its peak in May
. The MBA also said that mortgage loan applications for the week ended Aug. 16 were down 4.6% from a week earlier.
The average interest rate for a 30-year fixed-rate conforming mortgage loan with a balance of $417,000 or less, increased to 4.68% from 4.56% just a week earlier, with points paid at closing, including origination fees, increasing to 0.42 from 0.39, according to the MBA. The above figures are for loans with loan-to-value ratios of 80%.
"Conforming" mortgage loans are those that can be immediately sold to
Fannie Mae
(FNMA)
and
Freddie Mac
(FNMA)
. Most banks prefer to stick with confirming loans, as the quick and easy sales to the government-sponsored enterprises usually result in a profit for the lender, with the added -- and incredibly important -- benefit of getting the fixed-rate asset off the books.
RELATED STORIES:
Fed Prepares for September Taper
Housing Improvement Driving Bank of America's Costs Lower
Signature Bank Pushes Growth With Sales Hirings
Existing Home Sales Spike in July as Buyers Move Off Sidelines
Refinance Activity Plunges Further as Rates Rise
Justice Department Hits JPMorgan Again
Eminent Domain Plan to Seize Underwater Mortgages Could Sink City
-- Written by Philip van Doorn in Jupiter, Fla.
>Contact by
.
Philip W. van Doorn is a member of TheStreet's banking and finance team, commenting on industry and regulatory trends. He previously served as the senior analyst for TheStreet.com Ratings, responsible for assigning financial strength ratings to banks and savings and loan institutions. Mr. van Doorn previously served as a loan operations officer at Riverside National Bank in Fort Pierce, Fla., and as a credit analyst at the Federal Home Loan Bank of New York, where he monitored banks in New York, New Jersey and Puerto Rico. Mr. van Doorn has additional experience in the mutual fund and computer software industries. He holds a bachelor of science in business administration from Long Island University.