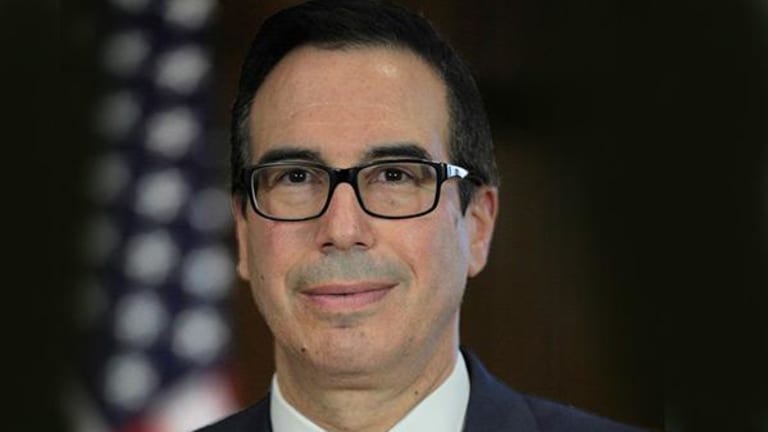 Big Banks Await Treasury Report on Modest Relaxation of Crisis Rules
The expected legislative and regulatory recommendations will be far less sweeping than a bill approved by the House of Representatives.
The largest U.S. banks are likely to benefit from a Treasury Department report expected late Monday that's expected to propose modest changes to tough financial regulations imposed after the 2008 financial crisis.
The report, written in response to a Trump Administration executive order in February, is projected to be 160 pages long and released under the oversight of Treasury Secretary Steve Mnuchin after the markets close on June 12, according to people familiar with the matter.
Its recommended changes are likely to be far less sweeping than legislation approved last week by a divided House of Representatives that seeks to eliminate key sections of the Obama Administration's post-crisis Dodd-Frank Act, according to a Politico report, which cited unidentified sources. The House bill was approved June 8 without a single Democrat backer.
Even small alterations stand to buoy lenders from Bank of America Corp. (BAC) - Get Bank of America Corp Report   to JPMorgan Chase & Co. (JPM) - Get JPMorgan Chase & Co. Report , Wells Fargo & Co. (WFC) - Get Wells Fargo & Company Report , Citigroup Inc. (C) - Get Citigroup Inc. Report , Morgan Stanley, (MS) - Get Morgan Stanley Report and Goldman Sachs Group Inc.  (GS) - Get Goldman Sachs Group, Inc. Report   -- and they would likely have a greater chance of approval. 
Any legislation that reaches the White House would need the support of some moderate Democrat senators, since Republicans have only a 52-seat majority and 60 votes are needed to prevent a filibuster. As a result, the package will be carefully reviewed by the Senate Banking Committee and its chairman, Sen. Mike Crapo, R-Idaho, who is expected to release his own legislation to restructure the Dodd-Frank Act.
According to Politico, the Treasury report will highlight many areas that require further study and recommend that banks with less than $10 billion in assets be exempted from the Volcker Rule, designed to keep banks from so-called proprietary trading on their own accounts.
The expected recommendation is vastly different than what the House bill proposes -- a complete elimination of the Volcker Rule, named for former Federal Reserve Chairman Paul Volcker who proposed it -- and many other standards in exchange for a higher capital buffer.
The Treasury report will also propose raising the threshold at which banks are deemed Systemically Important Financial Institutions -- and thus subjected to stricter oversight -- from the current $50 billion in assets. The benchmark is so low that it has hurt regional lenders, critics say.
The findings are expected just a few days ahead of a Thursday, June 15, Senate Banking Committee hearing that will focus on the SIFI threshold and other regulatory issues affecting regional banks.
Zions Bancorp (ZION) - Get Zions Bancorporation, N.A. Report CEO Harris Simmons and Randy Chesler, CEO of Glacier Bancorp (GBCI) - Get Glacier Bancorp, Inc. Report , are both scheduled to testify and are likely to say that the SIFI threshold has hurt companies like theirs more than so-called global banks. At the hearing, Crapo -- the committee chairman -- may provide some guidance about his own legislative proposals.
While any change to the Volcker Rule or SIFI threshold would require Congressional action, the Treasury report is also expected to suggest alterations that could be handled administratively. Those would have more immediate relevance to investors, said Keefe Bruyette & Woods analyst Brian Gardner.
"The Dodd-Frank Act leaves broad discretion to the regulators when implementing the law's regulations, and banking regulators appointed by the Trump administration will have the opportunity to change some current rules without seeking congressional approval, which is required to change the statute itself," Gardner said in a report.
Additionally, the recommendations, like the House bill, will reportedly seek to bar the Consumer Financial Protection Bureau -- also a product of Dodd-Frank -- from examining banks.
The CFBP, which was set up to write rules for mortgage and credit products, currently has the authority to examine banks, thrifts and credit unions that have assets of more than $10 billion. Critics argue that the CFPB's exams overlap with those of other bank regulators, creating unnecessary costs.
Backers, however, insist that the agency's exams are vital, pointing out that the watchdog agency has returned billions of dollars to consumers since it was formed in 2011.
While Trump also asked the Treasury Department, in April, to review a system set up after the 2008 crisis for handling failures of large banks, a report on that isn't expected until the fall.
When Trump requested that examination, he also told Mnuchin to avoid using the system, known as Orderly Liquidation Authority, as much as possible. Of particular concern, the president wrote, is whether the system improperly shifts costs to taxpayers, might cause excessive risk-taking and conflicts with his goal of curbing unnecessary regulation.