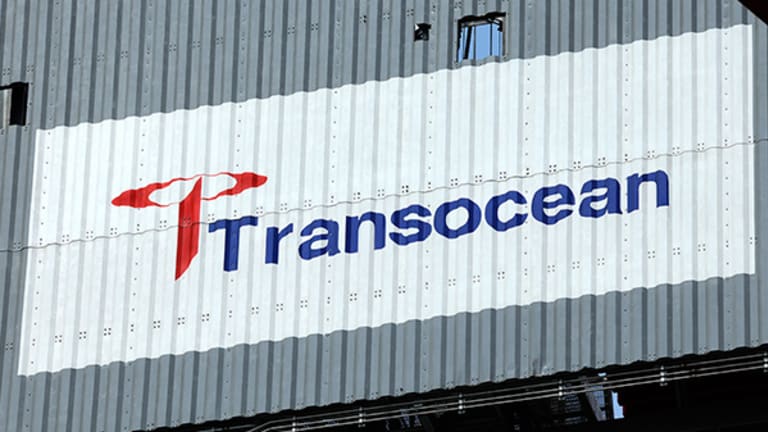 Beware: Transocean Could Go the Way of Embattled Seadrill
Overextended oil driller Seadrill currently teeters on the edge of bankruptcy. Peer Transocean might not be far behind.
Seadrill (SDRL) - Get Seadrill Ltd. Report isn't the only toxic stock in the energy patch. Another indebted oil drilling firm that could soon share Seadrill's woes is Transocean (RIG) - Get Transocean Ltd. Report . Despite RIG's recent spike in share price, you shouldn't touch the stock with a barge pole.
On April 4, Seadrill's shares plunged more than 55% to close at a record low of 74 cents. Before the market opened on Friday, SDRL shares hovered at about 70 cents.
The culprit for SDRL's  dizzying fall: The offshore drilling contractor warned on Tuesday that its debt restructuring process would result in significant losses for its shareholders and bond investors, sparking widespread speculation of likely bankruptcy.
As oil prices rise, many analysts have been excessively bullish about not only Seadrill's prospects, but also its peer Transocean. Indeed, the latter's stock has climbed since Seadrill's announcement, on the misguided assumption that Seadrill's difficulties will rebound to Transocean's favor.
More rational investors, though, realize that the oilfield services sector as a whole is a dicey prospect these days. The benchmark iShares US Oil Equipment & Services ETF (IEZ) - Get iShares U.S. Oil Equipment & Services ETF Report has fallen 6.64% year to date, compared to a gain of 5.33% for the S&P 500 (SPY) - Get SPDR S&P 500 ETF Trust Report .
The upshot: There are better places for your money than debt-laden and shaky oilfield services companies such as Transocean.
With a market cap of $4.93 billion and a far-flung global presence, Switzerland-based Transocean uses internal cash flows and capital markets to finance new build rig campaigns.
A major problem for the company is that it primarily offers deepwater and harsh environment drilling services, two areas that were booming when oil prices were high, but which were drastically cut back during the oil price recession. Recovery of deepwater drilling activity has been slow.
During the "go-go" years leading up to the oil bust of 2014, Transocean expanded with an aggressiveness that in hindsight now appears reckless. Transocean's total debt stands at $3.05 billion, for a total debt-to-equity ratio of 53, which is high by any yardstick. Operating cash flow is an anemic $1.91 billion.
And yet, Transocean's projected earnings growth paints a grim scenario. The average analyst expectation is that RIG will generate year-over-year earnings growth of -111.60% in the current quarter, -152.9% in the next quarter, -133.10% in the current year, and -75.9% next year. That's hardly reassuring and probably insufficient to cover the company's staggering debt load. Buyer beware.
I just sent the cable company a check... but I got an even bigger one back
Writing my monthly check to my cable company used to really burn my biscuits. But that all changed when a construction worker friend clued me in on a virtually unknown Cashback Program that sends me checks every 90 days. Now, I get cash back from my cable company, PLUS I earn money just for using websites like Netflix, Facebook, and Google. Any American citizen can get in on this lucrative opportunity and start getting checks just like me. Click here to get the details on this program.
John Persinos is an analyst at Investing Daily. At the time of publication, he owned none of the stocks mentioned.