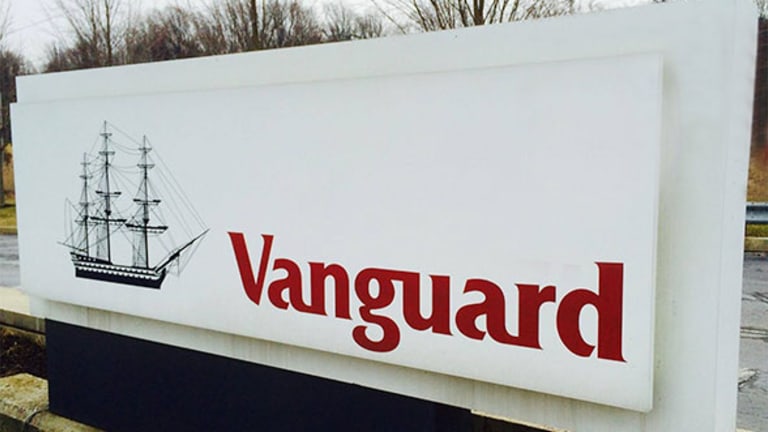 Beware Risks That Aren't Priced Into Stocks: Vanguard's Gus Sauter
U.S. investors need to beware big risks that aren't priced into the stock market, said Vanguard's Gus Sauter. Among those factors are demographic change and a strong dollar.
PHILADELPHIA(TheStreet) -- Several big, systemic risk factors aren't really priced into the stock market now, said Vanguard's former Chief Investment Officer George U. "Gus" Sauter.
Sauter cautioned that U.S. investors should think carefully about demographics, corporate profit margins and the effect of the strong dollar. Sauter spoke at the Bogleheads do-it-yourself investor get-together outside Philadelphia. The Bogleheads embrace Vanguard as a low-cost mutual fund company and had several Vanguard higher-ups talk with them. Before his retirement in 2012, Sauter oversaw $1.7 trillion in Vanguard fixed income and equity funds. He currently serves as a senior consultant to the mutual fund company, which is the world's largest.
Demographic changes will significantly shape the U.S. and its stock returns in the future, Sauter said. Life expectancy has continually increased, as has the length of retirement. (According to the U.S. Centers for Disease Control and Prevention, life expectancy for the average person in the U.S. at birth in 1900 was 47.3 years. In 2013 it was 78.8.) Saving for and living in retirement is a very long-term affair.
Sauter presented charts showing the U.S. population, which featured big bulges at the Baby Boom, from about 1945 to 1964, and for the up-and-coming Millennial generation, from about 1980 to 2000.
Sauter noted that those who are about 35 to 55 are in the prime spending years of life -- paying for a house, funding kids' expenses and college, and taking care of their parents. Those are Gen X-ers, those born between the Baby Boomers and Millennials.
It shouldn't be a surprise that economic growth is a bit slow now or that companies are cutting costs, Sauter said. There aren't enough Gen X-ers to support the flush economic growth that was a hallmark of the Baby Boomers' prime years.
But don't give up on the U.S. economy, he said -- Millennials are about to hit their prime earning years, and the U.S. economy will likely thrive again in response.
Sauter also noted that investors should be aware that a strong U.S. dollar can distort market returns. "Essentially you're exporting your economic strength abroad" when the U.S. has a strong dollar, he remarked. That means that corporate earnings for U.S. companies will look worse than they are -- an effect that will reverse once the dollar weakens again.
"I do believe there are inefficiencies in the market," Sauter said. But taking advantage of those inefficiencies is not easy to do. What's more, he said, "I'm not advocating changing your asset allocation."
"The U.S. economy has been the strongest economy in the developed world for a long time," Sauter said. How should investors participate? Not surprisingly, given his career at index-fund powerhouse Vanguard, he advocates
.