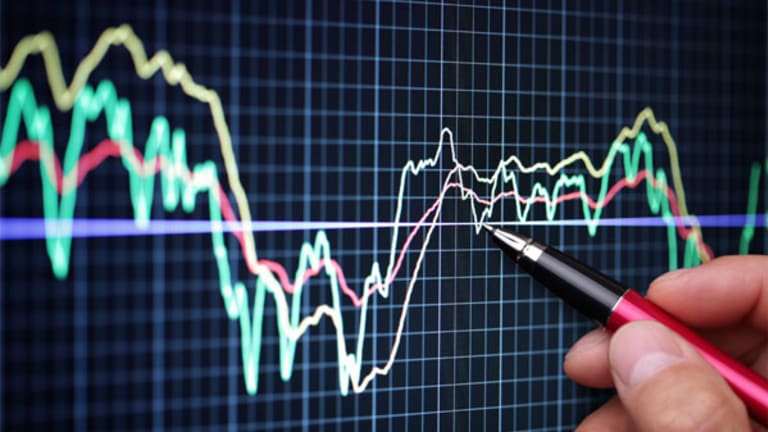 Beware Not-So-Safe Havens
Don't be tempted by the historical appeal of gold or the perceived stability of utilities.
NEW YORK (Real Money) -- After another chaotic day on Wednesday, the market is poised to close out one of its worst months in a long time on Thursday. Most investors will be eager for a fresh start in June. May has again been troublesome to investors, with most major stock indices falling by 5% or more in the U.S. and European equities experiencing significantly greater declines. With stock prices in free-fall mode, many investors who have been battered by the huge swings in markets are no doubt looking for places to ride out the storm. But if you're in search of a safe haven, exercise extreme caution: Some of your traditional options might not hold the appeal they once did.
Gold has long been a destination for investors expecting stock markets to hit turbulence; the yellow metal has a long history of skyrocketing when stocks slide. But that hasn't been the case so far in 2012, as the correlation between precious metals and stocks has strengthened considerably and investors seeking refuge in gold have been sorely disappointed. It took a mini rally in bullion prices on Wednesday to push the
SPDR Gold Shares
(GLD) - Get SPDR Gold Shares Report
into positive territory for the year. Gold has actually had a worse month than stocks. The GLD is down about 6% heading into the final session of May, while the
SPDR S&P 500
(SPY) - Get SPDR S&P 500 ETF Trust Report
has shed about 5.6% of its value so far.
Another popular safe haven historically has been utilities stocks. This corner of the market is known for its low volatility and attractive dividend yields -- two characteristics that make it quite appealing to those seeking to take risk off the table. But right now there's a bubble in the utilities sector, which will seriously jeopardize the ability of this asset class to act as a safe haven in the short term. The
Utilities Select Sector SPDR
(XLU) - Get Utilities Select Sector SPDR Fund Report
currently has a forward P/E ratio well above the broad market -- and in fact even higher than the
Technology Select Sector SPDR
(XLK) - Get Technology Select Sector SPDR Fund Report
by a fair margin. As investors have flocked to low volatility stocks, utilities have benefited. But current prices are out of line with the underlying fundamentals, so it's only a matter of time before utilities see a big selloff.
XLU's PE-to-growth multiple -- a metric used to gauge how expensive future earnings are -- is close to 4x right now. The same metric for the broad market is just above 1x, indicating a huge premium baked into utilities. A sector with long-term earnings growth expected to come in at around 3% isn't worth the huge multiple being afforded to XLU. This ETF has thrived thanks to major interest in lowering volatility, but it hasn't earned the appreciation through commensurate earnings growth. The unearned premium will ultimately deflate, which makes utilities ETFs such as XLU a dangerous place to seek shelter now.
If you're fed up with the volatility and would prefer to wait until the European debt drama subsides, it makes more sense to pull risk off the table completely. Don't be tempted by the historical appeal of gold, or the perceived stability of utilities. Climb into cash with a zero risk fund such as PIMCO's MINT or State Street's BIL. In the current environment, gold and utilities are flawed options that could serve to only deepen your losses.
Michael Johnston is the senior analyst and founder of ETF Database, a Web-based investment resource providing actionable ETF investment ideas and an
for investors analyzing potential ETF investments. Johnston oversees ETF Database's free
, one of the most popular sources for news and commentary focusing exclusively on the exchange-traded fund industry. Johnston also maintains and develops content for
, a line of analyst reports and model portfolios designed to help investors utilize ETFs to meet their investment goals.
Johnston has completed the Chartered Financial Analyst (CFA) program, and obtained his bachelor's degree in finance from the University of Notre Dame. Prior to founding ETF Database, Michael worked in a private client service group performing valuations of companies operating in a wide range of industries.