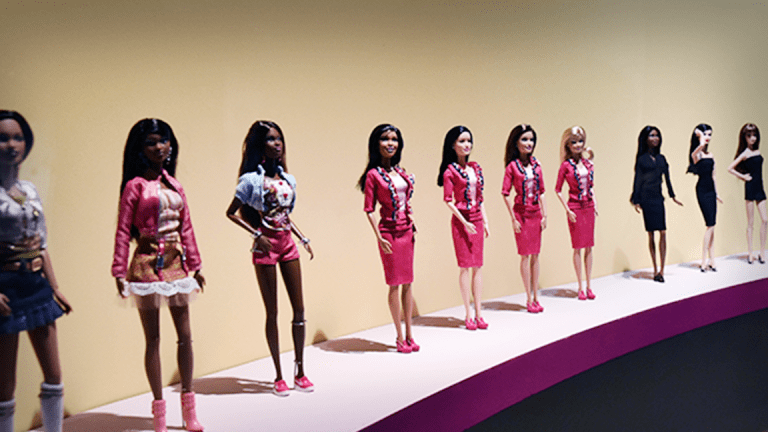 Between Bad Mattel and Ugly Celgene, I Know Which One I Prefer: Market Recon
If you try to catch a falling knife, here is how to go about it. Falling knives are all around right now, including Mattel and Celgene.
Where does one catch a falling knife? Should one even try. Is there a sweet spot that makes either Mattel (MAT) - Get Mattel, Inc. Report or Celgene (CELG) - Get Celgene Corporation Report look attractive? Jeez Louise, maybe we should take a look at the charts.
First, Mattel. The firm reported $0.09 a share Thursday night versus expectations of $0.57. The net loss? Just $1.75 a share after including a charge of $561 million after a valuation allowance on deferred taxes. American Girl? Down 30%. Fisher-price? Down 15%. Barbie? Down 6%. Hot Wheels? Down 4%. The dividend? Down 100% after last night. The stock? Currently down 19% from last night's close. Buy this stock? Not with your money.
The chart below indicates that despite some positive institutional money flow coming into earnings, there is not an apparent, or even hopeful support level that makes itself visible. The only hope is the cost-cutting program being pursued by CEO Margo Georgiadis. Hasbro (HAS) - Get Hasbro, Inc. Report remains the better play if you must play this space, despite all of the uncertainty around Toys R Us.
The selloff that shareholders have seen in Celgene is truly catastrophic. The firm beat EPS expectations. Revenues missed, but still grew more than 10% year over year. The firm's fumble last week on its Crohn's disease new drug application is now well known, and has caused the firm to steer 2017 revenue guidance toward the lower end of the range.
Is there a spot to buy this one? Well, the answer, unlike with Mattel, is a definite maybe. The stock closed just around par Thursday night, after a brutal beat-down. Take a look at this chart. Print it out, and we'll discuss below.
Wanna Make Some Dough?
What does Sarge see here? I see a Relative Strength of 11, which is absurd for a firm not being accused of anything. Badly oversold. Institutional investment had been healthy prior to last week, indicating that a lot of folks have recently tried to squeeze through a small hole. Some of them may have cooled their jets if they had humans steering the ship. The moving average convergence divergence (MACD)? Don't even go there.
My point is that there may be a technical bounce from here. The environment is also likely far too dangerous for the retail investor to "take a shot". You can still make money here. Think the stock will stay around $100 a share? Me neither. I don't like to purchase options, as you know. I like to write them. However, opportunity like this is unique. Depending on where this thing opens, we'll use $100 as that is close to where it went out, but adjust that to the open.
If you think this stock will move more than two and a half bucks on Friday, or more than five bucks in a week's time, then you just may want to take a look at the purchase of a simple straddle -- an option to buy and to sell the security at the same price on the same date -- expiring either tonight, or next Friday. Go out further than that, and this idea becomes potentially expensive for the retail trader. This idea, though, is a way to take a non-directional shot in a name expected to display short-term volatility, while not exposing oneself to inordinate risk. Just a thought, kids.
This is an excerpt from Stephen "Sarge" Guilfoyle's Morning Recon, which now appears exclusively on Real Money, our premium site for active traders. Click here for a free 14-day trial and receive Morning Recon every day, along with exclusive columns from Jim Cramer, James "RevShark" DePorre, technical analyst Bruce Kamich and more.
____________________________
Join Jim Cramer, CNBC's Jon Najarian and Other Experts Oct. 28 in New York
Jim Cramer will host CNBC's Jon Najarian, TD Ameritrade's JJ Kinahan, famed analytics expert Marc Chaikin and other market mavens on Oct. 28 in New York City to share successful strategies for active investors.
You can join them as they discuss how smart investors can make the most of options trading, futures contracts, fundamental and quantitative analysis and great ETFs to buy right now. Participants will also get a chance to meet Jim and other panelists and take photos.
When: Saturday, Oct. 28, 8 a.m.-3 p.m.
Where: The Harvard Club of New York, 35 West 44th St., New York, N.Y.
Cost: $250 per person.
Click here for the full conference agenda or to reserve your seat now.
More of What's Trending on TheStreet:
At the time of publication, Stephen Guilfoyle had no position in the securities mentioned.