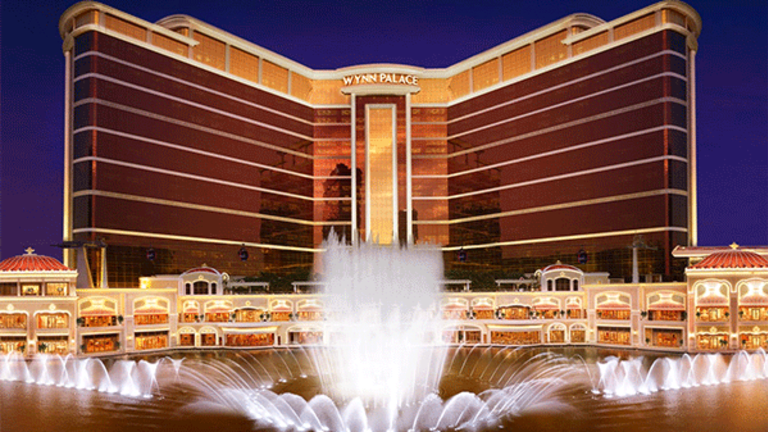 Bet on China's Middle Class to Propel Macau's Next Gambling Boom
The small island off the coast of Hong Kong seeks to attract more visitors from the mainland and see a gaming revenue rebound.
For many gamblers in the U.S., Las Vegas is the center of the universe.
But despite its outsize reputation, Las Vegas is small potatoes next to Macau, the world's largest gambling complex on the island close to Hong Kong. Macau is seven times larger than Las Vegas in terms of total revenue.
After a two-year slump in gaming revenue, as shown in the graph below, Macau's gambling business is picking up speed.
But it isn't rich VIPs driving profits. It is China's middle class and a more diversified Las Vegas-like business model.
Macau was a Portuguese colony until 1999, when it was transferred back to China.
Similar to Hong Kong, Macau operates under the "One Country, Two Systems" policy. This makes Macau an autonomous territory, which means that it is ruled by mainland China, but it isn't part of China.
Gambling has been legal in Macau since 1847. But foreign casino companies weren't allowed to operate there until 2002.
As soon as foreign casinos opened their doors in Macau, gambling revenue skyrocketed.
Macau casino gaming generated about $2.7 billion in revenue in 2002. By 2013, revenue exceeded $45 billion. 
Gambling has long been a part of Chinese culture. So Macau, just off the coast of mainland China, is perfectly situated.
Travelers from China and Hong Kong make up 90% of the gamblers visiting Macau.
As the graph above shows, Macau's gaming revenue peaked in 2013 and then fell 35% in 26 months. Last August marked Macau's first year-over-year monthly gain in revenue in two years, and gaming revenue has been looking better since then. 
In general, Macau's casino customers are divided into two groups: VIPs and mass-market gamblers. VIP visitors usually have at least a few hundred thousand dollars to gamble at tables where the minimum bet is about $500, compared with mass-market visitors, who typically play at the $100-or-lower-minimum tables. 
Historically, VIPs have made up about two-thirds of Macau's casino revenue. One VIP gambler betting $10 million could generate the same amount of revenue as 1,000 mass-market gamblers betting $1,000 each. 
But many VIPs use Macau gambling "junkets," which allow them to circumvent Chinese capital withdrawal limits and to launder money.
VIPs have used junket operators to transfer millions of dollars overseas from Macau. All they had to do was claim that the money was "lost" at the tables, easily getting around mainland laws limiting the amount of cash that Chinese citizens can take out of the country. 
One report estimated that more than $200 billion was laundered through Macau every year through 2013. That is about four times the gross domestic product of Macau.
But in 2013, Xi Jinping, the Communist Party general secretary, led an extensive anti-corruption campaign, which included cracking down on junkets. As a result, organized crime retreated into hiding, and many wealthy Chinese, government officials included, limited ostentatious displays of wealth to avoid attention from authorities.
The crackdown on junkets caused the number of VIP visitors to Macau to decline and sharply curtailed the island's gaming revenue.
Macau's negative revenue trends began to ease last year.
In August, the island's gaming revenue posted a year-over-year revenue gain of 1.1%. Revenue climbed to 7.4% in September and then rose again to 8.8% in October.
There was a 14.4% jump in November, followed by an 8% increase last month.
New resorts are opening in Macau while China's economic outlook brightens. The island is even seeing increased VIP revenue.
Together, these factors have contributed to improved gaming revenue. And a slight softening of the Chinese government's anti-corruption campaign, though difficult to measure, could have boosted revenue, too. 
Macau has been known for its intense and seedy, gambling-focused environment.
But casinos in Macau are also changing their "game" to attract more non-gaming tourists. They are slowly shifting toward a full resort experience, comparable to Las Vegas. 
One of the things that China's growing middle class is spending money on is travel. And some of these newly minted tourists are finding themselves in Macau.
In response to the demands of visitors, casinos in Macau are offering family entertainment, fine dining and live shows, on top of normal gambling activities.
One estimate shows that 300 million Chinese citizens are rich enough to travel to Macau, but just 25 million of them have ever visited the island.
As Macau transforms from a hard-core gambling destination to a gaming resort with middle-class appeal, the island's gaming companies might be at the beginning of a long winning streak. 
---
Macau's casinos look promising. But they aren't the only way to invest in China's middle class. At Truewealth Publishing, we've found other great investment opportunities. "Project H" is one of these. And you can click here to learn more about it.
This article is commentary by an independent contributor.
Kim Iskyan is the founder of Truewealth Publishing, an independent investment research company based in Singapore. Click here to sign up to receive the Truewealth Asian Investment Daily in your inbox every day, for free.