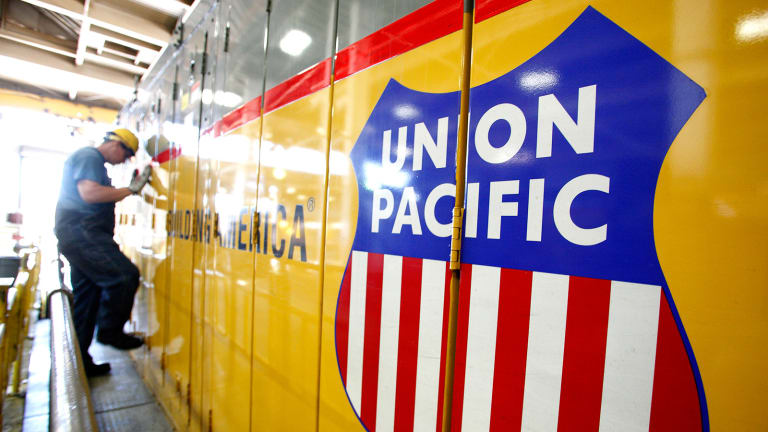 Best Way to Play Union Pacific on This Rise? A Two-Way Trade With CSX
Go long CSX and pay for it by shorting UNP.
Men My Age
Across the board, American men in their 50s can obviously be very different. Different intellectual pursuits. Different recreational interests. Different cultural backgrounds, and therefore preferences. There is one thing that catches our attention. All of us. We all like big machines. Ships, construction equipment, 18-wheelers and trains. Yes, we all enjoy watching trains work, except of course if we depend upon commuter trains for personal transport for a few decades. Passenger trains, however, don't quite capture the imagination of the eight-year-old inside us the way a freight train can.
As an investor/trader, I have dabbled in rail. A believer in the abilities of the late great Hunter Harrison, I had in recent years, made a little dough in CSX Corp (CSX) , and then given some of that hard-earned dough right back in a poorly timed exit from the SPDR S&P Transportation ETF (XTN) this past November and early December. It could have been worse. Dollar strength coupled with a weakened trajectory for global economic growth took the transports lower. That led industrial-type names lower. Dow Theory. Potentially scary stuff.
But wait, as markets have turned on talks with China, and a seemingly more thoughtful central bank, the dollar has at least stopped strengthening. Precious cargoes such as oil have stabilized. The railroads are suddenly alive. Union Pacific (UNP) , long considered the crown jewel of the space, is in the news this morning. Wow, is it ever.
One Man
Jim Vena is but one man. at least that's what I'm told. Remember the buzz around Hunter Harrison taking the top job at CSX Corp (CSX) in 2017? This hire by UNP of Jim Vena as Chief Operating Officer is the hottest thing in railroading since then. Vena, in fact, will come out of retirement after serving 40 years at Canadian National Rail (CNI) where he had once been Hunter Harrison's protege. At Canadian National, Vena had been highly regarded for helping the firm achieve top operating ratios (the opposite of operating margins) and improved safety records.
In came the analysts, as if waiting online just to say something nice. Scotiabank went from a Sector Perform to an Outperform, while lowering its target price from $175 to $165. Don't ask me. Then Seaport took the name from a Neutral to a Buy while announcing a $165 target price. Cowen took its target price from $153 up to $178, while upgrading the stock, while RBC Capital also upgraded this name. All because of one man. Guess they really, really like him.
In Comparison
Just looking over and quickly comparing the balance sheets of CSX Corp, Norfolk and Southern (NSC) and Union Pacific, I really don't see UNP, though the biggest, as the best performer in a lot of key categories. Perhaps that is why they went out and hired a clean-up hitter. In terms of forward looking P/E ratios, CSX is the cheapest. Profit margins? Again, CSX wins. Leveraged Free Cash Flow as a percentage of Operating Cash Flow? You guessed it... CSX. Debt to Capital? Give that one to NSC, but CSX is second. I think I am talking myself into getting back involved with CSX... and I started out looking for a trade in UNP.
Fun Two-Sided Trade
Like math? Try to wrap your head around this. What I am thinking of doing, with the last sale of UNP now around $151.40 (+9.2%) is shorting the stock, and using the money to buy CSX, now trading around $63.40 (+1.3%). Given that one share of CSX trades at roughly 42% of the value of one share of UNP, for every 42 shares of UNP shorted, the idea is to buy 100 shares of CSX (21/50, 10/25). That keeps the trade dollar neutral, while the two positions sort of hedge each other -- the bet on either CSX outperforming UNP to the upside, or UNP underperforming CSX to the downside.
The trick is to be disciplined when pulling the trigger. What does that mean? That means that given that there is $88 dollars between the two last sales as I write this article, then the trader only commits to the sale when the purchase can be made for at least $88 less than said sale price. Got it?
(This column originally appeared at 11:34 a.m. ET on Real Money, our premium site for active traders. Click here to get great columns like this from Jim Cramer, Stephen Guilfoyle and others even earlier in the trading day.)
At the time of publication, Guilfoyle had no positions in any of the securities mentioned.