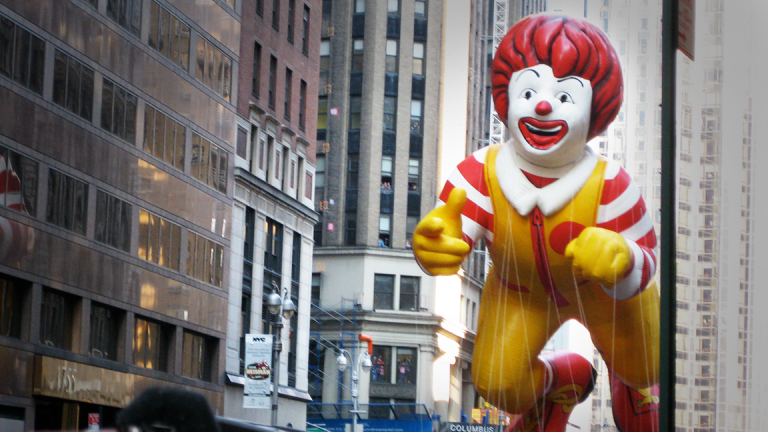 I love McDonald's (MCD) - Get McDonald's Corporation (MCD) Report .
In fact, I ate dinner there with my wife on Sunday after 5 p.m. Mass. Have you tried that new Quarter Pounder? If you have not, since the firm went to fresh beef, then you have never tried the darned thing. It's awesome. Give it a shot. I'm hooked.
Fundamentals 
Fundamentally speaking, the name trades at 19.1 times forward-looking earnings, the S&P 500 undefined at 17.6 times, so the stock is not necessarily cheap at first glance. Back in July, the firm reported second-quarter earnings that beat expectations on both the top and bottom lines. Comparable store sales showed strength globally, but disappointed domestically. Levered free cash Flow is strong. Though the firm is saddled with $31 billion in total debt, its current ratio is under control. Short interest is insignificant, so not a factor, also not an artificial source of support.
I will tell you flat out what I do not like. Second-quarter revenue showed an 11.6% year-on-year decline. In fact, while earnings continue to grow, the three-year sales rate is still a negative number. Heck, book value per share is a negative number. Are there positives? Of course.
Margins remain healthy, and they pay you 2.6% just to own the darned shares. On top of that, these shares are down nearly 9% year to date. Now, we are going to have to look at a chart (or two).
My Technical Analysis
View Chart »View in New Window »
Well, it's plain to see that the guys writing the algorithms can also read Fibonacci levels.
View Chart »View in New Window »
Oddly, Money Flow has been solid, while the stock has not only been stuck in low gear, it's been in reverse this summer. You can see the name hanging onto a 61.8% retracement of the early March through early June move by a thread. In fact, the spot has been pierced without actually breaking several times now.
A Pitchfork has developed that forced me, as an investor, to accept the possibility that the share price might have to move lower before I decide that the risk is in my favor as an equity investor. The average of 14 Wall Street analysts who have set 12-month price targets for McDonald's is a lofty $183.73. the lowest among them is $165.
Guess what? I don't care about them. Good chance that few of them have skin in the game, or even ever will. Warren Buffett is known as a value investor. Buffet is obviously well aware of the McDonald's product. Buffett has not taken a bite of McDonald's. At these prices, that makes sense.
However, Buffett is huge. I am not. When Buffet moves through the jungle, he leaves a trail of flattened vegetation that many can and will follow. People like us can still move swiftly and silently. They don't see us coming or going.
The Trade
Recent support has been a sloppy $155, I don't trust it. The 2018 low is around $147. I don't know about you guys, but I am going to engineer a net basis in that neighborhood -- or at least get paid to try. So, let's rock... and then let's go eat some of those delicious new Quarter Pounders. Even better without the cheese, dudes.
Equity?
Not at this last sale, sport.
Write a Cascading Series of Puts (minimal lots)
Those expiring close to the third quarter October 25 earnings release? Now, you're talking.
Sell (write) one $150 October 150 put (last: $1.75);
Sell (write) one $145 October 145 put (last $1.06);
Sell (write) one $140 October 140 put (last $0.51);
Aggregate Credit: $3.32.
Free White Paper: 7 Things All Investors Must Know in 2018. Start the second half off right with our free white paper on seven key things to watch this year. From how much cash to have on hand to the three reasons this bull market might die, our white paper features key takeaways from an all-star panel that TheStreet and Fisher Investments recently hosted in New York. Click here to register for your free online copy.
At the time of publication, Guilfoyle had no positions in the stocks mentioned.