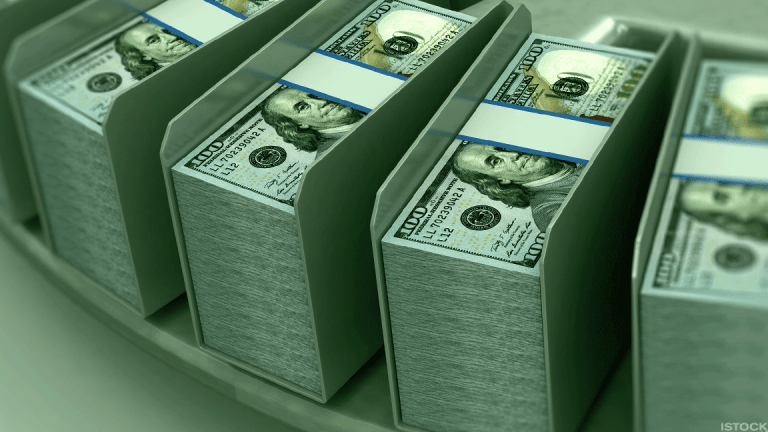 3 Investments You Are Probably Not Considering, But Should Be
Even with the market looking wobbly, there are good bargains to be found. Here are several suggestions from TheStreet's newsroom.
As TheStreet's founder Jim Cramer often says, there is always a bull market somewhere.
And with stocks continuing to be off their record highs and global growth still solid, there are bargains to be found. 
Here are several suggestions from TheStreet's newsroom.
Republic Services
Via: @BrianSozzi
Republic Services (RSG) president and CEO Donald Slager makes the case to potential investors pretty simple.
"Garbage is good," Slager tells TheStreet. "People like the stability of our cash flow and the predictability of what we do with that cash flow." Slager says Republic Services will return $3 billion of cash to shareholders over the next three years in buybacks and dividends. The company is on the prowl for acquisitions too, Slager says, as a means to strengthen its number two position behind rival Waste Management (WM) .
It also helps to deliver good quarters. The company's first quarter adjusted earnings surged 35% from the prior year, fueled by strength in the large container business.
Although Republic Services shares trade at 20 times forward earnings estimates, a premium to the broader market, the defensive nature of the garbage business and strong track record of Slager makes the stock a worthy long-term investment. 
Watch TheStreet's interview with Slager below.
Biotech ETFs
Via: Alexander Nicoll
Biogen's (BIIB) surprisingly positive news on a potential Alzheimer treatment drug should peak everyone's interest in the biotech space. One way to gain diversified exposure to the notoriously volatile sector is through ETFs.
Biotech ETFs offer a variety of options to choose from depending on what an investor desires. Within the biotech sector, there are ETFs that hold just small and mid-cap companies or that involve an even more specific subsection of the industry. Average investors might want to look at the two largest biotech ETFs - the iShares Nasdaq Biotechnology ETF (IBB) and SPDR S&P Biotech ETF (XBI) - for more promising returns on their investments, George Gagliardi, a financial advisor for Coromandel Wealth Management, said in an email to TheStreet.
"XBI is equal weighted, rebalanced periodically, and allows the buyer to place similar wagers on over 100 different biotech companies," Gagliardi said. "IBB consists of nearly 200 cap-weighted biotech stocks, and the buyer gets larger positions in the larger and more well-known biotechs."
Gagliardi views investing in these two ETFs as a smart way to take a broad-based stake in the sector, seeing the potential gains being higher compared to the S&P 500 undefined over time.
Since the beginning of the year, the IBB has under-perfomed against the Nasdaq Composite undefined , gaining 6.3% compared to the Nasdaq's 9.3%. Conversely, the XBI has outperformed the S&P 500 by 10%.
Watch Jim Cramer discuss Biogen's positive news below. 
Taiwan Semiconductor
Via: @EricJhonsa
Taiwan Semiconductor has long been the world's largest chip contract manufacturer (foundry), and currently has a market share estimated to be north of 50%. Its client base includes Apple (AAPL) , Nvidia (NVDA) , Advanced Micro Devices (AMD) , Broadcom (AVGO) , Qualcomm (QCOM) , Xilinx (XLNX) and quite a few other high-profile chip developers.
Here's why to be bullish.
Leadership Position
The company has a lead on top foundry rivals Samsung and Globalfoundries in reaching volume production for its 7-nanometer (7nm) manufacturing process. Apple and AMD are due to ship 7nm chips made by Taiwan Semiconductor later this year, and should be followed by many others in 2019. Taiwan Semiconductor might also start mass-production for a 5nm process (it's set for 2020) ahead of rivals.
Wounded Rival
Mass-production of chips relying on Intel's (INTC) 10nm process (seen as roughly equal to Taiwan Semiconductor's 7nm process) now isn't expected until some point in 2019. That gives AMD, and perhaps also some other Taiwan Semiconductor clients such as Qualcomm, Xilinx and Cavium (CAVM) , a golden opportunity to take share from Intel.
The Valuation 
Despite its growth potential, Taiwan Semiconductor only trades for 14.1 times Wall Street's 2019 profit forecast of $2.62 a share. Shares have been hit hard by worries about slowing smartphone demand in general, and iPhone demand in particular.
But Taiwan Semiconductor is also well-exposed to many chip end-markets that are seeing healthy growth, from cars to gaming PCs to Internet-of-Things devices to cloud data centers. And growing economies of scale could help earnings growth outpace revenue growth.
Apple and Nvidia are holdings in Jim Cramer's Action Alerts PLUS member club. Want to be alerted before Jim Cramer buys or sells these stocks? Learn more now.