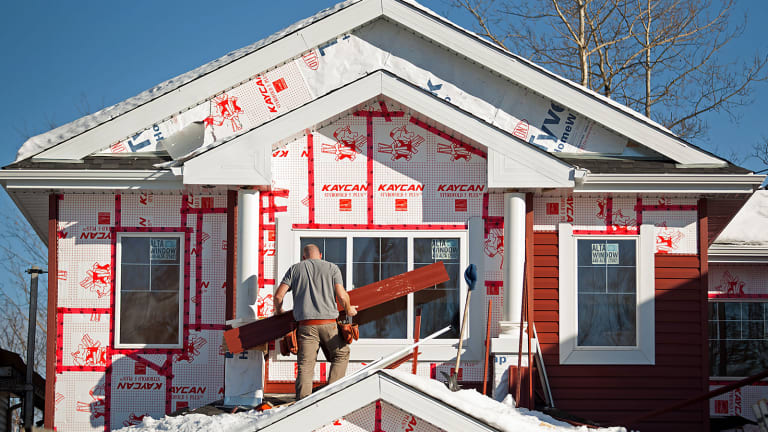 The start of a rate hike cycle does not spell the demise of the housing market. In fact, it will push more people into homes and homebuilder stocks higher, predicted David Mazza, head of SPDR ETF and SSGA funds research.
"Anyone who was on the sidelines can now have some more confidence of saying that rates have moved and we know the path and pace is going to be slow so let's go out there and make that purchase," said Mazza.

Mazza said the new clarity over the path of interest rates will not just help homebuilder stocks, but also second derivative plays like furniture and home improvement retailers. The SPDR S&P Homebuilders ETF (XHB) - Get SPDR S&P Homebuilders ETF Report , which includes both builder and housing related names, is up 1% year-to-date.
The SPDR S&P Regional Banking ETF (KRE) - Get SPDR S&P Regional Banking ETF Report has risen over 4% so far this year and popped on the heels of the Federal Reserve interest rate announcement this week. Mazza said the fund has seen a surge in inflows in recent weeks as investors expect banks to become more profitable in this new higher rate environment.
"We are seeing this recovery in the U.S. move from Wall Street to Main Street," said Mazza. "That helps consumers and all those regional banks which are doing more local-related lending, whether it's autos or home loans, will benefit as well."
Mazza added that the regulatory environment has started to loosen in the banking sector which should help the smaller players.
In the fixed income arena, Mazza said the SPDR Barclays Investment Grade Floating Rate ETF (FLRN) - Get SPDR Bloomberg Barclays Investment Grade Floating Rate ETF Report , flat in 2015 thus far, and the SPDR Barclays Convertible Securities ETF (CWB) - Get SPDR Bloomberg Barclays Convertible Securities ETF Report , down 3.6% this year, should do well in the face of a tightening Fed outlook.
"Convertibles are an interesting way to take some equity risk off the table but still participate in the upside while introducing an attractive yield to protect the downside," said Mazza.
Finally, the SPDR Gold Shares ETF (GLD) - Get SPDR Gold Trust Report dropped 11.5% this year partly due to fears of higher interest rates in the U.S. Mazza said the yellow metal could make a comeback in the coming year as a defensive holding to protect against market volatility.