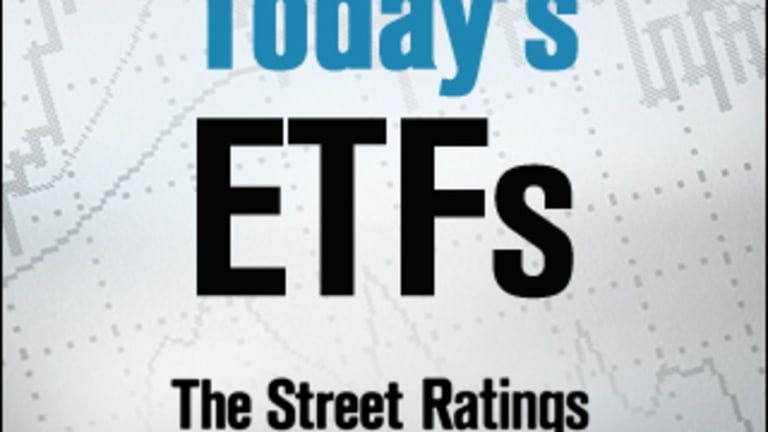 Best ETFs to Play Oil Stockpiles
Higher crude oil inventories this week compete with improving economic statistics for the direction of crude oil prices.
NEW YORK (
) -- On Wednesday the U.S. Department of Energy reported weekly petroleum inventories in the U.S. for the week ending Friday August 26th.
U.S. commercial crude oil inventories, not including those in the Strategic Petroleum Reserve, increased by 5.3 million barrels from the previous week. At 357.1 million barrels, U.S. crude oil inventories continue to trend above the upper limit of the average range for this time of year.
Higher than expected inventories put downward pressure on domestic oil prices while lower inventory levels are bullish for prices of petroleum products such as gasoline or heating oil. A sluggish economy shrinking overall demand may be insufficient to cope with the increased available supply potentially leading to lower crude oil prices.
However, the other economic statistics released this morning by the U.S. Department of Commerce are more bullish. July new orders for manufactured goods having increased 2.4% to $453.2 billion with shipments up 1.6% to $453.2 billion, and unfilled orders rising 0.8% to $870.4 billion. Excluding transportation, new orders would only have increased by 0.9%. New orders for transportation equipment, up in two of the last three months, jumped by 14.8% -- or $6.8 billion -- in July to $53.2 billion.
That's bullish for oil prices.
To bet directly on rising oil prices, TheStreet Ratings model likes the A+ rated
United States Brent Oil Fund
(BNO) - Get United States Brent Oil Fund LP Report
. This fund attempts to reflect the daily changes in percentage terms of the spot price of Brent crude oil using futures contracts traded on the ICE Futures Exchange.
Also, take a look at the A+ rated
Jefferies TR/J CRB Wildcatters Exploration & Production Equity ETF
( WCAT). This fund has top holdings of
Rosetta Resources
(ROSE) - Get Rosehill Resources Inc. Class A Report
,
Bill Barrett Co
(BBG)
, and
Energy XXI Bermuda
(EXXI)
.
In the final bullish selection, sustained oil prices bolster the case for the large companies supplying the energy industry. The B+ rated
SPDR S&P Oil & Gas Equipment & Services
(XES) - Get SPDR S&P Oil & Gas Equipment & Services ETF Report
rises and falls with the fortunes of
Oceaneering Intl
(OII) - Get Oceaneering International, Inc. Report
,
Tidewater
(TDW) - Get Tidewater Inc Report
,
Diamond Offshore Drilling
(DO) - Get Diamond Offshore Drilling, Inc. Report
,
Rowan Cos
(RDC)
,
Schlumberger
(SLB) - Get Schlumberger NV Report
,
Halliburton
(HAL) - Get Halliburton Company (HAL) Report
, and
Transocean
(RIG) - Get Transocean Ltd. Report
.
For bearish speculators that expect oil prices decline over the next few days, the best rated bearish exchange-traded products positioned to gain from the drop include
PowerShares DB Crude Oil Short ETN
(SZO) - Get DB Crude Oil Short Exchange Traded Notes Report
,
PowerShares DB Crude Oil Dbl Sh ETN
(DTO) - Get DB Crude Oil Double Short Exchange Traded Notes Report
, and
United States Short Oil Fund
(DNO)
. All three of these funds are ranked at 'Hold' with middle of pack for results for risk-adjusted return.
-- Reported by Kevin Baker in Jupiter, Fla.
For additional
check out our Ratings Research Center.
Kevin Baker became the senior financial analyst for TheStreet Ratings upon the August 2006 acquisition of Weiss Ratings by TheStreet.com, covering equity and mutual fund ratings. He joined the Weiss Group in 1997 as a banking and brokerage analyst. In 1999, he created the Weiss Group's first ratings to gauge the level of risk in U.S. equities. Baker received a B.S. degree in management from Rensselaer Polytechnic Institute and an M.B.A. with a finance specialization from Nova Southeastern University.