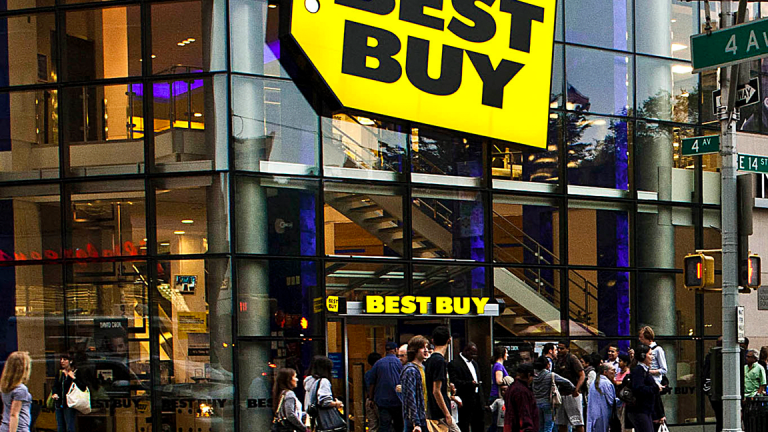 Where Best Buy Stock Could Drop to After Earnings Disappoint
Best Buy stock is tumbling after underwhelming earnings. Here is the must-know level now.
While it's a strong day on Wall Street, the same can't be said for Best Buy (BBY) . The retailer fell 8% on Thursday, closing at $63.49. 
The tumble comes after the company's disappointing second-quarter earnings results. With shares falling below a key level of support, even more downside could be ahead despite Thursday's swift decline.
Earnings of $1.08 per share beat estimates by 9 cents per share, while revenue of $9.54 billion grew 1.7% year over-year and ever-so-slightly missed analysts' estimates by $10 million. An improvement in margins had investors feeling good in pre-market trading, bidding up Best Buy stock several percentage points. 
But management's third-quarter revenue guidance range fell short of consensus estimates, while the midpoint of management's full-year earnings outlook also missed expectations. The culprit? Tariffs.
While an improvement in the trade war situation could provide a spark for Best Buy stock later in the year and closer to the holidays, it's clear investors aren't putting much faith in it.
So where do investors go from here?
Trading Best Buy Stock
Before the market opened, it looked as if Best Buy stock may be able to maintain above the 200-day moving average and key area between $65 and $65.50. With shares opening near this mark at $65.28 and puking lower, it was clear it wouldn't hold up.
For now, buyers have stepped in at $62, the same way they did in late May and early June the last time trade tensions were really flaring up. The question now is, will it hold?
If it does, we'll likely see a bounce back into prior support. In that event, it will be key to see whether BBY stock quickly reclaims these prior levels, or if support turns into resistance. While the 200-day is up near the notable $65 level, also be aware of the 50% retracement near $64.70.
Should Best Buy stock continue lower or if it bounces but runs into new resistance, investors will need to consider some downside targets. The first comes into play around $60 to $61.
With the stock's 61.8% retracement at $60.69, some investors may expect it to buoy BBY stock. A slight overshoot would fill the February gap. Below $60 could force Best Buy stock to chop between $55 and $60 until it resolves either higher or lower.
The bottom line: I'd prefer a continuation lower, with Best Buy stock temporarily breaking below the 61.8% retracement and quickly reclaiming it. That will give investors a better risk/reward and a defined entry opportunity.
Labor Day Sale: Join Jim Cramer's Club for Investors and Save.Get 57% off on your membership to Jim's Action Alerts PLUS club for investors.
This article is commentary by an independent contributor. At the time of publication, the author had no positions in the stocks mentioned.