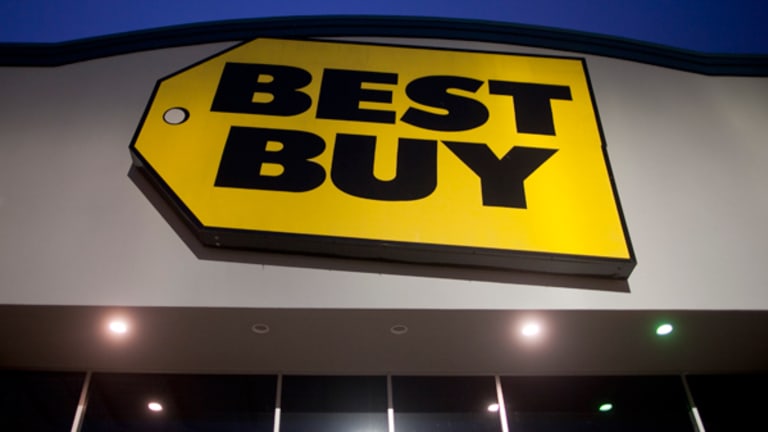 Best Buy Needs to Get a Grip and Hire a New, Visionary CEO
Now more than ever, physical retail needs visionary leaders. Best Buy's Hubert Joly doesn't match the job qualification.
Now more than ever, physical retail needs visionary leaders. Best Buy's Hubert Joly doesn't match the job qualification.
NEW YORK (TheStreet) -- From any meaningful standpoint, the story at Best Buy (BBY) - Get Report has not changed one bit since CEO Hubert Joly took over in 2012. I know I sound like I'm repeating myself, having written this same criticism throughout 2013 and 2014. But the reason is the company remains as screwed up as it was. The stock head faked on a magic carpet ride during 2013. This past holiday season proved more of the same and that will continue during and after the upcoming holiday season.
The Best Buy board of directors and Joly and their supporters at the company lack the vision to move the needle. Like so much of physical retail, Best Buy is mired in a culture of obviousness that encourages cosmetic tweaks while shutting out any talk of profound and potentially disruptive change.
For a more objective review of Best Buy's earnings, see this piece from TheStreet's always insightful retail guru Brian Sozzi.
To fully understand the Best Buy story, you have to look beyond this most recent earnings call. Wall Street tends to treat things as quarter-to-quarter surgical situations. A look to the past in Best Buy's case -- alongside this week's context -- proves this method to be inadequate.
Nothing Joly said on Best Buy's Tuesday post-earnings conference call suggests the company is doing anything other than what it did last year, which isn't all that different from the things Best Buy was doing two, three, five, 10 years ago. Here's the transcript of the call courtesy of Seeking Alpha. I have read it a dozen times searching for some sign that Joly subscribes to something other than retail business as usual. It's all about cost-cutting -- burning the furniture to build a fire as a Best Buy source put it to me last year -- and this feeble Renew Blue campaign, which does nothing more than put tinted windows, oversized wheels and spinning hubcaps on the dead and tired retail vehicle.
Everything I said about Best Buy in January 2014's Best Buy: As Pathetic As Sears, JCP remains relevant today. There's nothing the company is doing headed into the 2014 holiday season that's substantially different from the 2013 holiday season. As Joly said himself -- several times during the conference call -- he's basically running a company at the mercy of whims and trends in the consumer technology marketplace:
Like other retailers and as reflected in this quarter's performance we continue to see a shift in consumer behavior. Consumers are increasingly researching and buying online. As a result traffic to our brick and mortar stores continue to decline and yet our in-store conversion and online traffic continue to increase due to the execution of our Renew Blue strategy which is in direct alignment with this shift.
... while the other consumer electronics environment continued to be soft, the second quarter ended better than expected primarily due to strong expense control.
Best Buy's CFO echoed this defeated, visionless sentiment:
Now looking forward to the back half, as Hubert remarked earlier, industry wide sales are continuing to decline in many of the consumer electronics categories in which we compete. We're also seeing ongoing softness in the mobile phone category ahead of highly anticipated new product launches. Therefore absent any changes in these declining industry trends and with limited visibility to new product launch quantities. We continue to expect comparable sales to decline in the low single digits in both the third and fourth quarter.
Summary: We don't really control our own destiny much. But, to the extent that we do, all we can really do is renew blue and cut costs. That's our plan as we wait for external forces to shift in a direction that'll provide us with better fate.
You would never hear today's leading tech companies spew this type of stuff. Never. But, at Best Buy, they're not merely saying it -- it is the message. And that's why Joly must go. 
As I noted the minute they hired him and again when tech superstar Stephen Gillett bolted the sinking ship that is Best Buy, Joly never should have been hired in the first place. He's a consultant; not a CEO. He's an MBA type; not a visionary. He's one of the best people to lead the non-strategy Best Buy has in place. He's one of the worst and last to thoughtfully consider what needs to be done, imagine what could be and boldly execute it. Best Buy should have offered Gillett the world and full reigns as CEO to keep him from leaving for Symantec (SYMC) - Get Report .
In full disclosure, I don't know the answer for Best Buy. I know there's a problem. I know some euphemistic repackaging of the status quo isn't going to work. I know Best Buy must transform itself into something completely unrecognizable to itself. But I'm not certain how to get there.
I'm not Stephen Gillett or a tech innovator extraordinaire. I'm not the guy who invented Twitter (TWTR) - Get Report . I'm not the kid who conceived Facebook (FB) - Get Report in his dorm room. I'm not an architect at Apple (AAPL) - Get Report . I'm not Jeff Bezos, who not only saw, but expertly crafted the future more than a decade ago at Amazon.com (AMZN) - Get Report . Those types give us something we never would have considered for ourselves, creations that we can't imagine living without once we have them.
That's been my prescription for physical retail from day one -- hire non-retail tech people to lead with the power to make scary decisions. Don't let the failed Ron Johnson experiment turn you off. It's a shame a guy who made his name riding Steve Jobs's coattails became the poster boy and default ideal candidate for visionary tech mind reshaping physical retail. For the sake of its own survival, physical retail must try again. 
Right now, Best Buy's board of directors is derelict in its duty. It's complicit in pushing brick and mortar retail deeper into its death spiral. To right the ship, it needs to hire executives -- starting with a CEO -- who know what Twitch is, but have no idea what the inside of a Best Buy (or Sears or JCP for that matter) looks like. These are the people without preconceived notions and toxic biases that predispose them to the retrying the same failed techniques. 
I have about zero faith Best Buy will go this route. And it boggles my mind. The writing on the wall couldn't be any more clear. Circuit City's life has already flashed in front of Best Buy's eyes. Joly seems content running a company that's tantamount to the last bloodied man standing as opposed to building something that will endure. He seems unwilling to even try to reshape a space the way Bezos did when Amazon first put the hurt on Best Buy and the rest of physical retail.
--Written by Rocco Pendola in Santa Monica, Calif.
Rocco Pendola writes for
TheStreet
. He lives in Santa Monica. Disclosure: TheStreet's editorial policy prohibits staff editors, reporters and analysts from holding positions in any individual stocks.