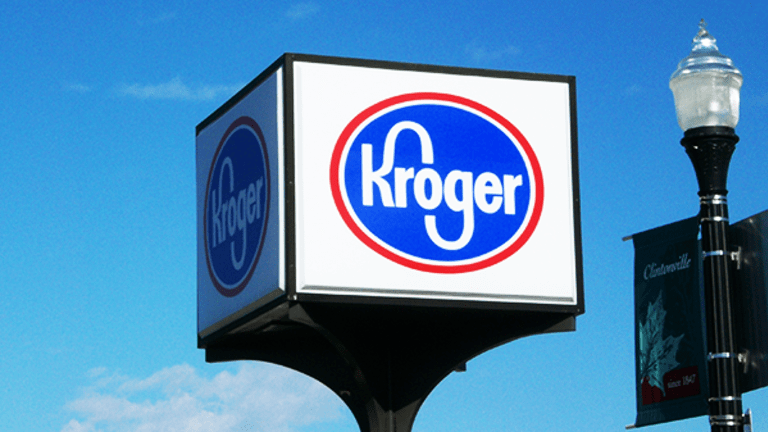 This Could Be Kroger's Savior as It Goes to War With Amazon's Whole Foods Division
A top analyst chimes in.
Ahold (ADRNY) stock was one of the few stocks trading in the green Wednesday, after Sanford C. Bernstein said it may be Kroger Co.'s (KR) - Get Report savings grace in the face of an Amazon (AMZN) - Get Report and Whole Foods Markets (WFM) .
Royal Ahold Delhaize NV, the No.4 U.S. supermarket chain, shares were up 0.87% in Amsterdam at 10:46 CET to change hands at €16.17, against mostly down markets in Europe.
Amazon's $13.7 billion purchase of Whole Foods has sent shockwaves through the grocery market throughout the world. Kroger, the biggest U.S. supermarket chain, has been particularly hard it, losing more than $7 billion in market value Thursday and Friday, due to poor earnings and Amazon's announcement.
Kroger shares fell 1.7% to $$22.25 in New York on Wednesday morning, after hitting a three-month high of $30.78 on June 9.
Kroger and its competitor Wal-Mart Stores (WMT) - Get Report have been dealing with food deflation, which is hitting margins, something that will be furthered squeezed by the Amazon deal.
To survive the grocer might need merge with Europe's Ahold, according to Sanford C. Bernstein analyst Bruno Monteyn.
Ahold Delhaize already owns the Food Lion and Stop & Shop chains in the U.S. The Zaandam, Netherlands-based group generates more than two-thirds of its annual revenues in the U.S. and its stores are highly concentrated in the highly populated and generally affluent northeast U.S., which could make it a good takeover partner.
The Belgian-Dutch company reported net sales of €15.9 billion ($17.7 billion) in the first quarter, up 61.4% on a constant currency.
Ahold USA and Delhaize America racked sales of €9.9 billion in the first quarter.
"In the United States, although sales were impacted by continuing price deflation, adverse weather and the timing of Easter, we were able to offset the impact on margins due to the delivery of strong synergy savings in the quarter. Although deflationary pressure was in line with previous quarters, it improved towards the end of the first quarter and we expect sales performance to improve in the second quarter and to operate in a slightly inflationary environment in the second half of the year," CEO Dick Boer said on May 10.
The grocery store group, whose brands also include Hannaford, in December said it was making a bigger push into online sales and intends to double them by 2020 from a 2016 level of €2.3 billion.
In July, the Dutch and Belgian groups completed a €25 billion merger giving it greater scale in the U.S. The combination created the fifth-largest retailer in the U.S. and the fourth-largest in Europe. It has more than 6,500 stores and 375,000 staff.
Read More Trending Articles:
Intel Just Got Smoked By AMD In the Race to Unleash a Super Chip
It's Worrying That These Sectors Have Just Taken a Crowbar to the Knee-Cap: Market Recon
Costco Sees an Extremely Damaging Flush In Aftermath of Amazon's Big Whole Foods Deal
'Walmart Rx' Takes Center Stage as Walgreens Rite Aid Saga Nears Homestretch