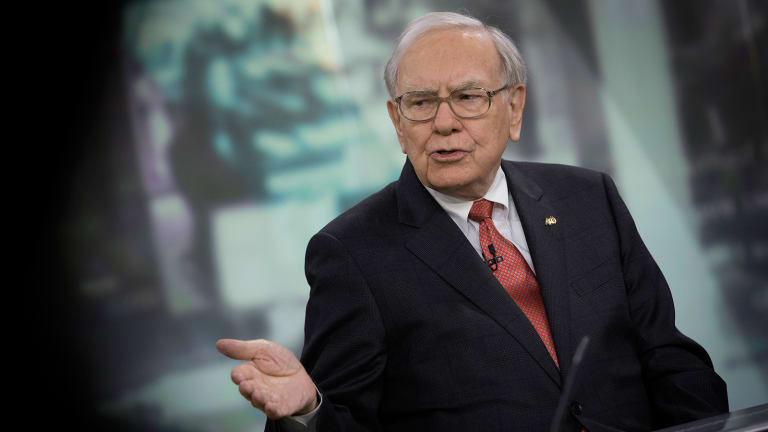 Berkshire Hathaway's First-Quarter Earnings 'in Line' With Expectations: Analyst
Berkshire Hathaway's first-quarter operating income rose to nearly $5.6 billion from last year's nearly $5.3 billion.
Berkshire Hathaway's (BRK.A) (BRK.B) first-quarter results -- which showed nearly $21.7 billion in net earnings and nearly $5.6 billion in operating income -- were "more or less in line with our expectations," wrote a senior analyst at Morningstar.
Berkshire Hathaway -- run by investment wizard Warren Buffett -- released its first-quarter 2019 earnings early Saturday, just prior to its marathon shareholders meeting.
While the earnings appeared an explosive surge from the same time last year -- when Berkshire reported a loss of around $1.1 billion -- the numbers were in reality an "extremely misleading" byproduct of recently imposed accounting rules, according to Buffett, who cautioned that operating income was a more accurate indicator of the conglomerate's health. That operating income rose about 5% year-over-year from around $5.3 billion last year.
"Excluding the impact of investment and derivative gains/losses, first-quarter revenue increased 3.8% to $60.7 billion, more or less in line with our near- to medium-term forecast calling for low- to mid-single-digit top-line growth from the firm's operating businesses," wrote Morningstar analyst Greggory Warren in a note released late Saturday afternoon.
Berkshire posted net earnings of $13,209 per Class A share and $8.81 per Class B share. Last year at the same time, Berkshire Hathaway posted a $692 loss per Class A share and 46-cent loss per Class B share.
The book value per Class A equivalent share, wrote Warren, "recovered from the beating it took during the fourth quarter, increasing 6.0% by our estimates to $224,950 (from $212,503 at the end of 2018)."
That share value "serves as a decent proxy for measuring changes in Berkshire's intrinsic value," noted Warren.
Berkshire ended the quarter with about $114.2 billion in cash -- up from $111.9 billion at the end of December. That means it's now armed with "at least $85 billion in dry powder available for acquisitions, investments, share repurchases, and dividends," wrote Warren, estimating the amount from the huge pile. 
Berkshire did buyback shares of Class A and B common stock for $1.7 billion, but many have wondered about what big buy could be down the road.
The quarter's numbers do not reflect the recent performance of Kraft Heinz (KHC) , which has not yet filed its quarterly results with the Securities and Exchange Commission and has not made its financial statements for the first quarter of 2019 available to Berkshire.
"Accordingly, Berkshire does not have the necessary financial information to determine its share of the earnings of Kraft Heinz for the first quarter of 2019. As a result, Berkshire's first quarter 2019 other operating earnings excludes such amount," said the company.
Insurance-investment income and railroad, utilities and energy investments outperformed last year's first-quarter results, and so did other businesses.
The report was released in advance of the annual shareholders meeting with Buffett, and his side-kick Charles T. Munger, Berkshire's vice chairman.
A day before the earnings were released, Warren pegged a "fair value for Class A shares at $360,000 and $240 on the Class B shares.
"The shares right now are trading about a 10% discount to that, so it's not a huge margin of safety, but in the way in which we look at things, for a medium uncertainty firm, that is enough to start to putting capital to work in the business," said Warren on Morningstar.com. Warren cautioned, however, that he'd wait for lower prices and that he'd hold out for prices between about 1.25 and 1.35 times book value.
Class A shares closed Friday at $327,765.63 and Class B at $218.60 - each climbing slightly more than 1%.
This story was updated to include commentary from Morningstar.