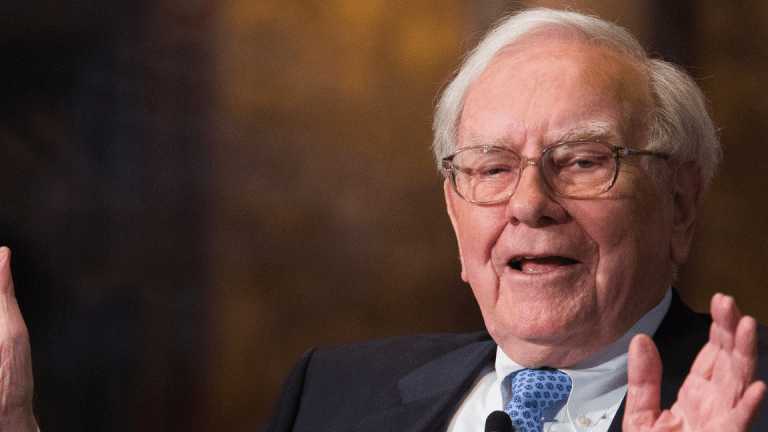 Berkshire Hathaway Posts $14 Billion in Net Earnings, Dip in Operating Profit
Net earnings per average equivalent Class A Share rose to $8,608, compared with $7,301 during the same quarter that ended June 30 last year.
Berkshire Hathaway (BRK.A) - Get Free Report ,  (BRK.B) - Get Free Report -- the famous firm of star investor Warren Buffett -- posted just over $14 billion in second-quarter net earnings, up from the just about $12 billion posted the same time in the year prior.
Net earnings per average Class A share equivalent rose to $8,608, compared with $7,301 during the same quarter that ended June 30 last year.
For Class B shares, the earnings were $5.74 per share vs. $4.87 in the second quarter of 2018.
Yet, the company's operating profit dipped to around $6.1 billion from nearly $6.9 billion the same time in 2018, largely because it took a hit on insurance-underwriting earnings and so-called "other" earnings.
Berkshire posted $353 million in insurance-underwriting earnings earnings during the second quarter, which was a big fall from the $943 million posted the same time last year. Income listed as "other," posted a $12 million loss compared with a $432 million gain in the second quarter of 2018.
Insurance-investment income; railroad, utilities and energy; and other business all showed gains.
Financial statements for Kraft Heinz (KHC) - Get Free Report for the first and second quarters of this year were not included in the report, as they were not yet available to Berkshire. 
As for its cash pile, Berkshire saw that rise to about $122 billion from the last-reported amount of around $114.2 billion.
One of the big concerns Berkshire Hathaway faces, wrote Morningstar Equity Research analyst Greggory Warren in a recent note prior to the earnings release on Saturday, is that its "size will prevent it from growing at a decent clip in the future."
"While we do not expect Berkshire to be able to consistently increase its book value per share at a double-digit rate going forward -- a feat the firm achieved six times during 2009-18 -- we think the company is still capable of increasing book value per share at a high-single- to low-double-digit rate annually. This should leave returns solidly and consistently above Berkshire's cost of capital, which is what we expect from companies with wide economic moats."
In addition, he wrote, another problem for Berkshire are the few investment opportunities around while it commands "bulging cash balances" that will eventually need to be returned to shareholders.
Buffett has said share repurchases -- of which Berkshire made about $440 million worth of this recent quarter -- are his preferred option for slimming those cash balances, noted Greggory, who believes that share repurchases "are more likely at prices closer to 1.35-1.40 times anticipated end-of-quarter book value per share."
Still, in the note dated July 30, Morningstar increased its fair value estimate slightly for Berkshire Hathaway to $253 per Class B share.
"With the company's book value expected to grow at a high-single- to double-digit rate both this year and next, our new fair value estimate is equivalent to 1.50 and 1.37 times our estimates for the company's book value at the end of 2019 and 2020, respectively. For some perspective, during the past five (10) calendar years, Berkshire's shares have traded at an average of 1.48 (1.41) times the company's trailing calendar year-end book value per share. We use a 9% cost of equity in our valuation."
Berkshire offers two classes of common stock, classes A and B, and the B shares hold only a tiny fraction of the both the economic and voting rights of class A shares. 
And their weight is shown in dollars: Class A shares closed at $306,000 and class B shares closed at $202.67 on Friday.
Buffett, the largest shareholder, has nearly a third voting stake in the firm, according to Morningstar.
Starting last year, Berkshire has seen its earnings numbers skewed because of a change in Generally Accepted Accounting Principles, Buffett has said. The firm has since been required to include the changes in unrealized gains and losses of its equity security investments as a component of investment gains and losses in its earnings statements.
Another big challenge facing Berkshire, according to Morningstar? Buffett's age. Born in 1930, the "Oracle of Omaha" has so far beat out expectations for both wealth and life expectancy for U.S. citizens, who typically kick off about a decade younger. 
Still, Greggory sees a solid succession plan in place, betting that Buffett's son, Howard Buffett, will serve as nonexecutive chairman and that Ted Weschler and Todd Combs will serve as co-investment managers of Berkshire's investment portfolio, with the CEO candidates most likely Ajit Jain and Greg Abel.