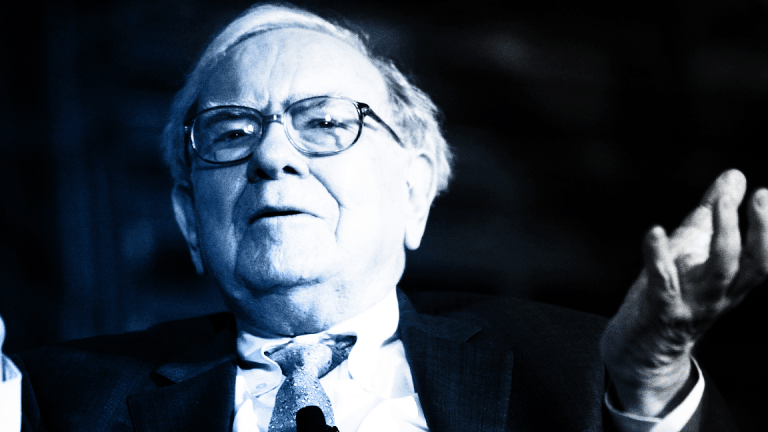 Warren Buffett: Wells Fargo Made Mistake, Not Crime
Berkshire Hathaway's Chairman Warren Buffett, joined by his side-kick Charles T. Munger, began their annual marathon-like shareholders meeting on Saturday morning, tackling a variety of topics during a question-and-answer session including about 5G technology, rail technology, and clean energy.
Should Wells Fargo (WFC) executives face jail time for a series of blunders made over the past several years?
No, said Berkshire Hathaway  (BRK.A) (BRK.B) chairman and investment icon, Warren Buffett and Charles T. Munger, Berkshire's vice chairman, during a question-and-answer session during the annual shareholders meeting live-streamed on Saturday.
"I don't think people ought to go to jail for honest errors in judgement," said Munger, while Buffett argued that the bank gave incentives for "the wrong behavior."
"The problem is ... when you find a problem, you have to do something about it ... and I think that's where they made a mistake at Wells Fargo," said Buffett. "It looks to me like Wells made some big mistakes."
But he appeared to defend people at the top -- including former chief executive Tim Sloan -- for a series of scandals that date back several years.
Both men defended Sloan, as well, with Munger calling him "an accidental casualty" and saying he wished Sloan had stayed on the job and Buffett calling the former chief a "pinata" for politicians who called for his resignation earlier in the year.
Wells Fargo has been fined and penalized by government regulators -- and came under harsh threats from Democratic presidential candidate U.S. Sen. Elizabeth Warren -- for several mishaps, including a scandal in which accounts were created without consumers' consent and accusations the bank improperly repossessed servicemembers' cars and trucks, charged auto-loan customers for insurance without telling them, and improperly made borrowers pay for "mortgage-rate lock" extensions.
That question about how to handle Wells Fargo was one of several -- including any future stock repurchase plans, thoughts on rail road business and clean energy, and 5G communications technology -- during the Q and A opening of the meeting, that included many dry quips by Buffett and Munger.
"We make the big decisions jointly -- it's just that we haven't had any big decision," said Buffett, to laughs at the outset of the meeting.
Berkshire Hathaway had earlier posted its first-quarter net earnings of nearly $21.7 billion. That amount compared with a loss of around $1.14 billion during the same quarter in 2018, and marks another quarter of volatile numbers posted by Berkshire on new accounting rules imposed last year that the company warns can be "extremely misleading to investors."
Buffett warned during the meeting "about distortions" that come with reading the net earnings, and said the operating earnings were a better way to read the health of Berkshire.
Operating earnings rose to $5.6 billion from last year's nearly $5.3 billion.
Berkshire also posted net earnings of $13,209 per Class A share and $8.81 per Class B share. Last year at the same time, Berkshire Hathaway posted a $692 loss per Class A share and 46-cent loss per Class B share.
Buffett also cautioned on Kraft Heinz (KHC)  . The quarterly report does not reflect the performance of Kraft Heinz (KHC) , which has not yet filed its quarterly results with the Securities and Exchange Commission and has not made its financial statements for the first quarter of 2019 available to Berkshire.
"That's an unusual item," said Buffett during opening comments of the shareholders meeting.
This story has been updated. RealMoney.com's Kevin Curran contributed to this report.