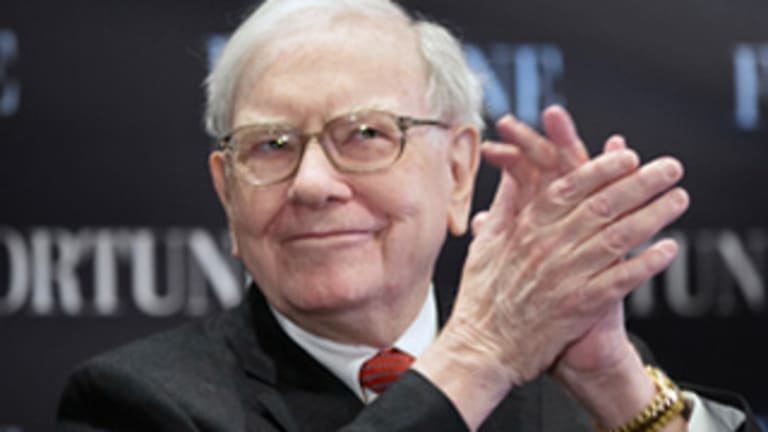 Berkshire Annual Meeting: What Wall Street Is Saying
Berkshire Hathaway is likely to continue to see a payoff from the company's bets on energy, infrastructure and real estate that reflect an improving U.S. economy with strong pockets of growth.
NEW YORK (TheStreet) -- Berkshire Hathaway (BRK.A) - Get Report is likely to continue to see a payoff from bets on energy, infrastructure and real estate that reflect an improving U.S. economy with strong pockets of growth. Insurance, a staple of Berkshire, may see a slight compression of profit margins, as the company reports first quarter earnings after the bell on Friday.
>>Read More: Berkshire Hathaway's B-Share Generation
Overall, revenue at Berkshire Hathaway is expected to grow in the high single digits from the first quarter of 2013, however, profits may be flat to down, according to Wall Street consensus. Warren Buffett-run company is expected to earn $47.6 billion in revenue and net income of $2.2 billion, according to analyst estimates compiled by Bloomberg.
In the fourth quarter, Berkshire Hathaway reported operating earnings of $3.7 billion for the fourth quarter of 2013, a 34% increase from year-ago levels.
When counting investment and derivative gains of $1.2 billion for the fourth quarter, Berkshire Hathaway reported net income of just under $5 billion for the fourth quarter, a new record.
Here's what analysts are saying ahead of the earnings report:
Barclays analyst Jay Gelb (Overweight, $223500.00 PT per Class A share, $149 PT per Class B share)
We expect Berkshire shares to benefit from attractive growth in both book value per share and earnings, driven by its insurance and non-insurance businesses. Berkshire's business mix has shifted over time, with Insurance becoming a smaller portion of the company. Growth areas include Utilities and Energy (including the NVE acquisition) and the Manufacturing, Service, and Retail unit (helped by bolt-on acquisitions), as well as the Burlington Northern railroad (acquired in 2010).
In fact, the percentage contribution to operating earnings from Berkshire's non-insurance businesses increased to 66% in 2013 up from 43% in 2006. In 2013 Berkshire's five largest non-insurance businesses generated record profits of $11bn, up from $10bn in 2012 and $9bn in 2011; the company expects to report stronger earnings again in 2014.
BRK shares are attractively valued currently at 1.41x book value, which is near the level (1.2x book value) at which the company will repurchase stock. The buyback plan provides a support level and signals how strongly Mr. Buffett believes Berkshire's intrinsic value exceeds its book value. We raise our price target to $149 price target ($223,500 per Class A share). This valuation implies a multiple of 1.4x (near the avg historical multiple since 2008) year-end 2015E book value per Class B share of $109 ($163,500 per Class A share) from $144 (1.3x our prior YE15E book value).
Nomura analyst Clifford Gallant (Buy, $199,000.00 PT per Class A share)
We are expecting operating EPS of $2,242 and book value up 1.7% since 12/31/13 to $137,215. Among the highlights, we expect GEICO to show 8% premium growth with a 94.5% combined ratio as the best operating model in the business continues to gain share. In reinsurance, we expect a good quarter as peers have reported low catastrophe quarters. We expect BNSF to report operating earnings growth of approximately 8% as demand for rail transport continues to surge in the U.S. The manufacturing and service businesses should report double-digit earnings growth, and we expect to see a full quarter of Heinz.
As was the case last year, we expect succession will be a popular topic with various angles on the issue to be asked. The investment roles appear to be successfully filled by Mr. Combs and Mr. Weschler, and we view there to be several strong operating CEO candidates, including Mr. Matt Rose, Mr. Ajit Jain, and Mr. Greg Abel. We would also stress that as the company grows and buys in 100% interests of strong earnings and cash flow producers, we increasingly see the future value of Berkshire dependent upon the success of those businesses and not the ability of senior management to pick stocks.
We look forward to updates on GEICO and its interest in telematics. Also, we are looking forward to an update on the expansion into commercial insurance by National Indemnity. Previously, the CEO has suggested that the growth in float will likely slow, thus we look for an update on that viewpoint.
KBW analyst Meyer Shields (Market Perform, $180,599.00 PT per Class A share)
Another year, another missing invitation to Omaha. While we can't know for sure, we presume our exclusion from the panel from which Warren Buffett and Charlie Munger select analysts to ask questions at Berkshire Hathaway's annual meeting has something to do with our occasionally critical analysis.
We have some operational questions, of course, but more important, we caution investors to consider whether this apparent message control limits their understanding of a company whose disclosure isn't, in our opinion, keeping up with its $300 billion market cap size. This is especially important in light of succession concerns that surround the stock.
Berkshire's AltaLink Deal
Berkshire Hathaway Energy, the energy division of Berkshire Hathaway (BRK.A) - Get Report, said on Thursday evening it has agreed to buy Canadian utility AltaLink for $2.9 billion and signed a deal with the company's former parent, SNC-Lavalin Group, to invest in transmission projects in North America.
Berkshire Energy's acquisition of AltaLink appears to be an investment in two major themes that have benefited the Warren Buffett-run company in the years since the financial crisis: A bet on the stable returns of power generation and increasing investment in regions exposed to the boom in North American oil and gas drilling.
The latter will likely be a big factor in Berkshire Hathaway's expected first-quarter earnings, due after the market close on Friday. Berkshire has seen its earnings rise in recent years as investments like a takeover of BNSF Railways was positively impacted by a surge in shale oil and gas rail volumes.
>>Read More: Berkshire Hathaway's B-Share Generation
AltaLink is a regulated transmission-only business, headquartered in Calgary, that serves serve 3 million Albertans, or about 85% of the province's population. Alberta is one of Canada's biggest oil regions as a result of shale and oil sands drilling projects.
"The acquisition of AltaLink represents a great long-term opportunity to invest in Alberta's critical transmission infrastructure and in Canada," Greg Abel, CEO of Berkshire Hahaway Energy, said in a statement.
"We see this as a great addition to the Berkshire Hathaway Energy family, and we look forward to having AltaLink continue to support the economic growth and evolving energy needs of Alberta," he added.
A partnership between MidAmerican Transmission, a division of Berkshire-owned utility MidAmerican Energy, and AltaLink's former parent SNC-Lavalin Group will also work to develop transmission projects in both Canada and the U.S.
>>Read More: Berkshire's Renewable Energy Investment to Hit $15 Billion
>>Read More: Berkshire Hathaway's Next Elephant Acquisition
>>Read More: Berkshire's Bet on the Greening of Nevada
>> Read More: Berkshire's Elephant Guns to Hit Utilities Deals
-- Written by Antoine Gara in New York.