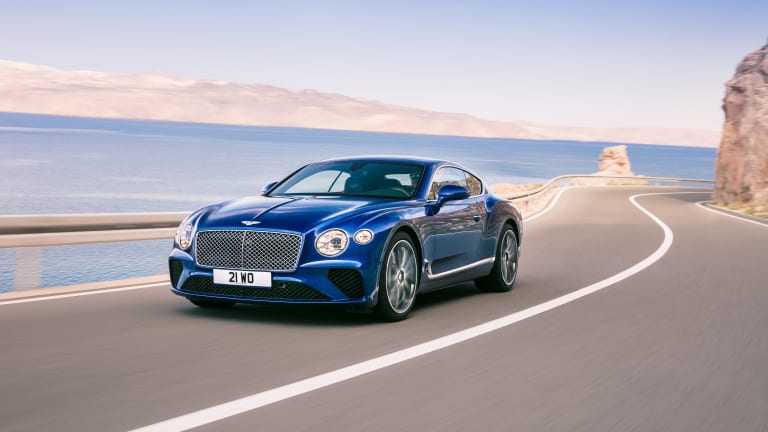 Bentley's CEO Shares 5 Amazing Insights About the Auto Industry
We were lucky enough to catch up with Bentley CEO Mark Del Rosso at this year's North American International Auto Show.
The North American International Auto Show in Detroit is great for many reasons. Exciting keynote presentations, new car and truck unveils and stunning shots of the latest and greatest from the world's largest and best automakers.
But access to top execs is another big plus.
In that regard, we had the opportunity to catch up with Mark Del Rosso, president and CEO of Bentley Automotive. Formerly the COO at Audi of America, he was immediately "star struck" at the opportunity to head Bentley. In fact, when he went home and told his wife Teresa about the job, her initial reaction was, "You did say yes didn't you?!"
Aside from the thrill of becoming Bentley's CEO in June, what else did we learn from Del Rosso? Plenty.
Everyone Wants a Hybrid
The hybrid and electric move isn't a fad. In fact, there are plenty of buyers -- luxury shoppers included -- that want hybrid options. Del Rosso said there are even some customers that wouldn't consider a brand like Bentley in the past because it didn't have a plug-in option.
Of course, that all changed with the Bentley Bentayga SUV, which will feature a plug-in option from the luxury automaker this year. Others, like the Continental GT, will soon follow. 
There's luxury and then there's luxury with environmental responsibility. Whether it's government mandated or not doesn't really matter. It's what the customers want and what many want right now is a cleaner ride, Del Rosso said.
Electrification Will Continue
Governments do play a role, but in truth, customers want electrification, too. Not only is it better on the environment, it's better on the wallet, too, as fuel efficiency improves. 
In fact, Bentley is one of the first luxury automakers to boldly embrace the electrification trend. While it will start with a plug-in option on the Bentayga SUV this year, other models will join the mix. In fact, all of Bentley's lineup is moving toward having a plug-in option in the future.
Bentley is a boss #bentley #naias #naiasdetroit #detroitautoshow
A post shared by TheStreet.com (@thestreet) on Jan 14, 2018 at 11:56am PST
We asked about the nostalgia factor in moving from internal combustion engines (ICE) to electric and hybrid options. Del Rosso was quick to note, though, that although hybrid choices will be an option, traditionalists will still be able to buy their vehicle with an ICE engine as well.
However, he was very clear about one thing: electrification is an opportunity, not a threat.
Del Rosso explained that the entire auto industry will continue to move in this direction. Many countries in Europe are banning ICE engines over the next several decades. But even if that weren't the case, this is clearly the new direction. And Del Rosso is looking forward to the challenge of building on this wave of innovation.
SUVs Will Stay in Style Now More Than Ever
The wave of SUV buying is no secret -- even to those outside of the auto industry. All you need to do is take a drive through town or hop on the highway. There's more SUVs on the road now more than ever. As a result, we're seeing automakers adapt to that spike in demand.
We asked Del Rosso a few questions on this front, starting with whether he sees this trend continuing -- he does -- and how it's doing in luxury.
It's doing very well in luxury as a matter of fact; and part of the reason why? They're fun to drive! No longer are customers forced to choose between fun-to-drive and practicality. Particularly when it comes to models like the Bentayga.
Not only is it packed with plenty of power -- 600 horsepower -- and goes from 0 to 60 mph in just 4 seconds, but it's convenient too. With plenty of room to pack in luggage and load up the family, luxury drivers can now have the best of both worlds.
It's also why other luxury brand names like Ferrari (RACE) - Get Report , Lamborghini and Porsche have been paying more attention to the SUV segment lately.
The Luxury Goes Beyond the Car
If there's one thing Del Rosso loves more than driving a Bentley, it's the people he works with everyday.
"The cars are absolutely the pinnacle of luxury," Del Rosso said, but the people he works with are next-level luxury, too. "The DNA of Bentley is really around people, accomplishment, giving back to society and having such a great relationship -- and to me, that's luxury too, having a relationship."
Even the company's Crewe factory in Cheshire, England is a sight to behold.
"Willy Wonka has his chocolate factory, the Wizard has Oz, at Bentley we have Crewe," he said. Hand-stitching leather onto a steering wheel or seeing a room similar to a giant humidor full of sheets of veneer is a rather romantic experience, he said.
His Favorite Car? It Depends
How could you not ask one of the world's leading luxury car CEOs about his favorite car?
If he's taking a road trip with his three sons, his wife and a car full of luggage, it's got to be the Bentayga. Fun to drive, yet practical for the task at hand. 
Just him and his wife taking a drive from Los Angeles to Santa Barbara? It's the Continental GT Convertible, "no doubt about it," he says.
For a longer drive with some twists? Why not stick with the top this time and drive the Continental GT or perhaps the Flying Spur. The Flying Spur is "the best of everything" when it comes to driving a sedan, he reasoned.
One more incredibly fun, incredibly fast ride: The Bentley Continental Supersports.
More of What's Trending on TheStreet:
This article is commentary by an independent contributor. At the time of publication, the author had no positions in the stocks mentioned.