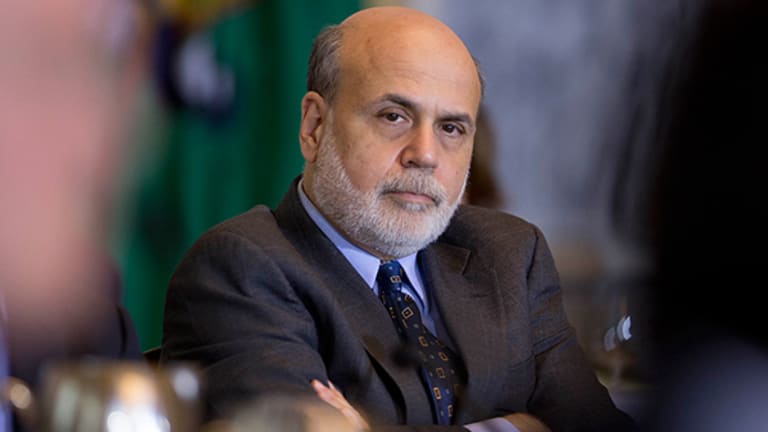 Publish date:
Former Federal Reserve Chairman Ben Bernanke Just Crushed Everyone's Hope for a Tax Cut Miracle
Dr. Bernanke resurfaces, with a dose of reality for Trump fans.
Dr. Bernanke resurfaces, with a dose of reality for Trump fans.
This article originally appeared at 07:30 ET on Tuesday on Real Money, our premium site for active traders. Click here to get great columns like this from Brian Sozzi and other writers even earlier in the trading day
If comments from Alibaba's (BABA) - Get Alibaba Group Holding Ltd. Sponsored ADR Report founder Jack Ma on Monday weren't enough to ruin your view of the future, allow former Federal Reserve chairman Ben Bernanke to add an extra dose of depression on Tuesday.
"We might have lower tax rates, maybe balanced to some extent by closing some loopholes, that would be a better policy," Bernanke said in a new interview with the New York Times. "I don't think it's going create a productivity miracle or anything like that, but it would be more efficient. It would probably improve investment a little bit." Maybe Dr. Ben isn't too far off on the impact of President Trump's proposal to cut the corporate tax rate to 15% from 35%.
The Tax Policy Center estimated in November that Trump's 15% proposal, coupled with a repeal of the corporate Alternative Minimum Tax, could reduce revenue by about $2.4 trillion in the first decade. With reduced revenue for the government will likely come cuts across many sectors of the U.S. economy. That could stunt the effect of Trump's tax cut.
Meanwhile, the massive tax cut could send stock prices too high, too fast as investors look to take on extra risk and as companies -- flush with fatter bottom lines -- buy back more shares. Couple that phenomenon with potential consumer spending-driven inflation, and suddenly the Federal Reserve may be forced to aggressively hike interest rates. We all know what could happen next.
Bernanke concluded his remarks by adding this bit of sad reality: "You have to recognize realistically that A.I. [artificial intelligence] is qualitatively different from an internal combustion engine in that it was always the case that human imagination, creativity, social interaction, those things were unique to humans and couldn't be replicated by machines. We are coming closer to the point where not only cashiers, but surgeons might be at least partially replaced by A.I."
Great.
Read This Or Lose Out
Now Alibaba wants to help us all: A day after Alibaba chairman Jack Ma predicted a future of global despair, his tech beast has set a day when it will help Americans score a job. Alibaba said Tuesday that it plans to hold a conference in Detroit on June 20 and 21 to teach U.S. businesses how to sell to the company's 443 million customers in China, reportsUSA Today. The conference is part of Ma's intent -- first expressed in a meeting with President Trump back in January -- to create one million jobs in the U.S.
The catch with this headline-grabbing goal: to create one million jobs would require each of those businesses to hire one new worker. More likely, bosses will beat their current employees into the ground until they can barely move in order to service any new demand from China. At which point they will hire a part-time worker, since it's cheaper to do so. Just being real here.
Sorry granny, time to download the damn JPMorgan app on your extra large smartphone: Fans of actually touching and seeing their money are in for a rude awakening over the next few years as banks such as JPMorgan Chase (JPM) - Get JPMorgan Chase & Co. (JPM) Report , Wells Fargo (WFC) - Get Wells Fargo & Company Report and Bank of America (BAC) - Get Bank of America Corp Report look to cut costs. The number of bank branches in the United States will shrink by as much as 20% in five years, according to a new report from commercial real estate firm JLL. According to the report, which was first shared by Reuters, the U.S. banking industry could save as much as $8.3 billion annually if it slashed the number of branches and downsized the average bank branch from 5,000 to 3,000 square feet.
It's not a game, sorry: Not too sure about you, but Little League baseball was life when I was a kid. I can still vividly recall dear old dad screaming at me from the dugout (he was a coach) when I wasn't performing at a high standard. And when I wasn't, well, the ride home wasn't too pretty (probably explains a lot about me right now). So, it's with mixed emotions that I see the below sign put up recently at one field out West. Sure, Little League is a game. But, aren't we allowed to show a little bit of fire out there on the field? Isn't it good to win the game, instead of being handed a participation trophy?
That being said, no beating up other parents -- the line has to be drawn somewhere.
Hope you enjoyed that Starbucks unicorn frappuccino: The internet sensation known as the Starbucks (SBUX) - Get Starbucks Corporation Report unicorn frappuccino is no more -- it was only available for a week, and that week has come and gone. But, here's what Starbucks put in that brightly colored drink you and your kids consumed. If you can find all of these ingredients in your local supermarket, kudos. If not, keep this in mind the next time Starbucks releases some insane drink that you just have to try.
Jim Cramer and the AAP team hold a position in Wells Fargo and Starbucks for their Action Alerts PLUS Charitable Trust Portfolio. Want to be alerted before Cramer buys or sells WFC or SBUX? Learn more now.
Editor's Pick: Originally published April 25.
More of TheStreet's top stories today:
Tesla's Elon Musk Thinks You'll Travel to Work Like This in the Future and It's Nuts
As Apple Prepares to Report Earnings, It's Not Just All About the iPhone Anymore