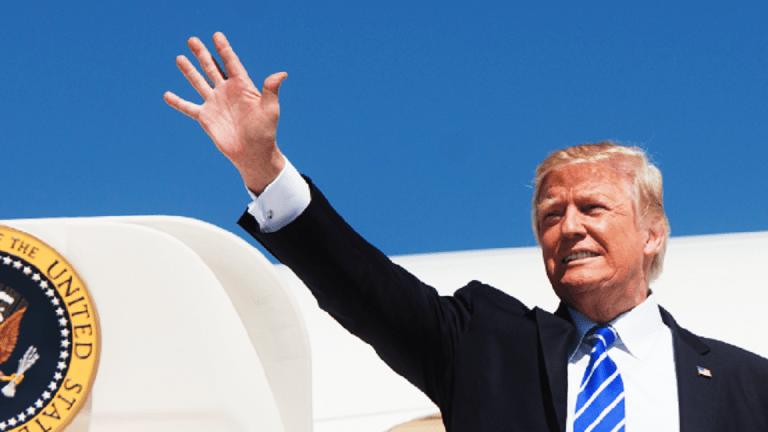 Investors rode a Trump rollercoaster (again) this week.
U.S. equity markets ended up for the week, with the Dow Jones Industrial Average I:DJI posting its seventh straight increase, after President Trump reduced tensions in Korea, raised them in the Middle East, and mainly relieved them for investors in the drug and healthcare industries.
Drug companies Eli Lilly (LLY) - Get Eli Lilly and Company (LLY) Report gained about 2%, Pfizer (PFE) - Get Pfizer Inc. Report added 1.3%, Abbott Laboratories (ABT) - Get Abbott Laboratories Report rose 1.2% and Bristol-Myers Squibb (BMY) - Get Bristol-Myers Squibb Company Report advanced by 1.4% after the president promised lower list prices, less costs for patients and more competition among the drug makers.
"We'll have much lower prices at the pharmacy counter and it'll start taking effect immediately," Trump said in a speech at the White House on Friday.
Fortunately for those investors who depend on drug profits to boost the shares of companies like Pfizer and Lilly, other members of the administration were quick to say that "immediately," as the president had it, isn't strictly accurate.
"It's going to be months for the kind of actions that we need to take here," Health and Human Services Secretary Alex Azar said afterwards in a press briefing. "I don't want to over-promise that somehow on Monday there's radical changes."
The SPDR Health Care ETF dipped briefly and then rebounded, up 1.3% after Trump's speech.
$100 Crude Oil Next Year?
The president's influence on markets was shown in the oil market, as crude oil traded at the highest level since 2014, after Trump pulled the U.S. out of the Iran nuclear deal, formally known as the Joint Comprehensive Plan of Action, or JCPOA. The U.S. will also "be instituting the highest level of economic sanctions," Trump said Tuesday.
On Friday West Texas Intermediate crude, the U.S. benchmark, fell about 1% to settle at $70.53. Global benchmark Brent crude futures dipped 0.6% to $76.99. Still, the stage is being set for crude to rise to $100 a barrel by next year, especially considering the current collapse in Venezuelan production, according to Francisco Blanch, head of commodities research at Bank of America Merrill Lynch in New York.
Blanch projects an oil market deficit of 630,000 barrels a day in 2018 and 300,000 barrels a day in 2019.
"We raise our average Brent forecast for this year and next to $70 a barrel and $75 a barrel, respectively," Blanch said in a report this week. "We also introduce a second quarter $90 a barrel Brent price target for 2019 and see a risk of $100 a barrel oil next year, although we are concerned that these market dynamics could unfold over a shorter timeframe."
Other characters in the Trump trade this week included AT&T Inc. (T) - Get AT&T Inc. Report , which gained 1.3% after AT&T CEO Randall Stephenson told employees in a memo reviewed by Reuters that hiring President Trump's personal attorney, Michael Cohen, was a "big mistake."
The giant telecoms company paid Cohen's company Essential Consultants LLC $600,000 during 2017 to help the company confront "a wide range of issues," including its proposed $85 billion merger with Time Warner Inc (TWX) , according to the memo. As a result, AT&T's head lobbyist, Bob Quinn, who oversaw the hiring of Cohen, is retiring.
"The fact is our past association with Cohen was a serious misjudgment," Stephenson wrote.
A few other people lost their jobs this week after getting embroiled in some of the Trump controversies. Though the president has been accustomed to lambasting Arizona Sen. John McCain, a Republican who failed to support Trump's health-care law changes, it was a commentator on Fox News, Retired Air Force Lt. Gen. Tom McInerney, who will have more time to spend with his family after claiming that torture worked on McCain while he was held as a prisoner during the Vietnam War. Fox apologized for the remarks.
Also losing one gig while taking on another is Rudolph Giuliani, the former mayor of New York and now Trump's personal lawyer. Giuliani explained that Cohen's having paid large sums on behalf of his client without telling the client is something Giuliani himself does.
"That was money that was paid by his lawyer, the way I would do, out of his law firm funds," he said on Fox News. He added, "Michael would take care of things like this like I take care of this with my clients."
But Greenberg Traurig, the law firm of which Guiliani was a partner at the beginning of the week, took offense at the suggestion of that Giuliani's ethics are common at the firm.
"We cannot speak for Mr. Giuliani with respect to what was intended by his remarks," said a spokeswoman, Jill Perry. "Speaking for ourselves, we would not condone payments of the nature alleged to have been made or otherwise without the knowledge and direction of a client."
So the two have parted ways, Giuliani saying he's resigned.
That may wind up costing him more than what's left of his reputation: average partner compensation at Greenberg Traurig is about $420,000 a year, according to Paysa, a website that gathers information about pay at various companies including law firms.
But hey, at least Rudy didn't tank stocks. See you next week.
To contact the writer: john.pickering@thestreet.com. Twitter: @Johnpickering16