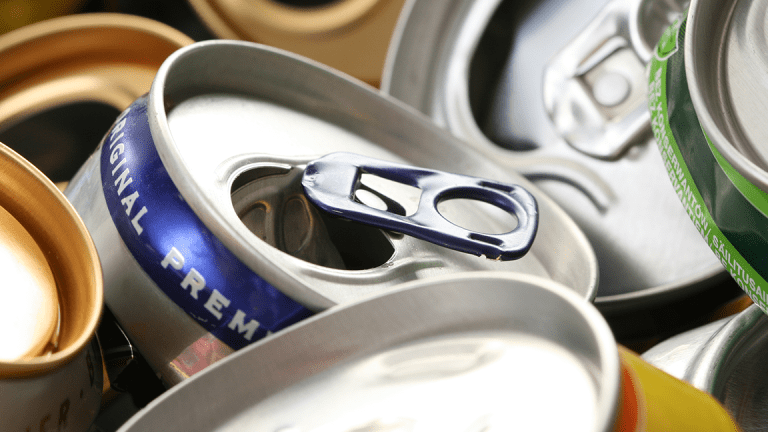 Beer and Soda Prices Likely Heading Higher
The rising costs of aluminum, sweeteners and freight will likely result in higher beverage prices for consumers during the second half of this year analysts say.
The rising costs of aluminum, sweeteners and freight will likely result in higher beverage prices for consumers during the second half of this year analysts say.
Imbibers and teetotalers alike may want to drink up this summer.
That's because by year's end, consumers will likely be paying 1% to 3% more for beer, soft drinks and energy drinks, due to climbing costs for aluminium, sweeteners and freight, say analysts.
"Beverages have more pricing power than the food companies and are able to take price [raise prices]," BMO Capital Markets analyst Amit Sharma told TheStreet on Tuesday, June 12. Sharma said beverage consumers believe they get more value from drinks than food products and tend to be more loyal to brands and that there are far fewer private labels in the drinks space than in the foods sector.
Prices for the aluminum used in cans for beer and nonalcoholic drinks are rising, largely thanks to the 10% tariffs imposed by President Trump on imported aluminium beginning in March. Prices for high-fructose corn syrup, the sweetener used in many U.S. carbonated drinks, are up as well.
Some companies are also affected by the mounting cost of freight, due to both a shortage of truck drivers and a new federal law that limits a driver's day to 11 hours. However, since many beverage companies own their trucks and employ the drivers, freight costs are less of a concern.
A spokesman for PepsiCo  (PEP) - Get Report   had no comment. Coca-Cola Inc. (KO) - Get Report  declined to respond to a request for comment when contacted by TheStreet.
However, Sharma believes that hikes are inevitable this year across the board for both nonalcoholic and alcoholic drinks. There are differences among the companies that dictate which will be hit the hardest by materials and services heading upward.
Coca-Cola, for example, is shielded from the rising costs of aluminum because it doesn't bottle the drinks that bear its name. Both Coca-Cola and PepsiCo will pay more for high-fructose corn syrup, and Pepsi, which bottles its own drinks, will face pressure from higher aluminum prices as well, added Sharma. Monster Beverage Corp. (MNST) - Get Report , which Coca-Cola has an 18% stake in, is hit with the triple whammy of hikes in all three areas.
According to a BMO Capital Markets note on March 6, the companies with exposure to higher aluminum prices are:
Monster, 15% to 20% of cost of goods sold (COGS)
Molson Coors Brewing Co. (TAP) - Get Report  10%
PepsiCo, 5% to 10%
Coca-Cola, 5% to 10% for bottlers only 
Dr Pepper Snapple Group Inc. (DPS)  5% to 10% for bottlers (less than 3% at company level);
and Constellation Brands Inc. (STZ) - Get Report  6% to 7% of beer COGS. 
Margins are likely to see a lift when higher prices go in, added Sharma, because companies bake in larger increases than they need to cover expenses.
Monster CEO Rodney Sacks told shareholders at a meeting on Friday, June 7, that the company would probably raise prices later this year.  CFO Hilton Hiller Schlosberg followed up by saying that the type of aluminum used in drink cans was supposed to have been exempt from the tariffs, but was later included. He said he monitors aluminum prices daily.
Although the big soft drink makers and brewers tend to have pricing power, Wells Fargo analyst Bonnie Herzog wrote in a recent note that Monster does not. "We remain more cautious on MNST's ability to get pricing [raise prices] and note 75% of our convenience-store retailer contacts recently indicated that MNST is not in a position to take pricing in the current environment," she wrote.
Sharma added that Monster wants its prices to be more in line with rival Red Bull's. The 16-oz. Monster Energy Drink sells for roughly 14 cents less a can than an 8-oz. Red Bull. The average prices over last 12 weeks for the competing products were: Monster, $2.25, and Red Bull, $2.37. Both companies are based in California, with the privately held Red Bull in Santa Monica and Monster in Corona.
Year over year, aluminum prices are up about 20%.
PepsiCo and Constellation Brands are holdings in Jim Cramer's Action Alerts PLUS member club. Want to be alerted before Jim Cramer buys or sells PE or STZ? Learn more now.
How to Play Today's Risky Markets.Register for free to watch what top experts from Bank of America, Fisher Investments, Invesco and Wells Fargo say smart investors should do now.