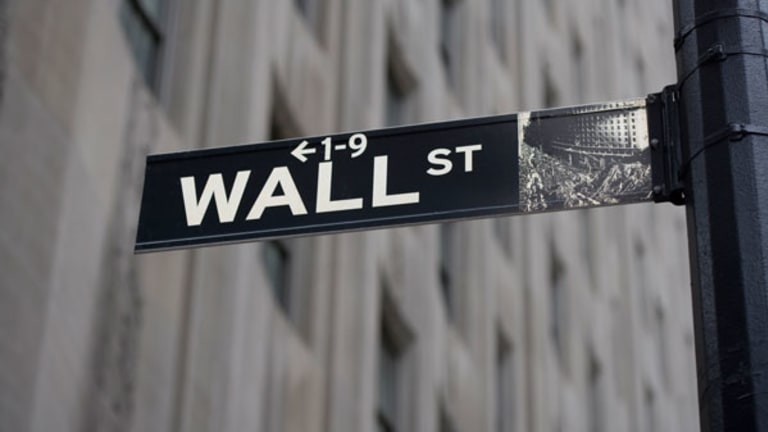 Beat the Market With 5 Foreign Stocks Everyone Hates
These heavily shorted stocks could get squeezed much higher on any positive catalyst.
BALTIMORE (
) - With all of the attention investors have fixed on big U.S. indexes right now, it's easy to forget about foreign stocks. But that would be a big mistake in 2013.
As the U.S. stock market has been heating up, so have a handful of attractive international markets. Right now, more than a couple of them even make the S&P 500's rally over the last six months look tepid.
>>5 Hated Earnings Stock Poised to Pop
But I'm not recommending that you jump in and buy the foreign names that are the hottest right now. Instead, I think it makes sense to buy the overseas stocks that everyone hates.
When I say that investors "hate" a stock, I'm talking about its short interest. A stock with a high level of shorting indicates that there are a lot of people willing to short shares (and bet on a decline in its share price) -- and not many willing to buy. But my research shows that that's historically been a pretty good gain indicator.
Going back over the last decade, buying heavily shorted large and mid-cap stocks (the top two quartiles of all shortable stocks by market capitalization) would have beaten the S&P 500 by 9.28% each and every year. That's some material outperformance during a decade when decent returns were very hard to come by.
It's worth noting, though, that market cap matters a lot. Short sellers tend to be right about smaller names, with micro-caps delivering negative returns when the same strategy was used.
>>5 Rocket Stocks to Buy This Week
Today, we'll replicate the most lucrative side of this strategy with a look at
that short sellers are piled into right now. These stocks could be prime candidates for a short squeeze in 2013.
In case you're not familiar with the term, a "short squeeze" is the buying frenzy that ensues when a heavily shorted stock starts to look attractive again to investors, causing share price to skyrocket. One of the best indicators of just how high a short-squeezed stock could go is the short interest ratio, which estimates the number of days it would take for short-sellers to cover their positions. The higher the short ratio, the higher the potential profits when the shorts get squeezed.
Naturally, these plays aren't without their blemishes -- there's a reason (economic or otherwise) that these stocks are hated. But for investors looking for exposure to a speculative play with a beefier risk/reward tradeoff, the data tells us that these could be powerful upside plays for the coming year.
Without further ado, here's a look at our list of
large-cap short squeeze opportunities
.
>>5 Stocks Setting Up to Break Out
Ecopetrol
It's been a good year for shares of
Ecopetrol
(EC) - Get Ecopetrol SA Report
, even if investors hate this stock right now. The $130 billion Columbian oil and gas company has seen its shares climb more than 26% in the last 12 months, stomping the performance that domestic oil giants have been able to turn out here at home.
But don't think for a second that the upside in Ecopetrol has investors warming to shares. With a short interest ratio of 17.8, it would take almost a full month of buying pressure for shorts to cover their bets against this stock. That makes it a prime short squeeze candidate.
Ecopetrol is the biggest energy company in Colombia, generating around 70% of the country's output. Despite the firm's publicly traded float around 90% of shares are still owned by the Columbian government, a fact that helps guarantee that market-leading position isn't likely to disappear any time soon. Not surprising, that government-sponsorship means that EC is a vertically integrated firm, with operations ranging from exploration and production to refining and transportation.
Oil prices sitting on the high end of their historical range provide a big tailwind for Ecopetrol. That said, exposure to the volatile Colombian Peso doesn't help investors' love affair with this stock, particularly given the strong performance of the U.S. dollar in recent years. Don't forget, though, that EC's output is denominated in oil and gas, two commodities that make the firm's exposure to the peso slightly less worrying. Government-sponsored enterprise status doesn't hurt either for shares.
Royal Bank of Canada
Make no mistake, investors hate Canadian banks right now. But they're facing an uphill battle given the relative strength of the financial sector for the last six months.
Royal Bank of Canada
(
) is a perfect case in point. The mammoth institution is Canada's biggest bank, with more than C$750 billion in assets on its balance sheet. Shares of RY are up around 20% in the last 12 months, not factoring in the 3.88% dividend yield that the stock currently sports. A huge short interest ratio of 31.2 means that it would take a month and a half of buying for shorts to cover their positions.
It also makes Royal Bank of Canada one of the most heavily shorted blue-chips trading on the NYSE today.
Like other Canadian banks, RY fared better than its peers stateside, buoyed by a Canadian housing market that never really felt the same fall that real estate saw in the U.S. As a result, the bank's loan book boasted better performance numbers, and it managed to make it through the financial crisis without quite the same level of brinksmanship (and equity dilution) that U.S. peers experienced. Stronger exposure to retail and commercial banking, rather than riskier practices, is another big benefit to RY's structure.
That doesn't mean that this firm is spotless. Sustained low interest rates present problems for RY's ability to earn meaningful risk-adjusted returns from its loan book right now, especially since central bankers are concerned with concentration of risk in a handful of institutions. In other words, the firm can't pursue loan volume the way it would like to. Barring some huge unexpected customer deposit flight, this bank should remain in solid financial shape for the foreseeable future. And that hefty dividend will continue to eat into shorts' profits.
Chunghwa Telecom
Taiwanese telco giant
Chunghwa Telecom
(CHT) - Get Chunghwa Telecom Co. Ltd. Report
is in a similar boat right now. It's a staid firm with reduced growth prospects, but it's also a cash generation machine that outpaces the income streams that U.S. communications stocks are paying out by the shovel-full right now.
Dividend payouts are like kryptonite for short sellers, and with a dividend yield of 5.73%, it doesn't take much time before shorts see their profits get eroded. Maybe that's why it's so surprising that CHT currently sports a short interest ratio of 19.6.
Chunghwa is the dominant Taiwanese mobile, internet and fixed-line carrier, serving a mind-blowing percentage of the population. While market share growth is difficult to achieve at this stage, the firm has found success in boosting its average revenues per user by convincing subscribers to increase their level of service. By boosting the percentage of customers who subscribe to 4G LTE on their cellular phones and high-speed broadband internet at home, CHT can continue to provide meaningful growth for investors.
A huge net cash position gives Chunghwa plenty of dry powder to pay for network upgrades and to keep dividend payouts smooth. Given the firm's enormous infrastructure portfolio, CHT's balance sheet is immaculate -- and even though stock performance has been lackluster in the last year, its short interest ratio makes it a potential short squeeze name to watch in 2013.
Rogers Communications
Things are getting out of hand in shares of another foreign telco,
Rogers Communications
(
). The $24 billion Canadian firm has had investors betting against it en masse, pushing its short interest ratio up to a staggering 51.1. At that level, it would take more than two months of nonstop buying for shorts to exit their bets given current volume levels. It also makes RCI the most-shorted foreign stock on our list today.
Rogers is Canada's largest wireless provider, a title that means a lot in an industry in which customer stickiness is partly forced by medium-term contracts and its TV, Internet and landline package deals. The firm boasts the nation's most advanced network. As the first carrier to introduce 4G LTE to Canada, Rogers is able to court customers looking for higher connectivity speeds, even if that advantage comes at a hefty cost.
What many investors don't seem to realize is that in many cases short squeezes aren't fundamentally driven; they're typically structurally driven. That means that it won't necessarily take some huge positive earnings surprise in RCI to balloon its share price. Instead, the supply and demand forces of the market can create a positive feedback loop that forces short sellers to run for the exits. Bear that in mind now that RCI's short ratio is sky high.
Wipro
IT service provider
Wipro
rounds out our list of hated foreign stocks. This Bangalore, India-based outsourced IT provider currently sports a short interest ratio of 12.1.
Wipro is best known for its IT services unit, which generates around three-quarters of the firm's total sales. The business started out offering large corporations cheaper outsourced IT expertise than they could find at home, but the firm has evolved to hold itself out as a higher-end consulting firm that competes with all of the most recognized IT service firms here at home. Wipro's ability to earn revenue both as a conventional IT service firm and as a cost-centric outsourced IT provider means that the firm is able to court companies looking for top-level solutions at a price as well as those just looking to cut costs.
One of the more bizarre aspects of Wipro is its consumer segment. While the firm's computer sales business at least makes sense, it also owns a division that makes products like cooking oil and soap -- not exactly a complementary business. The firm's decision to split its two disparate businesses apart is a wise one. It should help to boost overall margins for the more important IT side of the business. Investors should be on the lookout for a short squeeze in this stock.
To see this week's short squeezes in action, check out the of
Foreign Short Squeezes portfolio
on Stockpickr.
-- Written by Jonas Elmerraji in Baltimore.
RELATED LINKS:
>>5 Bottoming Stocks Starting to Signal a Buy
>>5 Bargain Stocks to Play the Resurgent Consumer
>>5 Stocks That Want to Pay You More This Quarter
Follow Stockpickr on
and become a fan on
Facebook.
At the time of publication, author had no positions in stocks mentioned. Jonas Elmerraji, CMT, is a senior market analyst at Agora Financial in Baltimore and a contributor to
TheStreet
. Before that, he managed a portfolio of stocks for an investment advisory returned 15% in 2008. He has been featured in
Forbes
,
Investor's Business Daily
, and on
CNBC.com.
Jonas holds a degree in financial economics from UMBC and the Chartered Market Technician designation.