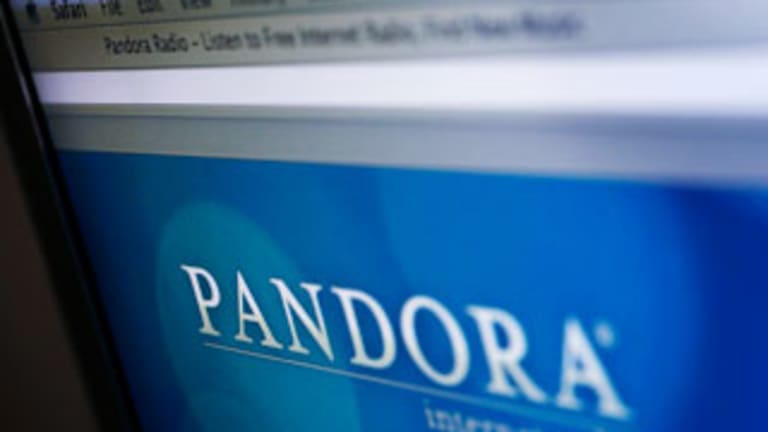 Bearish Pandora For the Wrong Reasons
It should be investing 101: Be sure to support your bear case with bonafide reasons to be bearish.
NEW YORK (TheStreet) -- Of all the companies I follow, there has never been one more misunderstood than Pandora (P) . When I was bullish Pandora, I had to distance my take from bullish, yet very different arguments. Now that I'm bearish, I often do the same.
You must ensure the reasons you're bullish or bearish make sense in support of whatever conclusions you come to. Check yourself. Because, if you don't and your reasons might not logically lead to your conclusion. Worse yet you could be merely co-opting consensus arguments to support your preconceived and desired outcome. This can make for particularly risky investing. Sometimes you'll be wrong and end up right anyway. But that's not a good habit to fall into.
Case in point -- an article published by TheStreet contributor David Meyers last Friday, Pandora's Got Static, Lost 53% in 6 Months.
In the article, Meyers (rightfully) gloats about being on the right side of Pandora stock. He laments moderating growth (which shouldn't come as a surprise; I've been telling you for years that growth would moderate at Pandora). Meyers goes on to make a statement that shows a misunderstanding of Pandora's core business model:
Ironically, Pandora boasted more listener hours this quarter. I fail to see the relevance in this. If the company doesn't have more listeners, it simply means old listeners are listening longer. I fail to see how that is at all beneficial in the long run. Maybe Pandora can squeeze in a few more commercials but that is not sustainable growth ( bold emphasis added).
That's like saying I can't get into Kate Upton because she's a redhead. There's just no legitimate nexus between the point Meyers made and his Pandora bearishness.
Investing and life lesson 101: If you "fail to see" something ask yourself why multiple times. Put yourself through the reflective and introspective ringer.
In this case, what Meyers fails to "see" are the basics of Pandora's primary business model.
Pandora derives a considerable share of its revenue selling what amounts to traditional radio advertising to agencies and national/regional/local companies accustomed to buying traditional radio advertising. That's been the approach since former Pandora CEO, the great Joe Kennedy, decided Pandora would be radio ... redefined. That's why Pandora has spent nearly all of its time aside from fighting the royalty fight building out a sales infrastructure, which includes feet on the ground, ratings that jibe with the ones traditional radio stations show advertisers and inclusion in the systems agencies use to automatically buy airtime.
In this world, the notion of "old listeners ... listening longer" absolutely matters. Back in the day, we called it TSL (time spent listening). It's something radio advertisers like to see because it shows them that your average listener sticks with you for enough quarter hours that they might actually hear (or see) some commercials. But, more importantly, it suggests your station or platform has loyal listeners. If there's loyalty, there's often trust. If there's trust and the proper ad gets served, some listeners will respond.
The end game -- Pandora sells clients effective advertising. They repeat. Others follow suit. When Pandora scaled out its business, it accomplished something massive. It can take custom audiences to advertisers -- large and small -- that are just as big as the audiences broadcast radio stations and clusters command. At some point, these pools of listeners will not grow as much in size as they used, but that's not Pandora's fault. It's an inevitability.
You have to understand something about how radio works to understand Pandora. If you don't, you'll "fail to see" the (staying) power of its core business model. And you'll be bearish for the wrong reasons.
I'm not bearish Pandora because it sells advertising like radio stations and groups do. I'm bearish because the company consumes itself with doing this and only this with respect to revenue generation. At some point, revenue growth will slow much the same way listener growth has. That's all good -- it's just the nature of the beast -- if you have cultivated other lines of revenue to keep your business humming like one we call an Internet/tech company with a $5 billion market cap. You can't act like Cumulus Media (CMLS) - Get Cumulus Media, Inc. Class A Report and expect an Amazon.com (AMZN) - Get Amazon.com, Inc. Report valuation.
While Pandora's recent deal with thousands of indie labels changes the game, it only does so within the confines of the music industry. Unless Pandora drastically reduces its royalty costs through these deals, there will be little impact on the bottom line. But, even if there is, these things -- like adding more commercials -- are just tweaks designed to maintain subsistence on the core business model. There's no Amazon-like aggression to enter other areas and generate even more revenue. If you're dynamic enough in this respect, you don't need profits. But if you're relatively dull, boring, static and hyper-focused on one thing, you need something else to keep trading like a high flyer.
Whether it's building out a data-driven business beyond targeted advertising sales or recognizing Pandora would be more powerful as part of another company, these guys need to do something to diversify and expand (and I don't mean internationally). There are tons of possibilities. If Pandora refuses to explore them -- or fails to execute -- you have reason to be bearish. But there's no reason to be bearish on the basis of the company's original business model alone. It's not the model itself that's the problem. It's what is not happening around it that is.
--Written by Rocco Pendola in Santa Monica, Calif.
Rocco Pendola writes for
TheStreet
. He lives in Santa Monica. Disclosure: TheStreet's editorial policy prohibits staff editors, reporters and analysts from holding positions in any individual stocks.