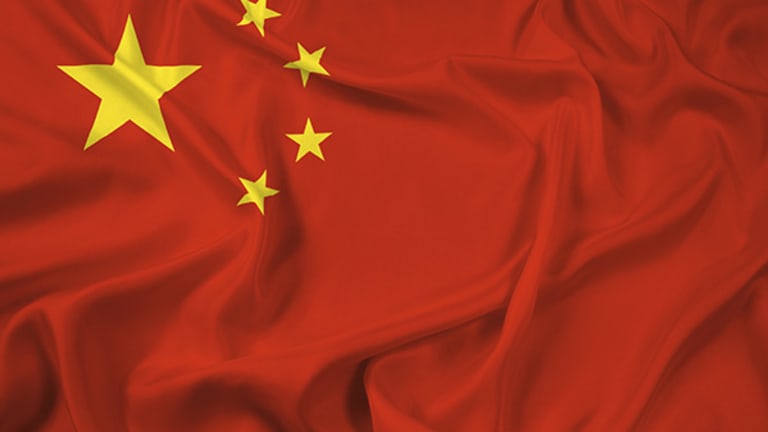 Bear Charts of the Day -- Avoid China Life, China Petroleum and Chemical
There are several warning signs hitting the daily charts we should consider before hopping back into the hot Chinese market. So steer clear of charts that look like these two.
NEW YORK (Real Money) -- After a huge run in late March and early April, is China about to turn into the Year of the Dog, a year when stocks wind up chasing their tales? Sprinting early and then fading late? It's probably a little early to come to that conclusion, but there are several warning signs hitting the daily charts we should consider before hopping back into the hot Chinese market.
Rather than use a broad-based exchange-traded fund, I'm simply going to look at two companies with a combined market cap of $300 billion. These two come in at #3 and #4 in terms of market cap of Chinese stocks trading here. Of course, I'm talking about China Life Insurance  (LFC) - Get Report and China Petroleum and Chemical (SNP) - Get Report.
I found these charts to be very similar to not only each other, but many of the broader Chinese ETFs. It's tough these days to tell if the dog wags the tail or the tail wags the dog, but when I'm looking for outsized moves, I'll stick with individual names, and that starts with LFC.
LFC is already off its highs of May by 11%, so seeing the oversold reading in the slow stochastic or the dip in the RSI should be no surprise. And these may portend a bounce. They may, but when I compared this bounce to the one in March, I saw some differences.
First, we have a much higher price, yet the same RSI. If the RSI fails to hold here, expect it to lead price lower. Second, while we had a crossover in the slow stochastic a few days ago, price failed to react. In March, it was a straight shot higher after this crossover. Third, the Bollinger bands are expanding further after a contraction in mid-May. This also was not the case in March.
Lastly, we haven't seen a bullish crossover yet in the parabolic stop and reverse. That should come a few days into any bounce to confirm the full reversal in trend. It is last because it is the least important at the moment, but will become worth a watch if we do see a move higher.
I can't forget about price, either. The stock lost important support twice now over the last two days. Resistance now sets up around $23. Failure to get back over $23 before Friday puts us on a path to $21.40.
The picture for SNP is only slightly better. One main difference here is price, as the stock has tested and held support twice in the last four days. A close under $82.40 should test $80. While LFC bounced in March when the slow stochastic saw a bullish crossover while in oversold territory, SNP had no such luck. Its bounce came when the crossover happened around $80, above the oversold area.
While the stock did bounce on the other three crossovers that occurred in oversold territory, they were temporary bounces, which led to lower prices just a few weeks later. This is a big mover, so a bounce to $86 before a drop back to the $78-$80 area would not be a shock. This one is like LFC, though the next two days are very important. If we get any momentum follow-through tomorrow to the downside, then I believe it will be worth a short shot; however, if we get a close over $83.50, then I would keep a focus mainly on LFC. This one looks to be the stronger of the two, but only by a slim margin.
There could be more trouble brewing behind the Great Wall if buyers don't step in. Given the huge run in April, there are bound to be many regretful buyers stifling upward movement for weeks or even months to come. I would stay with the strong charts when looking at China, and steer clear of charts that look like either of these two.
Editor's Note: This article was originally published at 7:54 a.m. EDT on Real Money on June 11.
This article is commentary by an independent contributor. At the time of publication, the author held no positions in the stocks mentioned.