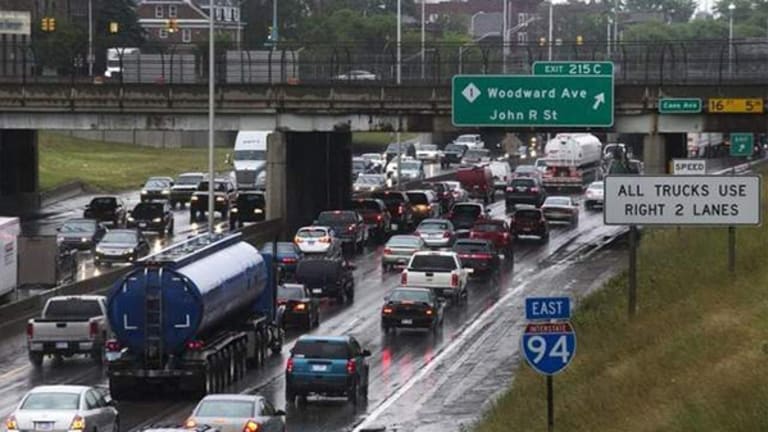 Bear Chart of the Day: Landstar Coasting Toward January Low
Landstar is a head-scratcher since many of the trucking companies looked ready to surge higher just a short time ago.
NEW YORK (Real Money) -- Landstar System (LSTR) - Get Landstar System, Inc. Report, unlike Lone Star, doesn't look like it's here to save the day. It's a head scratcher as well, since just a short time ago many of the trucking names looked ready to break higher.
JB Hunt (JBHT) - Get J.B. Hunt Transport Services, Inc. Report, Swift Transportation (SWFT) and Old Dominion Freight Line (ODFL) - Get Old Dominion Freight Line, Inc. Report all looked ready to soar, and the likely assumption was they could drag the laggards higher along with them. And before we go crazy blaming a bounce in oil prices, that bounce has been mostly handed back to the market, yet truckers have yet to see one.
So, what does that mean for one of the trucking names that didn't look ready to break out before the group started pulling back?
Landstar is trucking toward support here after taking a short break in the $66 area. The stock saw a nice bounce from the January lows, but now, here we are again, testing a slightly rising support line just below $65.
This one is a bit deceptive, as the true support may really sit in the $63 to $63.50 range. If you notice all the empty space between price and the solid support line during the months of February and March, that's the reason.
This empty space weakens the actual trendline, so what we may find is the support actually will be the low prices of January rather than the trendline. I would prefer to use the trendline as an alert, especially if I am a bull here. In terms of price, we seem to be forming another bear flag after the recent move lower, which occurred after the support of a previous bear flag was lost.
There's no help from the technicals either. The moving average convergence divergence (MACD) indicator and relative strength index (RSI) are both firmly planted in bearish territory, but neither is setting up for a potential bounce.
The RSI is nowhere near oversold yet, and I'd want to see a bullish crossover with the MACD. The money flow index (MFI) is a nice add-in here as it flashes oversold more than the RSI.
Hitting oversold there hasn't been a buy, but the MFI rising out from oversold, moving from under 20 to over 20, has made for decent short-term trades of one to two weeks. Again, we aren't there yet, but we are getting closer. If you want your higher percent bounce trade, then that's your trigger. A bounce into $68 looks shortable, or at least a good exit for any trapped bulls.
The weekly chart looks more precarious under $64. The bulls may be in for the long haul just to sniff recent highs, if we see a close under $64 in the next few weeks.
Landstar has put together a rather pronounced descending triangle pattern here after starting off 2015 by breaking the bullish uptrend from 2014. The Vortex Indicator is firmly planted in bearish territory, and at best for the bulls, this has meant a meandering stock price.
The same can be said about the RSI. There is simply nothing there. A weekly close over $68 along with an RSI back over 50 would be a more interesting long entry and likely make LSTR a short cover for bears. This ties in nicely to the concept of selling or shorting the daily chart on a bounce into $68.
The road seems clear for Landstar trading. A weekly close under $64 or a bounce into, but not through, $68 are the setups for a bearish trade. A weekly close over $68 with an RSI over 50 favors a return of the bulls, although my preference would be to see consecutive weekly closes over $68 before I jumped on the back of Landstar.
This article is commentary by an independent contributor. At the time of publication, the author held no positions in the stocks mentioned.