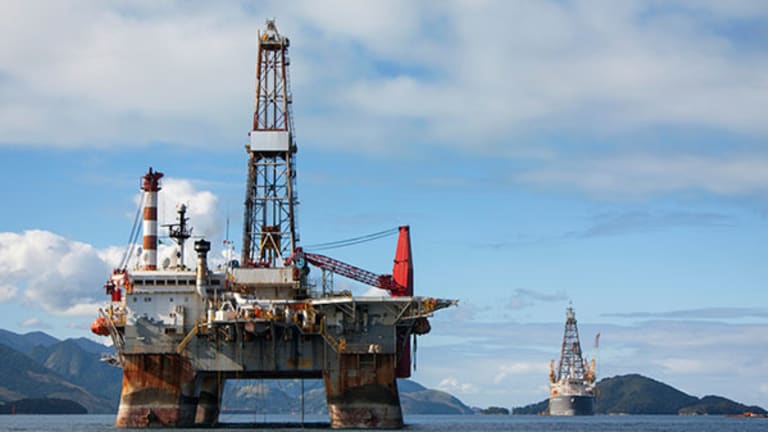 Bear Chart of the Day: FedEx a Potential Short if Oil Prices Rise
Many traders will look at airlines for a potential short side if oil moves higher, but FedEx or trucking names like Landstar may be better options.
NEW YORK (Real Money) -- What flat or bouncing oil giveth, it may also taketh away. I know many folks will look at the airlines for a potential short side if oil moves higher, but I would lean more toward FedEx (FDX) - Get Report or trucking names like Landstar (LSTR) - Get Report , mentioned earlier. 
FedEx has a similar setup with the potential to trigger another move lower. Note the word "potential." FedEx does have a bearish chart, but has not yet triggered a short trade.
So, why does FedEx fall into the second category? We don't yet have a trigger. After the recent drop in price, FedEx has been consolidating the move lower in a bear flag pattern; however, I'm not willing to anticipate the fall.
There is support around $163, the low of the flag, although some may be willing to look short on a move below $164. I would likely give it the extra dollar. Normally, I would look at that crossover in the slow stochastics as bullish and it has been, but this time it is different.
Well, it is different in terms of price and the action in the Vortex Indicator. Price has not yet bounced, whereas it has bounced almost immediately after the previous stochastics crossovers.
FedEx (FDX) -- Daily
Source: StockCharts.com
Furthermore, the Vortex indicator is becoming more bearish rather than starting to close. These changes in character alert us to the notion this time very well may be different.
This time the stochastics crossover looks like a fake-out and the path of least resistance is lower, especially under $164. A bounce above $170 would do a good job to erase the bearish setup, but until FDX sees $178, there are likely many better charts out there on the long side.
FedEx (FDX) -- Weekly
Source: StockCharts.com
FedEx has been a big winner since 2012. The stock enjoyed a huge run in a strong bullish channel. So the next question is whether this is a bull flag or a top.
Pretty simple in my view that a break below $160 means this was a top, while a move back above $180 classifies this as a bullish flag. Don't you love hindsight?
Well, it isn't about hindsight, but more about targets and expectations. Above $180, and we are on the path to $200 or more, while less than $160 targets $140 for long-term support.
We've now witnessed relative strength (RSI) moving back to below 50 -- something we haven't seen since this bull run began in 2013.
Furthermore, we have bearish crossovers recently in the MACD and slow stochastics. As far as oil goes, the correlation can be inverse for periods of time, but, overall, the impact of oil has only been a recent phenomenon. I wouldn't look at it to drive any decision long or short on FedEx.
There's no short trigger yet, but this one does set up as a near-term underperformer with the potential for a short side trade.
This article is commentary by an independent contributor. At the time of publication, the author held no positions in the stocks mentioned.