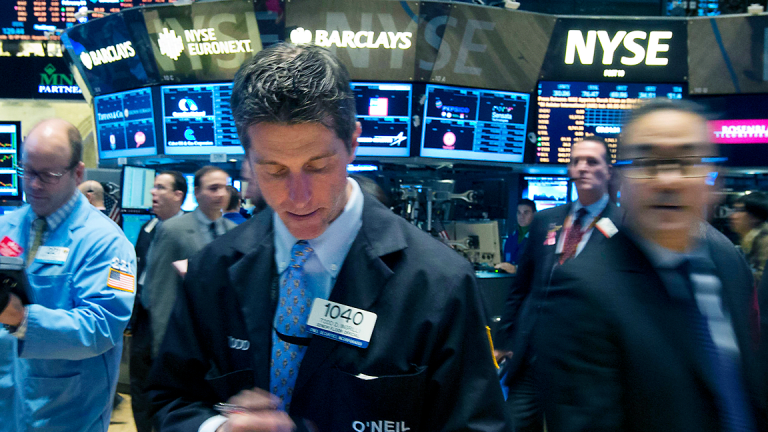 Be Slow to Dump Any Stock Now With a High Dividend Yield, Solid Track Record
A lot of names now suddenly present as dividend plays that maybe we do not think of in that way.
It becomes difficult for me to tell you where to run in these markets, because while I hate losing money, it causes me much, much more stress when folks follow me into a trade, and then they lose money. This is mostly because they do something else for a living, and given that this is my occupation, I am able to be a bit more agile than someone focused on something else.
While it has been, I think obvious, to adjust one's portfolio to a more dangerous environment in a defensive way. Yes, Utilities and cash are what everyone thinks of, but this also prices one completely out of potential growth. A lot of names now suddenly present as dividend plays that maybe we do not think of in that way. I would be slow to dump any stock right now with a high dividend yield and a solid track record for paying those dividends. What comes to mind?
Amid the Tech Wreck...
Seagate Technology (STX) - Get Seagate Technology PLC Report: Last sale 41.68... pays 6%, and has in recent memory always met the payout. The stock, like the group stinks right now. The annual payout is $2.52. Think of that. I have held this stock for years for this very reason. A trader needs to hide this one in a different portfolio so that the name does not impact daily P/L. This is strictly an income name.
Intel (INTC) - Get Intel Corporation (INTC) Report: This name reports tonight, and has become a real dog. Not only do they need a new CEO, they need to consistently meet targets on product development. I am down to tag's ends on this position and have been for a bit. That said, I am seriously thinking about rebuilding this long on any broad industry weakness today. I expect the stock to pop should the firm ever actually name a CEO. Oh, and they also pay you 2.8% to own the shares.
From the Energy Debacle:
Royal Dutch Shell (RDS.A) yields 6.1%
British Petroleum (BP) - Get BP p.l.c. Sponsored ADR Report yields 6%
Exxon Mobil (XOM) - Get Exxon Mobil Corporation Report Yields 4.2%
Schlumberger (SLB) - Get Schlumberger NV Report yields 3.8%... I am long to some degree all of these names. I added to my SLB on the closing bell last night, as that one has been my poorest performer in the sector. As the Saudis agree to take production closer to capacity, investment by the explorers and producers will become a necessity. I also trust the honesty of CEO Paal Kibsgaard. As for the other names here, I think them all to be worthy of some portfolio exposure, particularly Royal Dutch.
Speaking of Wrecks...
I am sure that you have noticed the positive results offered up by Ford Motor (F) - Get Ford Motor Company Report last night. Yeah, they crushed revenue expectations. The ugly truth is that this revenue is down sequentially from last quarter, which was down from the quarter prior. Don't buy this name because the pick-up trucks are hot, if you must, buy this name for the 7.3% dividend yield. General Motors (GM) - Get General Motors Company (GM) Report , a name that I have multiple positions in, pays out just under 5%. In my humble opinion, it's a slightly better, more well rounded firm. There is no doubt that we are past peak-autos. While I am willing to take on a hedged position in the one, I am not willing to be long both of these names.
On Health Care
Health Care, I believe was unfairly caught in the Wednesday carnage. While UnitedHealth (UNH) - Get UnitedHealth Group Incorporated Report remains costly in dollar terms, the valuation is now loser to being in line with the broader marketplace. I look for entry there. I remain long my pharma plays... Abbott Labs (ABT) - Get Abbott Laboratories Report , Amgen (AMGN) - Get Amgen Inc. Report , and Pfizer (PFE) - Get Pfizer Inc. Report . PFE, by the way, yields 3.2%, good enough for an annual payout of $1.36. Not bad for a $42 name.
Bear in Mind...
That both Alphabet (GOOGL) - Get Alphabet Inc. Class A Report and Amazon (AMZN) - Get Amazon.com, Inc. Report report tonight. I remain long the latter, but did take off half of my position prior last Wednesday. Do I add that portion back now? In the mid 1600's maybe. The stock is higher this morning. This call will have it be an audible at the line of scrimmage. As for GOOGL, they turned their back on the Pentagon. They no longer exist in my world.
(BP, Schlumberger, UnitedHealth, Abbott, Amgen, Alphabet, and Amazon are holdings in Jim Cramer's Action Alerts PLUS member club. Want to be alerted before Jim Cramer buys or sells BP, SLB, UNH, ABT, AMGN, GOOGL, and AMZN? Learn more now.)
(A longer version of this column appeared at 8:30 a.m. ET on Real Money, our premium site for active traders. Click here to get great columns like this from Stephen "Sarge" Guilfoyle, Jim Cramer and other experts throughout the market day.)
At the time of publication, Stephen Guilfoyle was Long STX, RDS.A, BP, XOM, SLB, GM, ABT, AMGN, PFE, RTN, UNP, AMZN, INTC equity, Short AMZN, GM puts, Short BP, GM calls.