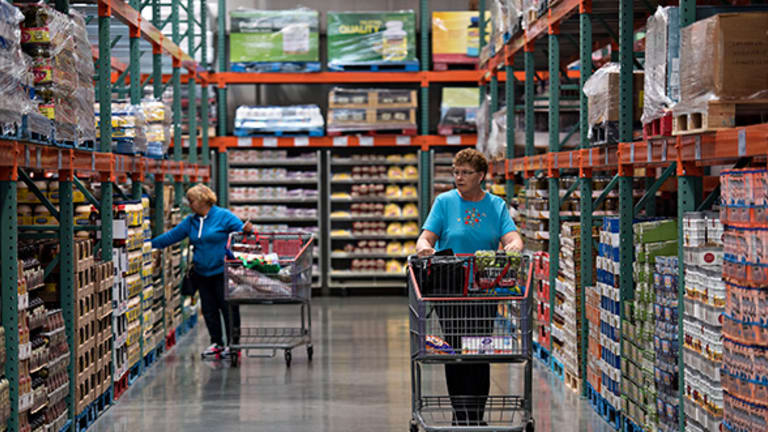 Be Prepared to Check Out of Costco
Traders are signaling their need to bail.
Costco (COST) has been trending higher since November, but a large number of price gaps over the past six months make me a nervous long. I don't worry so much about gaps to the upside if there is follow-through buying, but COST has also made downside gaps that show traders can also signal their need to bail out of longs in a hurry.
Let's examine the price action since November a bit more closely and see what will be the best strategy in the near term.
In this daily bar chart of COST, above, we see a changing pattern of price action. The rally from the November low is strong with only a sideways correction in December and January before prices top in late February. From March, the price action is weaker even though COST makes new highs. How is it different?
Notice the corrections in March and May -- steep declines. This reminds me of the "hot potato game" where we are quick to get rid of the "potato." Prices make a swift decline for a week or so and then take several weeks before retracing the selloff. The hard selloff and long recovery tell us the pattern is weaker.
COST is above the rising 50-day moving average line and above the slightly rising 200-day line. The On-Balance-Volume (OBV) line has moved up from the November low and has made new highs along with the price action. Price momentum (the bottom panel) shows a bearish divergence from February to May with lower momentum readings despite the higher price peaks. The pace of the advance is slowing.
This weekly bar chart of COST, above, has mixed technical clues. Yes, prices are in an uptrend the past three years and COST is above the rising 40-week moving average line, but that doesn't tell us the whole story. The weekly OBV line has moved up with the price action, but the 12-week momentum picture shows a decline from July until now. This is a pattern of weaker momentum compared to higher price highs or a bearish divergence. Divergences are not precise timing tools, but they tell us the pace of the rally is slowing and this should be a heads up to longs.
In this Point and Figure chart of COST, above, we can see a large consolidation pattern from late 2015 to early 2017. There is an upside price target of $198, but the rally has been interrupted with pullbacks (column of O's). A decline to $173.49 would give us another column to the downside.
Bottom line: If COST fails to break above its early May high, it will be a warning flag. A close below the rising 50-day moving average will be another warning and a close below $169 will be our signal to sell.
(This article originally appeared at 12:48 ET on Real Money, our premium site for active traders. Click here to get great columns like this Bruce Kamich, Jim Cramer and other writers even earlier in the trading day.)
Employees of TheStreet are restricted from trading individual securities.