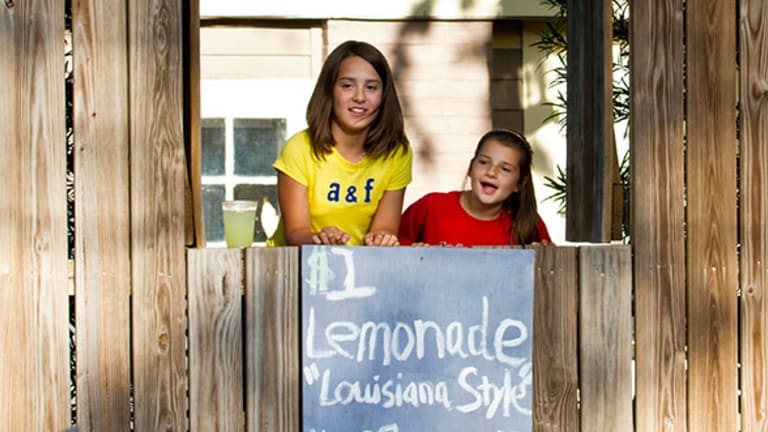 'Be Great' Author Aims to Set Girls on the Entrepreneurial Path Early
To make real progress on closing the gender wage gap, we need to teach our daughters how to go into business for themselves, says author Holly Lichtenfeld.
NEW YORK (TheStreet) -- Teaching young girls how to start and run businesses is an important step in closing the gender wage gap, said Holly Lichtenfeld, author of Be Great: A Money-Making Adventure.
Lichtenfeld wrote the book to encourage young women to step out of their comfort zones and learn what it takes to operate a business. She described herself as a 'girlpreneur' who earned extra money as a child running backyard carnivals and sales for her friends.
"Then as a mom, I started telling my children stories, and they always starred entrepreneurial characters," said Lichtenfeld. "I started to look around to see if there were any books that combined stories and skills about business and there was a big hole in the market. I got excited and started to write these books."
The two protagonists in the book, available at www.brightgirlscompany.com, are named Kylie and Lucy. Young readers do more than follow the pair as they start their fictional enterprise, explains Lichtenfeld.
"I have the reader stop and do activities along with the girls," said Lichtenfeld. "For example, the girls have to do a survey to figure out if their idea is a good one, and so the reader will do that as they go along. What I found from testing this is that by actually having those hands-on activities, the girls really get the concepts."
Still, not every business is successful and that's a concept that's tough for a hardened executive to accept, let alone a child.
"You learn from making mistakes, especially at this age," said Lichtenfeld. "I actually talk them through that and teach them that they have to look at it from a different angle and try different things and keep going. They learn to use those setbacks as learning opportunities."
Lichtenfeld also warns so-called helicopter parents to give their children room to make mistakes. Instead of swooping in to fix a problem, she suggested that they have a knowledgeable friend or relative act as a consultant.
"Think about who you know who might be able to help them and simply make the introduction," said Lichtenfeld, adding that kids need to learn to reach out to people other than their parents.