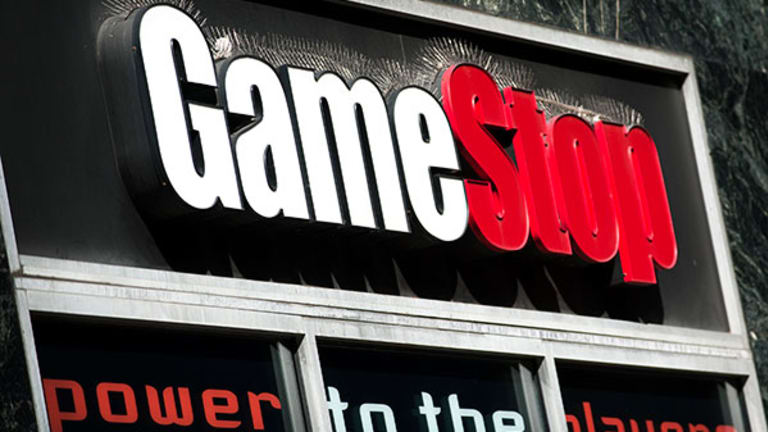 Battleground: Benchmark Says Sell GameStop, Piper Says Bears Misguided
Shares of video game retailer GameStop are pulling back despite the company having reported stronger than expected results and raising its guidance last night.
NEW YORK (TheStreet) -- Shares of video game retailer GameStop (GME) - Get GameStop Corp. Class A Report are pulling back despite the company having reported stronger than expected results and raising its guidance last night. Research firm Benchmark downgraded its rating on the shares to Sell from Hold in the wake of the results, though several other analysts came out in defense of the stock.
BACKGROUND: GameStop reported second quarter earnings per share of 31c, versus the consensus estimate of 25c. The company's revenue came in slightly above expectations and its global comparable store sales surged 8.1% year-over-year. Moreover, the retailer increased its fiscal 2015 EPS guidance to $3.66-$3.86 from $3.63-$3.83. The retailer expects its comp sales to rise 2%-7% during the full year.
BULLISH CASE: GameStop reported strong results and the video game industry has resumed growing, Piper Jaffray analyst Michael Olson wrote in a note to investors today. The analyst noted that the company provided Q3 same-store sales growth guidance of 1%-4%, below the consensus estimate of 4.5%. However, he thinks that GameStop's full-year EPS guidance could prove conservative, Bears will say that the company's sales of new software and pre-owned games came in below expectations in Q2 due to the increased use of digital downloads, Olson stated. However, the analyst believes that the strong growth of the industry and the increased popularity of new game consoles versus prior models should boost the sales of gaming software in coming quarters. He keeps an Overweight rating on Gamestop while increasing his price target for the stock to $57 from $56. Meanwhile, Oppenheimer said that the results represented "another step forward" for the company and show that it is exploiting improving video game trends. Research firm Wedbush believes that the company's guidance looks conservative, while Baird wrote that the company's diversification appears to be paying off. All of the firms kept a Buy or an equivalent rating on the stock.
BEARISH TAKE: Benchmark downgraded GameStop to Sell from Hold, contending that its business model will be "increasingly displaced" as consumers download more and more of their video games. Within the next five years, all video games will be downloaded, rendering GameStop's core business obsolete, predicted the firm.
WHAT'S NOTABLE: The shares of prominent video game maker Activision Blizzard (ATVI) - Get Activision Blizzard, Inc. Report are rallying after it was announced last night that the company would join the S&P 500 after the market closes today.
OTHERS TO WATCH: Other video game makers include Take-Two Interactive (TTWO) - Get Take-Two Interactive Software, Inc. Report and Electronic Arts (EA) - Get Electronic Arts Inc. Report. Microsoft (MSFT) - Get Microsoft Corporation (MSFT) Report, Sony (SNE) - Get SONY GROUP CORPORATION SPONSORED ADR Report, and Nintendo (NTDOY) market video game consoles.
PRICE ACTION: In late morning trading, GameStop sank 5% to $43.77.
The Fly
is a leading digital publisher of real-time financial news. Our financial market experts understand that news impacting stock prices can originate from anywhere, at any time. The Fly team scours all sources of company news, from mainstream to cutting-edge, then filters out the noise to deliver short-form stories consisting of only market moving content. Follow @theflynews on Twitter. For a free trial, click