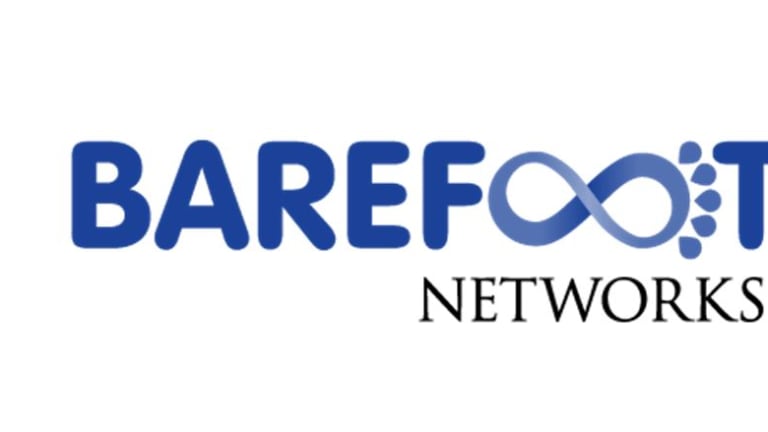 Barefoot Networks Leads Race for Programmable, Fast Chips
Its competitors are years behind in this technology race.
Its competitors are years behind in this technology race.
When it comes to chips, the need for speed can only get you so far. But if you can mix speed with programmability, especially with so-called switch chips, then you're ahead of the curve, as is Barefoot Networks.
The Palo Alto, Calif.-based startup is priming its transformative technology for some of the tech industry's giants, and it is looking to disrupt the market -- in particular, cloud operators Amazon (AMZN) - Get Report , Microsoft (MSFT) - Get Report , IBM (IBM) - Get Report and Alphabet's Google (GOOGL) - Get Report -- by changing the inner workings of those companies.
The company's Tofino switch chip fits inside networking switches, hardware devices that direct the flow of data across networks. It is also the world's fastest Ethernet switch chip with speeds of 6.5 terabits per second.
But the speed, while important, is not what distinguishes the Tofino from other chips on the market. Barefoot created the first programmable switch silicon, which gives enterprises the ability to specify the behavior of the packet-processing devices in their network. It is set to hit the market this quarter.
With Tofino and its suite of network solutions, Barefoot is directly targeting market leader Broadcom's (AVGO) - Get ReportTomahawk Ethernet switch series and other chipmakers such as Intel (INTC) - Get Report , even networking hardware giant Cisco Systems (CSCO) - Get Report . (Broadcom and Intel did not immediately respond to request for comment.) But even if those competitors were to unveil similar speedy chips, it would take years to match the programming capabilities of the Tofino chip.
Nick McKeown, Barefoot's chief scientist and co-founder, said during a phone interview with Real Money on Monday that he fully expects an announcement in the coming weeks or months from competitors who will try to match Tofino's speed. But McKeown said it "usually takes a few years" to be able to match his chip's programmability, and considering he started working on Barefoot in 2013, he certainly has a head-start on the competition.
Currently, chip designers decide what functions and capabilities an operator can have in a chip. But at Barefoot, the operators can decide what they are looking for. McKeown says he's received strong feedback from the engagement trials and believes "programmable is now here to stay."
Working with Google, Intel, Microsoft, in addition to Princeton and Stanford Universities, Barefoot created a language for programming networks called P4 -- Programming Protocol-Independent Packet Processors -- and open-sourced it, allowing developers to differentiate their products or networks.
That is something that McKeown said everybody wants -- their own feature -- and so companies are "now able to add that for themselves." In addition to enterprises customizing their chip's features, the chip can also be simplified, meaning features not necessary for the business do not have to be programmed. Throwing out those unused protocols also means there is less to go wrong.
The company's chief scientist said the most common thing that people want to know is: What's my network doing? Barefoot has introduced better monitoring features that can be done in hours, "rather than the years needed to change forwarding logic." McKeown said there's been "overwhelming interest" in Barefoot's networking solutions suite, and the company is targeting system availability closer to the end of the fourth quarter.
Barefoot's vice president of product and marketing, Ed Doe, said the company continues to broaden its group of backers (which include the likes of Google, Goldman Sachs (GS) - Get Report , Hewlett Packard Enterprise (HPE) - Get Report , Sequoia Capital and Andreessen Horowitz, among others).
As for McKeown's plans for Barefoot, he said he remains "dedicated to bring programming to networking," and building a company for the long term, one that he hopes is "able to stay independent."
Cisco, Hewlett Packard Enterprise and Alphabet are holdings in Jim Cramer'sAction Alerts PLUS Charitable Trust Portfolio. Want to be alerted before Cramer buys or sells AAPL, CSCO, HPE, GOOGL?Learn more now.
Editor's Note: This article was originally published at 4:30 p.m. EDT on Real Money on Oct. 12.