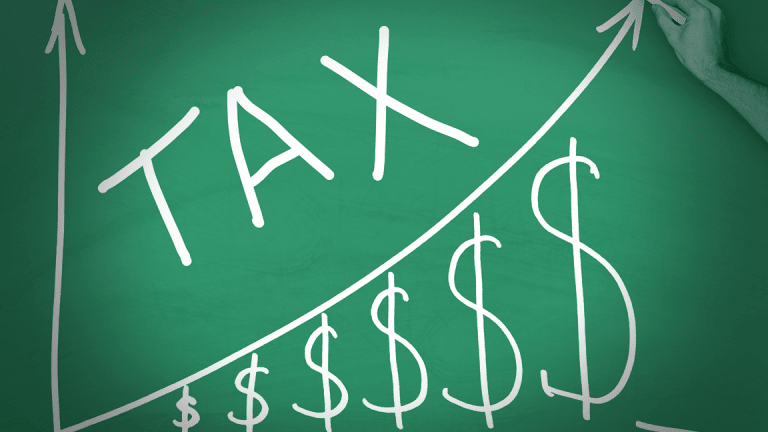 Barclays Top Tax Reform Takeways
Barclays has 13 takeaways after digesting the tax reform law.
The potential for tax reform has helped fuel a record-breaking run on Wall Street and passage of the bill has resulted in scores of companies offering bonuses to employees.
Analysts at Barclays believe that they have fully digested the implications of the $1.5 trillion tax reform law after meetings with investors since the beginning of the year and they came away with a number of takeaways. Here are some of the highlights:
Savings Won't Increase
Investors expect consumers to spend the extra money they'll have from tax savings. This view isn't just of the low-income demographic but across all income levels.
Investors Want to Justify Higher Stock Prices
Sentiment has turned positive thanks to the tax law and investors are looking to justify stock prices that have seen an unprecedented runup in recent months. 
Tax Reform Is a Gift and Curse
Balance sheets will benefit from top-line growth, but margins could also be squeezed thanks to the tax flow. 
EPS Estimate Stability Will Suffer
There is a wide range about where earnings per share will land over the next two years. The average range for EPS estimates among analysts polled by Barclays was 28.2%. This could lead to volatility for companies guiding on EPS growth, but not EBIT or EBITDA growth. 
Retail and Consumer Sectors Will Be Winners
Consumers are expected to save $300 billion in tax spending over the next two years, meaning more money to spend with retailers and consumer product companies. They'll be big winners. "It is impossible to be negative on retail/consumer in the near-term," Barclays said. 
That $300 Billion Won't All Be Spent
The temporary nature of some of the tax windfalls means that unlike the investor view, Barclay's sees people saving some of the extra money available from the lower taxes. 
Walmart Will be a Big Winner
"Walmart (WMT) - Get Report should benefit meaningfully from tax reform from both a comp (same store sales) and free cash flow perspective. As a result, WMT remains our Top Pick because we believe there is still meaningful upside to the stock," Barclays said. 
Could Be Different for Food Retail This Time Around
Windfalls rarely make it to the bottom-line for food retailers because of competition, and it could be different this time around, but Barclays analysts aren't convinced. 
The Strong Will Get Stronger
Amazon.com  (AMZN) - Get Report and Walmart will take the benefits of tax reform and run with it. "In our view, while tax reform may have given a last gasp to many extremely challenged companies -- the end result won't change: only the strong will survive," Barclays said. 
Amazon Isn't Done Expanding
Not that the company needs any reason to expand, but Amazon will take its tax and go on a spending spree, according to Barclays. "The point we are trying to make: we are in calmer waters for now but it won't last. When the next shoe drops -- only the strong will thrive and investors need to stick with the winners. Our ratings reflect this perspective."
More of What's Trending on TheStreet:
Amazon is a holding in Jim Cramer's
Action Alerts PLUS Charitable Trust Portfolio.
Want to be alerted before Cramer buys or sells it?
.