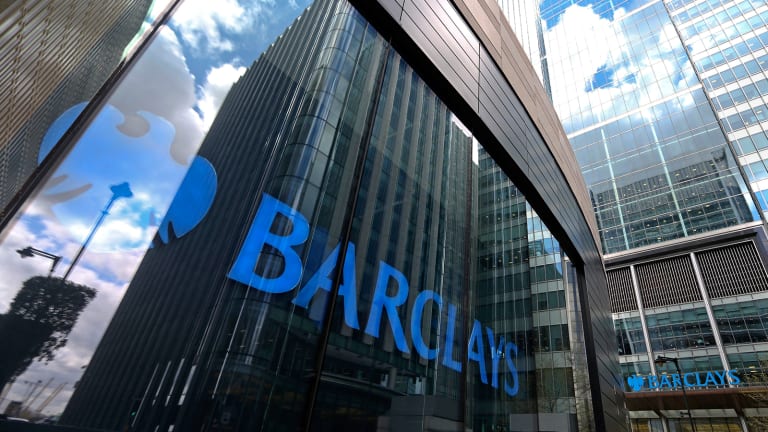 Publish date:
Barclays Stock Rises on Strong Earnings Beat
Third-quarter results stoke optimism about the bank's multiyear restructuring program.
Third-quarter results stoke optimism about the bank's multiyear restructuring program.
Barclays (BCS) - Get Report stock rose on Thursday morning after it topped expectations for revenue and profit in the third quarter. The bank also reported a strong performance from its core bank and lower-than-expected losses from the noncore assets that it has been seeking to shed ever since the financial crisis.
Barclays stock was recently up 1.7% at 184.5 pence, with other London-listed lenders mixed.  Barclays shares have fallen just more than 14% for the year to date.
The London-based bank reported total revenue of £5.4 billion ($6.5 billion), beating the consensus for revenue of £4.8 billion by about 12%. Higher revenue, lower noncore losses and tight cost control helped push adjusted profit before tax up to £1.7 billion, representing a 30% beat against the consensus for £1.3 billion.
"Taken together, the picture in the third quarter is one of strong progress ..," said CEO Jes Staley.
Barclays core bank, which houses the operations it intends to keep, reported profit before tax of close to £1.8 billion, which was above the consensus estimate of just less than £1.6 billion.
Losses in the non-core division came in lower than expected, at £94 million, against forecasts for the unit to fall £300 million into the red. Barclays sold several assets in the period.
In the third quarter, total group operating expenses were 2% higher, at £4.3 billion,  because of higher-than-expected litigation costs and a small increase in administrative expenses.
Conduct and litigation costs of £741 million came in 6% higher than in 2015 and dramatically above the company-compiled consensus estimate of £46 million, - with £600 million marked down as a provision for further payment-protection-insurance claims. Administrative, or core operating expenses, rose by 1% during the third quarter, to £3.58 billion.
Impairments were also higher, up from £429 million in 2015 to £789 million in the recent quarter, after the bank took a one-off charge of £320 million to increase its provisions against losses in its credit card division. Management noted that default rates have remained broadly stable.
However, Barclays managed to protect its bottom line from a lot of the higher costs after it recorded a £535 million gain on the sale of its index business to Bloomberg in August and also benefited from recently having jettisoned its Italian branch network and its Egyptian banking business.
Barclays has been restructuring ever since the financial crisis as part of an effort to reduce its risk profile and boost returns to investors.  It wants to become a more narrowly focused transatlantic consumer, corporate and investment bank and has sold a string of assets including mainland European retail banking operations.