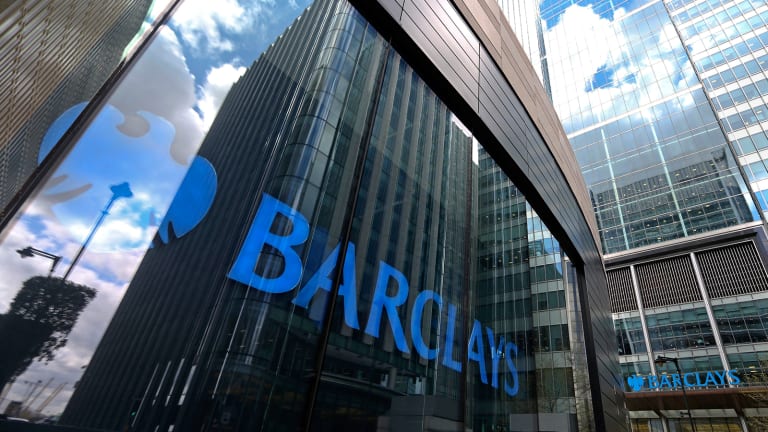 Barclays Profits Plunge in First Half on Disposals
Barclays' core business is performing well, but overall profits are being dragged down by non-core division losses.
Barclays (BCS) - Get Report  profits have fallen 21% in the first half of the year, weighed down by its non-core business, which it is in the process of disposing.
The bank cut its dividend to 1 pence, compared with 2 pence. Earnings fell to 6.9 pence per share in the first half of 2016 from 9.9 pence in the first half of 2015.
The group's pre-tax profit fell 21% to £2.06 billion. Profit for the core group rose 19% to £3.96 billion in the first half, from £3.35 billion in the same time frame last year. This included a gain of £615 million from the disposal of Barclay's share of Visa Europe
CEO Jes Staley told CNBC this morning that the core business - consumer, corporate and investment bank - "generated a return on tangible equity of 11%, that's one of the best returns of any bank in the world, so our core business did quite well."
However, the non-core business saw a loss of £1.9 billion in the first half, compared with £745 million at the same time last year. The increased loss is associated with disposals of the French retail, and wealth and investment businesss.
The company is in the process of disposing its non-core assets including the African Business. In March, the bank said that it would restructure the business to Barclays U.K. - a ring-fenced bank - and Barclays Corporate and International.
Staley said, "The second part of our strategy this year is to accelerate the closure of non-core so that we go into 2017 and we begin to have clean air to prosecute the strategy of Barclays which we feel very good about."
The company is also in the process of lowering headcount and has let go of 11,000 people since Staley took the helm in December.
Barclays closed down 2.17% in London at 146.50 pence on Thursday.