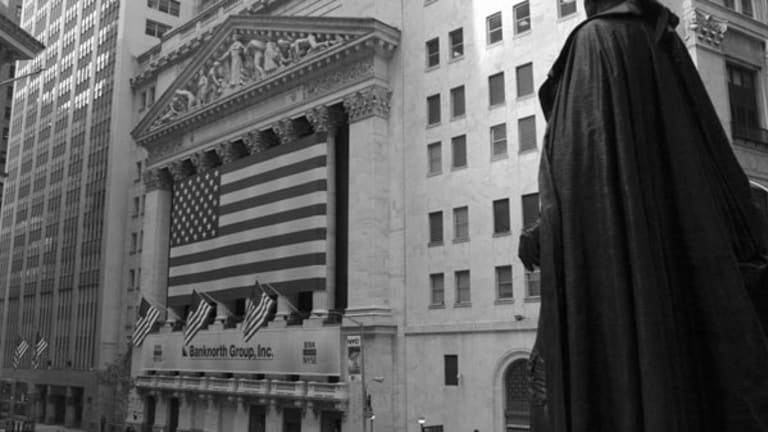 Barclays' 30 Best Stock Picks for 2011
The bank's much-anticipated annual report says JPMorgan and Teva are among shares that may gain the most.
BOSTON (TheStreet) -- Barclays, considered the best equity-research firm by Institutional Investor, released its must-read Global Top Picks for 2011. Here's a closer look at 30 of the U.S. stocks, which the bank says offer the greatest upside potential. Below is a look at picks 30 to 11, with the top 10 following. All are rated "overweight."
30.
Covidien
(COV)
29.
Potash
(POT)
28.
Kohl's
(KSS) - Get Kohl's Corporation Report
27.
UnitedHealth
(UNH) - Get UnitedHealth Group Incorporated Report
26.
Lennar
(LEN) - Get Lennar Corporation Class A Report
25.
Newell Rubbermaid
(NWL) - Get Newell Brands Inc Report
24.
Merck
(MRK) - Get Merck & Co., Inc. Report
23.
Rockwell Automation
(ROK) - Get Rockwell Automation, Inc. Report
22.
MasterCard
(MA) - Get Mastercard Incorporated Class A Report
21.
Apple
(AAPL) - Get Apple Inc. Report
20.
Sunoco
19.
Illinois Tool Works
(ITW) - Get Illinois Tool Works Inc. Report
18.
Yahoo!
(YHOO)
17.
Onyx Pharmaceuticals
(ONXX)
16.
DirecTV
(DTV)
15.
Corning
(GLW) - Get Corning Inc Report
14.
Cardinal Health
(CAH) - Get Cardinal Health, Inc. Report
13.
CB Richard Ellis
(CBG)
12.
Hartford Financial
(HIG) - Get Hartford Financial Services Group, Inc. Report
11.
AES Corp.
(AES) - Get AES Corporation Report
Now, here is a look at Barclays' top 10 stock picks, which offer the greatest potential for 2011.
10.
DeVry
(DV)
is a for-profit educator.
Although it faces near-term regulatory pressures, it is best-positioned within the industry to adapt quickly and regain financial footing in 2011, according to Barclays. The bank forecasts mid-single-digit student growth over the next three years, boosting margins, which will be pressured initially in 2011.
It forecasts 15% to 18% growth in 2011 and 2012. With a four to one ratio of upside reward to downside risk, it thinks the shares are cheap based on expected growth and has a target of $60. DeVry trades at a forward earnings multiple of 9.3 and a cash flow multiple of 8.2, 47% and 20% peer discounts.
9.
Western Union
(WU) - Get Western Union Company Report
has "among the best risk/rewards profiles" in Barclays coverage universe. It is cheap relative to peer and historical valuations.
The transaction processor and money transfer company will benefit from secular growth and a mix shift towards domestic transactions in 2011, which should bolster margins. Its new prepaid card offering is predicted to expand faster than competitors' products.
Barclays, known for conservative price targets, sees significant upside to its model for Western Union, if transaction growth exceeds expectations. Of analysts covering the stock, 18, or 67%, rate it "buy", eight rate it "hold" and just one ranks the shares "sell."
8.
Vale
is a metals and mining company and a producer of iron ore and iron ore pellets.
Barclays views the stock as the "best vehicle in Latin America to gain exposure to a potential five-year iron ore super cycle." A favorable iron-ore pricing environment will boost the stock, which is expected as Chinese consumption continues to grow.
Vale is a lowest-cost producer, so growth translates favorably to the bottom-line tally. Further, Barclays believes that Vale offers superior product quality, with a high iron to low gangue proportion, and has outstanding "long-reserve-life assets."
It views the consensus price scenario for iron as too bearish and the supply scenario as too optimistic.
7.
Invesco
(IVZ) - Get Invesco Ltd. Report
is an asset-management company, which Barclays believes is best positioned to profit from a transition out of fixed-income vehicles and into riskier asset classes in 2011, as Invesco's asset base is nearly 50% in equities or equity-related assets.
Barclays sees the operating margin rising from the mid-thirty-percent range to just beneath 40% if it can leverage its retail products into the institutional space and expand its asset base. Barclays' target suggests a potential 35% return in the next 12 months.
Other researchers are also bullish. Of those covering the stock, 65%, comprising
Goldman Sachs
,
Credit Suisse
and
JPMorgan
advise purchasing Invesco.
6.
Teva Pharmaceutical
(TEVA) - Get Teva Pharmaceutical Industries Ltd. Report
is the leader in generic pharmaceuticals and makes branded drugs.
Barclays views earnings visibility as high and sees limited downside in Teva shares. Currently, major concern stems from the potential generic competition for Teva's branded multiple sclerosis drug Copaxone. However, Barclays doesn't expect substantial generic competition until 2014 or perhaps even later.
Barclays' admittedly conservative $73 target implies a one-year gain of 42% in Teva's stock, which currently sells for a forward earnings multiple of 9.7 and a book value multiple of 2.1, 19% and 58% discounts to pharmaceutical peer averages. Around 81% of analysts rate it "buy", signaling optimism.
5.
JPMorgan
(JPM) - Get JPMorgan Chase & Co. Report
is a diversified financial-services company, with commercial and retail units.
According to Barclays, JPMorgan "holds a top three position in each of its six key businesses." Of note: Its investment bank, which accounts for 22% of sales, has a top two position in the ever-important emerging markets. Barclays expects the bank to boost its dividend and amplify share repurchases in 2011. Potential upside catalysts include loan growth and a pop in capital-markets businesses.
Ongoing difficulty in mortgages and credit cards is a concern. JPMorgan trades at eight-times Barclays's 2011 earnings projection, less than the historical average of 13. It is cheap based on cash flow.
4.
MEMC Electronic Materials
(WFR)
makes polysilicon and wafers for the solar energy and semiconductor industries.
Barclays believes that it will gain market share in the semi space in 2011 and its movement to bring wafering in-house will accelerate vertical integration in the solar business and boost margins going forward. With declining average-selling-prices and costs for wafers in 2011, earnings remain variable.
Still, the stock trades at nine-times Barclays' 2011 earnings forecast, a significant historical discount. In years past, its trading range has been 12 to 27 times Barclays' EPS estimate, so major upside is possible.
3.
TCF Financial
(TCB)
is a Midwest bank with retail and wholesale banking businesses.
Barclays notes that its seven-day branch operations and outstanding deposit base afford it a "best-in-class net interest margin." It has a strong leasing and equipment finance lease division, which will grow lending in 2011. Regulatory hurdles, including lower service fees stemming from the Dodd-Frank Act, present a potential headwind, which could damage its debit card fees anywhere from 20% to 80%.
Still, TCF is an exceptionally well-run bank, with 62 quarters of consecutive profitability and higher-than-average capital ratios. Barclays projects a $22 share price, suggesting 51% of upside in 12 months.
2.
Weyerhaeuser
(WY) - Get Weyerhaeuser Company Report
is a forest-products company, which raises and harvests timber. It also has real estate development operations. It will be structured as a REIT, or real estate investment trust, an entity required to distribute the majority of income to shareholders, at the end of 2010.
Barclays believed that a "multi-year cyclical upturn in demand, prices and profits" began in 2010. Barclays believes the stock trades below the liquidation value of Weyerhaeuser's various assets, rendering it dirt-cheap. Its $29 target suggests 57% upside. Other researchers are more cautious. Five rate the stock "buy." Eight rate it "hold." Three rank it "sell."
1.
AMR Corp.
(AMR)
owns American Airlines.
Its stock has risen 2.3% in 2010. Barclays has a positive view of the airline industry, predicting record profitability in 2011. Specifically, it believes AMR has "the best cash flow and incremental earnings potential" among carriers. It expects higher cost reductions resulting from a re-fleeting program and greater cash flow generation than other researchers.
It valued AMR's stock using a proprietary option valuation model and generated a target of $18, implying 127% of upside. Risks to this thesis include higher-than-anticipated jet fuel prices and failure to achieve unit cost reductions from re-fleeting.
-- Written by Jake Lynch in Boston.
Visit the
Barclays' 30 Best Stock Picks Portfolio
on Stockpickr.
RELATED STORIES:
4 Undervalued Tech Stocks to Rise At Least 53%
Become a fan of TheStreet on Facebook.
Disclosure: TheStreet's editorial policy prohibits staff editors, reporters and analysts from holding positions in any individual stocks.