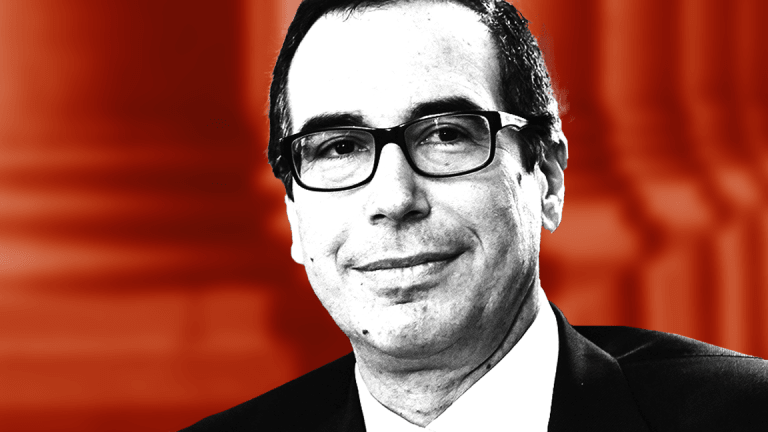 Bank Stocks Plunge Amid Concern About Mnuchin Call, Powell's Fate
Bank stocks fell after Treasury Secretary Mnuchin's call to bank executives raised more worries than it assuaged.
Bank stocks fell along with most other equities after talks Treasury Secretary Steven Mnuchin had with the chief executives of six of the country's largest banks failed to reassure investors and amid speculation that President Donald Trump is mulling whether to fire the Federal Reserve chairman.
Today, Trump tweeted that "The only problem our economy has is the Fed. They don't have a feel for the Market, they don't understand necessary Trade Wars or Strong Dollars or even Democrat Shutdowns over Borders. The Fed is like a powerful golfer who can't score because he has no touch - he can't putt!"
Earlier, Mnuchin tried to reassure investors about talk that Trump would seek to fire Fed chairman Jerome Powell.
In a tweet, Mnuchin passed on a message from Trump: "I never suggested firing Chairman Jay Powell, nor do I believe I have the right to do so."
It's unclear whether the President's tweet today reflects his having a different view of the Fed than what Mnuchin said. His comparison of the U.S. central bank to a "powerful golfer" was likewise obscure.
On Sunday, Mnuchin spoke with the heads of JPMorgan Chase, Wells Fargo, Goldman Sachs, Morgan Stanley, Bank of America and Citi. Each of the executives said they have "ample liquidity" to lend to consumers, businesses and perform other market operations, the Treasury Department said in a statement Sunday evening.
JPMorgan (JPM) - Get Report fell 1.3%, Wells Fargo (WFC) - Get Report dropped 1.5%, Goldman (GS) - Get Report slipped by 2.5%, Morgan Stanley (MS) - Get Report lost 1.7%, Bank of America (BAC) - Get Report fell by 2.3%, and Citi (C) - Get Report dropped by 2.8% as stocks fell for a fourth day, extending the worst December for the markets since 1931.
"We continue to see strong economic growth in the U.S. economy with robust activity from consumers and business," Mnuchin said in a statement. "With the government shutdown, Treasury will have critical employees to maintain its core operations at Fiscal Services, IRS, and other critical functions within the department."
Mnuchin said none of the financial institutions had experienced "any clearance or margin issues" and "markets continue to function properly."
The Dow Jones Industrial Average has lost more than 2,500 points, or about 10%, since the beginning of December, threatening to bring to an end the longest bull market in history.
It's not clear whether Trump has the authority to fire Powell without cause. Still, firing the Fed chairman would likely send markets even lower, and the President's economic advisers are said to have warned him about those effects.
Trump has accused Powell of trying to undercut him politically by raising interest rates and slowing down the economy. Before the Fed's meeting last week, the President warned the central bank not to make "another mistake" to raise rates.
Interest rates have gone up seven times since Trump took office. Four of those increases have been under Powell.
"We're going to do our jobs the way we've always done them," Powell said on Wednesday, referring to the importance of the Fed's independence from political pressure. "Nothing will cause us to deviate from that."