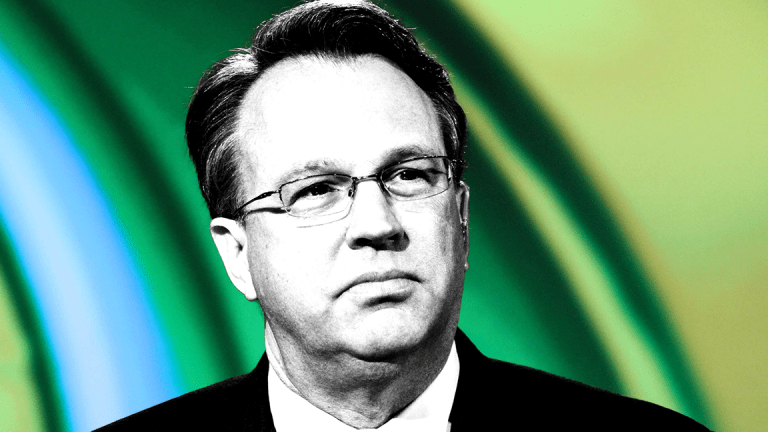 Banks Lead Dow to Worst Day Since October on Yield Curve Fears
Concerns about future economic growth were worsened by a signal in the bond market that has foreshadowed recessions in the past.
Bank of America, JPMorgan, Goldman Sachs, and Wells Fargo were among the bank stocks leading U.S. equity markets to their worst day since October as concerns about future economic growth were worsened by a signal in the bond market that has foreshadowed recessions in the past.
Bank of America (BAC) - Get Report fell 5.2%, JPMorgan (JPM) - Get Report lost 4%, Goldman (GS) - Get Report slipped by 3.5%, and Wells Fargo (WFC) - Get Report dropped 3.9% after New York Fed President John Williams said Tuesday the U.S. central bank should continue to raise interest rates gradually. That prompted bond investors to buy long-term Treasury bonds, pushing prices up and pushing down yields, which move inversely to prices.
The gap between the two-year and 10-year yields has decreased to less than 0.12 percentage points - the lowest it has been since before the financial crisis. Many analysts say it could soon fall below zero, a phenomenon known as an "inversion." Banks depend for their profits on profitability on the difference between short-term rates, which they pay to borrow, and long-term rates, which they charge their customers.
The arithmetic of fixed-income investments makes short-dated bonds more sensitive to interest-rate changes. So when short-term rates spike, that means traders are anticipating higher rates from the Federal Reserve. But when, at the same time, they're also worried about longer-term growth, they'll still buy 10-year debt, pushing prices higher and yields lower and thus "inverting" the curve.
According to a study from the San Francisco Federal Reserve, an inverted yield curve has preceded all of the nine recessions the U.S. economy has suffered since 1955, making it an extremely accurate barometer of financial markets sentiment.
"Today's move feels like the market is a scorned lover. It had believed, for whatever reason, that progress was being made at the G-20 and that turns out to be murky -- it feels lied to," Michael Antonelli, a managing director at Robert W Baird & Co., told Bloomberg News in one of the more pungent comments on the day's trading. "Then a pile of negative Brexit news, Williams starts to ramp up hawkish talk, then we have our yield curve acting like it got run over and boom, we puke."
President Trump's top economic adviser, Larry Kudlow, said in a television interview that the White House doesn't yet have a deal with China to reduce tariffs on U.S.-made cars. The statement was a reversal from a tweet by the president, who said over the weekend that "China has agreed to reduce and remove tariffs on cars coming into China from the U.S." Officials in Beijing declined to comment on the tweet and have not confirmed such an agreement.
In the Treasury market, three-year yields climbed above those of their five-year peers on Monday, potentially foreshadowing the end of the Federal Reserve's tightening campaign.