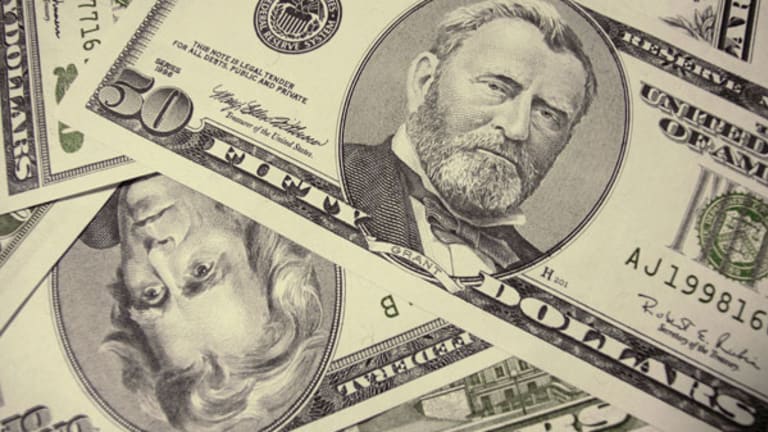 Banks Lead Again as Housing Market Slows
Bank stocks continued their epic run on Monday, following two reports showing a slowing of the U.S. housing rebound.
NEW YORK (TheStreet) -- Citigroup (C) - Get Citigroup Inc. Report was the sector winner on Monday, with shares rising 1.7% to close at $53.30, as banks continued to lead the stock market higher.
The broad indices ended mixed, following two negative housing market reports underlining the expectation of some investors that the Federal Open Market Committee will not curtail Federal Reserve bond purchases when the FOMC next meets on Dec. 17-18.
According to Lender Processing Services, home prices in the United States rose just 0.2 % in September from the previous month.  Seven of the 20 largest states showed sequential home-price declines, which were concentrated in the Northeast.  Texas continued to lead among states seeing rising values, with home prices rising 7.5% from a year earlier.
Also on Monday, the National Association of Realtors said its Pending Home Sales Index for October declined 0.6% to 102.1 from an upwardly revised reading of 102.7 in September.  The index for October was down 1.6% from a year earlier, and was at its lowest level since December 2012.
At this stage of the extended and broad market rally, "bad news is good news" to many investors, since it underlines the notion that the FOMC will not quickly taper the Fed's "QE3" purchases of long-term bonds, which have been running at a net monthly pace of $85 billion since September 2012.  The Fed has also kept its target range for the short-term federal funds rate in a range of zero to 0.25% since late 2008.
The FOMC minutes released last week showed that a number of committee members considered lowering the rate paid by the Fed to banks depositing their cash reserves with the central bank from the current rate of 0.25%, in another attempt to stimulate lending.
The Financial Times on Monday reported that "Executives at two of the top five US banks" had said a decline in the rate being paid by the Federal Reserve on banks' reserve deposits "would lead them to pass on the cost to depositors."
What this means is that depositors -- currently receiving next to nothing from banks for savings deposits -- could actually be charged to park their money at some of the biggest banks.  While this may seem a strange notion, the largest U.S. banks have seen considerable growth in deposits over the past five years, while four of the five have seen total loan balances drop considerably.  The banks are awash in liquidity, and may push back against some depositors, since they could wind up losing money on balances parked at the Fed, when overhead and deposit insurance fees are factored in.
The KBW Bank Index on Monday rose 0.4% to 68.06, with all but seven of the 24 index components ending with gains.  The index has risen 33% this year, compared to an increase of 26% for the S&P 500undefined and an increase of 23% for the Dow Jones Industrial AverageI:DJI.
Citigroup
Shares of Citigroup have returned 35% this year and trade just below their reported Sept. 30 tangible book value of $54.52.  The shares trade for 9.8 times the consensus 2014 earnings estimate of $5.42 a share, among analysts polled by Thomson Reuters.  The consensus 2015 EPS estimate is $5.96.
Citi is the only one of the "big four" U.S. banks currently trading below tangible book value, but all of them are cheap to book value and to earnings on a historical basis.  Please see this chart for a better picture of just how low the big banks are valued relative to tangible book, compared to where they were ten years ago.
While writing that the valuations of many large-cap banks relative to the S&P 500 provides investors with "more or less free option on the prospect that bank [returns on equity] will indeed normalize over time," Oppenheimer analyst Chris Kotowski in a client note last Thursday, singled out Citigroup, along with JPMorgan Chase (JPM) - Get JPMorgan Chase & Co. Report and CIT Group (CIT) - Get CIT Group Inc. Report as providing the "greatest opportunity" among banks trading at low price-to-book multiples.  
Shares of JPMorgan Chase rose 0.3% Monday to close at $57.65.  The shares trade for 1.5 times their reported Sept. 30 tangible book value of $39.51 and for 9.6 times the consensus 2014 EPS estimate of $6.01.  The consensus 2015 EPS estimate is $6.37.
CIT's shares were down 0.2% Monday to close at $49.89.  The shares trade for 1.1 times their reported Sept. 30 tangible book value of $42.36 and for 12.3 times the consensus 2014 EPS estimate of $4.05.  The consensus 2015 EPS estimate is $4.55.
RELATED STORIES:
Yes, Banks Should Screw Depositors if Fed Forces Them To
Pending Home Sales Drop 0.6% in October, Hurt by Government Shutdown
Home Prices Rise a Mere 0.2% in September
A Chart You Should See: Bank Stocks
How Senate Rule Change Could Hurt Banks
JBig Bank Stocks Are Still Cheap, Says Oppenheimer
JPM Is a 'Buy,' Despite WaMu, Says Goldman
-- Written by Philip van Doorn in Jupiter, Fla.
>Contact by Email.
Philip W. van Doorn is a member of TheStreet's banking and finance team, commenting on industry and regulatory trends. He previously served as the senior analyst for TheStreet.com Ratings, responsible for assigning financial strength ratings to banks and savings and loan institutions. Mr. van Doorn previously served as a loan operations officer at Riverside National Bank in Fort Pierce, Fla., and as a credit analyst at the Federal Home Loan Bank of New York, where he monitored banks in New York, New Jersey and Puerto Rico. Mr. van Doorn has additional experience in the mutual fund and computer software industries. He holds a bachelor of science in business administration from Long Island University.