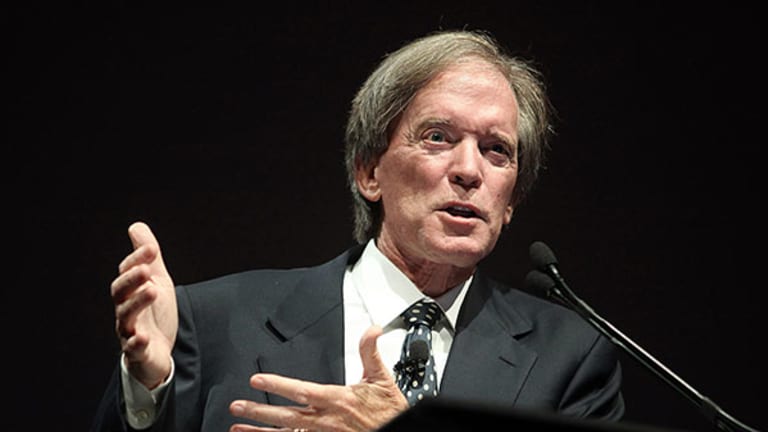 Banks Get $1B From Overdrafts; Bill Gross Lands Smithsonian Spot: Finance Winners & Losers
Big banks make big money off clients not having money, Bill Gross' Bloomberg terminal and other items get a spot at Smithsonian, and Morgan Stanley is upgraded by Moody's.
NEW YORK (TheStreet) -- Big banks made big money in the first quarter off clients who didn't have the cash to cover their debit-card purchases, a report showed. Morgan Stanley's (MS) - Get Free Report debt rating jumped two notches to A3, and the Smithsonian received a gift from Bill Gross.
Today's losers in the world of finance might include you: Let this be a reminder to doublecheck your balance before you swipe your debit card again. The top three banks collected $1.14 billion in overdraft and related fees during the first quarter of 2015, according to SNL Financial, a financial data firm.
JPMorgan Chase (JPM) - Get Free Report collected $415 million, Bank of America (BAC) - Get Free Report collected $371 million and Wells Fargo (WFC) - Get Free Report collected $355 million. Banks with more $1 billion in assets are required to report overdraft fees charged to customers to the FDIC. 
The typical fee is around $35 which would suggest more than 30 million overdraft charges in the first quarter alone.
JPMorgan closed down 42 cents at $65.78, Bank of America closed down 17 cents at $16.50 and Wells Fargo closed down 25 cents at $55.96.
Morgan Stanley's long-term issuer rating moved two steps up Moody's ratings, Bloomberg reported. The uptick is tied both to a change in Moody's methodology as well as Morgan Stanley's "slow and steady approach to profitability improvements," David Fanger, a Moody's analyst, told the news service.
"The two-notch upgrade is an important codification of all the work we have done and the consistency of our results," Wesley McDade, a spokesman for Morgan Stanley, told Bloomberg in an emailed statement. Morgan Stanley has taken a more conservative approach with its business since the financial crisis and has invested more heavily in its retail brokerage arm which provides a more consistent flow of fees.
Morgan Stanley closed down 53 cents to $38.20.
The Smithsonian' National Museum of American History houses many national treasures: the original Star-Spangled Banner, Judy Garland's ruby slippers from The Wizard of Oz, the Fonz's leather jacket from the Happy Days TV show, and now, the Bloomberg terminal that belonged to the former head of Pimco, Bill Gross.
But wait, there's more. Included in this bounty are two beanie babies -- a bull and a bear -- as well as fuzzy dice that adorned the Bond King's terminal.
The museum obtained the items at the end of 2013, according to Bloomberg, but they won't be on display until July 1.