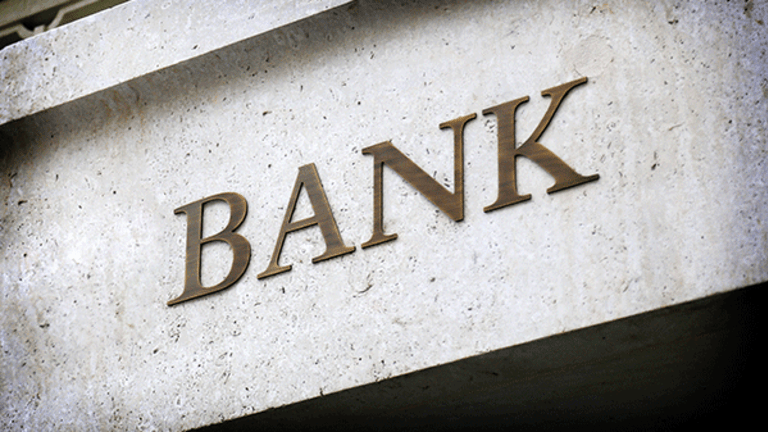 Banks Aren't Ready To Perform
Bank stocks have soared on wild speculation over regulatory change and better business. But hold the hype and only buy on facts.
Bank stocks have soared on wild speculation over regulatory change and better business. But hold the hype and only buy on facts.
There are no rules of the road when it comes to prognosticating on the markets as investors can be bouncing up and down like Tigger in glee over expectations of soaring stocks or they can drag their tails channeling their inner Eeyore thinking nothing good can come.
When it comes to the market for U.S. banks, it's more Tigger than Eeyore for the past few months. Growth opportunities still abound, even in this overheated market. But you have to know where to look and be selective.
Bank stocks have made what looks like a rocket launch after the U.S. presidential election results. Since then bank stocks as tracked by the KBW Bank Index are up some 28% which is nearly triple that of the S&P 500.
The thought, of course, is that folks are thinking that the economy will further expand and that bank regulations will be significantly eased so that banks can go back to the freewheeling environment that existed before the 2008 financial crisis.
Granted, regulations have made banking more of a challenge. Banks generally make money from retail lending and services, institutional lending and services and investing and trading.
The 2010 Dodd-Frank act set up myriad regulations and requirements that were meant to shore up banks against another financial bubble. The impact has been bad for bank returns.
Generally, expenses have been cut with the loss of headcount and whole market segments by some 13% on average for the past four years. But fewer dealmakers and more compliance guys doesn't make for a great mix for growth as revenues on average have been flat for the same period.
Now, if we assume that banks will be freed up a bit, then what will drive profits?
We could see proprietary trading and position taking make a comeback, which for many of the major banks was a major driver of heavy income in the past. But there's been nearly a decade since the 2007-2008 trouble and the best in this business are either gone or they're doing their thing for non-bank investment companies.
As for retail, this is one of the most costly and lowest-margin businesses for banks. Lots of customer touch and you can only levy fees so high on checking and debit card accounts, though the increasing shift to digital banking has curbed costs and boosted profitability.
As for mortgage bankers, like the trading and investment staff, many are gone. They're now working for firms such as Quicken Loans, one of the largest mortgage originators.
Corporate and institutional banking may well improve. Relief on capital requirements should provide a reprieve on the cost of lending. But again, talent to find deals is now lacking.
First is the cost of banking. Note above that revenues have been flat and expenses have been hacked as much as possible.
But it's not enough. The efficiency rate is a measure of how much it costs to earn each dollar of revenue. The lower the rate, the better. For example, if a bank's efficiency rate is 40% then it spends 40 cents to earn $1. Right now, the average for all U.S. banks is 59.1% and that's been climbing over the past few quarters by some 2.5% which means costs are up and margins are down.
And banks are all over the board with JPMorgan Chase (JPM) - Get Report running at a comparatively expensive 60.3%, Wells Fargo (WFC) - Get Report at 55.1%, Bank of America (BAC) - Get Report at 50.9%, Citibank (C) - Get Report at 54.9% and US Bank (USB) - Get Report at 54.1%. And as bank size decreases, the cost of doing business soars, with banks under $5 billion in assets seeing efficiency rates of 58% to over 84%.
Moreover, the earnings on bank assets are still very low. Average rate of earnings on assets for the last quarter was only 3.47%, which is less than half of where it was before the crisis.
And it's mostly worse for the top five with the worst being for JPMorgan at only 2.62%
The cost of funds, meaning what banks pay to fund their lending, is running at 0.37%. That might appear low, but it has on average been climbing more than 12%, squeezing profits on top of the other operating expenses. And any tightening by the Federal Reserve's Open Market Committee will only make that rise, further squeezing banks in the near term.
Then there's the loan book. Non-performing loans are running on average at 1.45% which is well above the pre-2007 average by more than double. This means a lot still have to be cleaned up.
Sure, being a banker might be ready to become easier, but there is long way between now and champagne cork-popping time. As an investor, there are better places for your money.
If you walked by this guy on the street, you would not think "millionaire"
You would probably probably think "accountant" or "average cubicle guy." Actually, he was a lawyer until he unlocked this secret that made him $5 million. How does he do it? We'll warn you... it's about as exciting as a ham sandwich. But it's turning regular readers into 6-figure income machines. Details here.
Neil George does not have any conflicts of interest including no current ownership of the companies mentioned above.