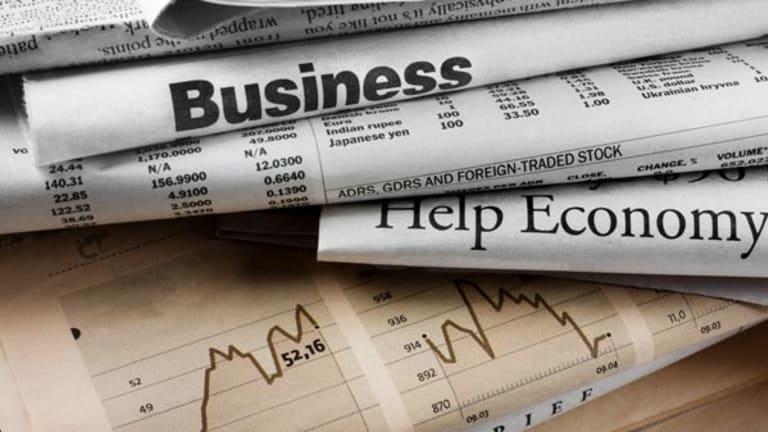 Bank Stocks That Pay Outsized Dividends
Regional bank shares have rebounded in the past year, pushing down dividends. These three small banks are the exception.
(The following story is the last in a two-part series on bank and thrift stocks that outperformed their peers last year and still pay attractive dividends. Three bank stocks were featured yesterday.)
NEW YORK (
) -- Bank shares, as measured by the
S&P 500 Regional Banks Index
, have soared 142% since the stock-market low in early March, leaving companies with skinny dividends.
Following an earlier look at
three bank stocks with outsized dividends
, published in November, this expanded list features more conservative measures, excluding companies whose dividend payouts exceeded their 2009 net income.
The group was pared further by leaving out current participants in the Troubled Asset Relief Program, or TARP. Thinly traded names were also avoided, as were those with a Texas ratio of more than 20%. (The Texas ratio is nonperforming loans/core capital and loan-loss reserves.)
Yesterday's story featured
New York Community Bancorp
( NYB),
United Bankshares
(UBSI) - Get United Bankshares, Inc. Report
and
OceanFirst Financial
(UCFC) - Get United Community Financial Corp. Report
.
OceanFirst Financial
OceanFirst Financial
(OCFC) - Get OceanFirst Financial Corp. Report
, based in Toms River, N.J., is yielding about 4.8% after the company cut its quarterly dividend to 12 cents from 20 cents. (See
TheStreet.com's
Banks to Watch After TARP Redemption
for a discussion of the company's fourth-quarter earnings and prospects.)
Renasant Corp.
Renasant Corp.
(RNST) - Get Renasant Corporation Report
, based in Tupelo, Miss., had assets of $3.6 billion as of Dec. 31. Based on a quarterly dividend of 17 cents, the shares yield 4.73%.
While its Dec. 31 nonperforming-asset ratio of 2.98% was the highest on the list, Renasant's Texas ratio was a moderate 15.15%, because more than half of the nonperforming assets were repossessed real estate.
Looking deeper at asset quality, the ratio of net charge-offs to total loans for 2009 was 0.91%, with the pace peaking at 1.12% in the third quarter and slowing to 0.83% in the fourth quarter. Loan-loss reserves covered 1.67% of total loans as of Dec. 31.
Fourth-quarter net income fell to $4 million, or 19 cents a share, from $4.3 million, or 20 cents, in the third quarter but vastly improving from the fourth quarter of 2009, when the company reported a slight profit. Renasant took a "kitchen sink" approach in covering and preparing for future charge-offs by setting aside a $15 million provision for loan-loss reserves.
For 2009, net income was $18.5 million, or 87 cents a share, down from $24.1 million, or $1.14, in 2008. The company's return on average assets for 2009 was the weakest on the list, at 0.50%.
But there are silver linings. The shares are selling for just 0.7 times book value. Since the company doesn't face pressure to raise capital, has remained profitable and meets our other criteria -- including earning enough to comfortably support its attractive dividend -- Renasant looks like a great way to get paid while you wait for the shares to rise.
Hudson City Bancorp
Shares of
Hudson City Bancorp
(HCBK)
, based in Paramus, N.J., pays a 15-cent quarterly dividend with a yield of 4.65%.
The company has prospered through the credit crisis, with its "nothing fancy" approach to mortgage lending. Earnings last year were flat, and there were minimal loan losses.
The company reported a
. It earned $137 million, or 28 cents a share, up from $135 million, or 27 cents, in the third quarter and $124 million, or 25 cents, a year earlier.
Hudson City's net interest margin widened to 2.3% in the fourth quarter, but there's still room for improvement, considering the aggregate margin for the thrift industry in the third quarter was 3.21%, according to SNL.
The shares have been flat since
TheStreet.com
featured Hudson City in our series on
and are selling for 1.2 times book value and 12 times 2009 earnings of $1.07 a share.
Considering that the shares were going for 16 times earnings at the end of 2008 and 24 times earnings at the end of 2007, an investment in Hudson City could easily double over the next two years, while you get paid handsomely to wait.
-- Reported by Phil van Doorn in Jupiter, Fla.
Philip W. van Doorn joined TheStreet.com Ratings., Inc., in February 2007. He is the senior analyst responsible for assigning financial strength ratings to banks and savings and loan institutions. He also comments on industry and regulatory trends. Mr. van Doorn has fifteen years experience, having served as a loan operations officer at Riverside National Bank in Fort Pierce, Florida, and as a credit analyst at the Federal Home Loan Bank of New York, where he monitored banks in New York, New Jersey and Puerto Rico. Mr. van Doorn has additional experience in the mutual fund and computer software industries. He holds a Bachelor of Science in business administration from Long Island University.