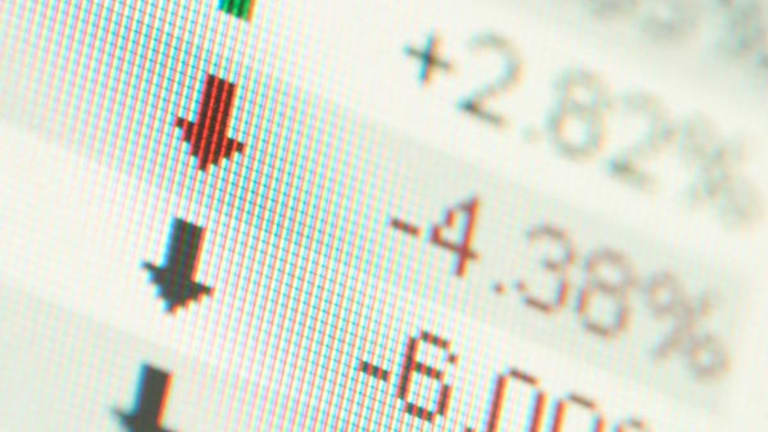 Bank Stocks Keep Rising: Financial Winners
Bank stocks kept moving on Thursday as good economic news continued to flow, one day after the Fed signaled no change in monetary stimulus plans.
NEW YORK (
) --
Mastercard
(MA) - Get Report
was the winner among major U.S. financial names on Thursday, with shares rising 6% to close at $646.38.
The broad indices all saw significant gains, with the
S&P 500
(SPX.X)
crossing the 1,700 barrier for the first time ever. The S&P 500 closed at 1,706.87, up 1.25% for the session.
Financial names led the market on the strength of the continued flow of positive economic reports following Wednesday's state from the Federal Open Market Committee that included no change in Federal Reserve monetary policy.
The Labor Department said initial unemployment claims for the week ended July 27 came in at 326,000, falling 19,000 from the previous week, and coming in considerably below the consensus estimate of 345,000 new claims, among analysts polled by
Thomson Reuters
. The four-week moving average for new unemployment was 341,250, declining by 4,500.
Continuing unemployment claims were down 52,000 for the week ended July 20, to $2.951 million, coming in below the consensus estimate of $2.994 million.
Supporting the improving unemployment picture, outplacement firm Challenger, Gray & Christmas on Thursday said U.S. employers in July had announced plans to reduce their staffs by 37,701 workers, which was a decline of 4.2% from 39,372 layoffs planned during June.
Markit said its final manufacturing purchasing managers index (PMI) for July "signaled the strongest manufacturing expansion in four months." The PMI rose to 53.7 during July from its eight-month low of 51.9 during June. The earlier "flash" estimate for the July PMI was 53.2. The financial services information provider said the higher PMI "suggested a solid improvement in overall manufacturing business conditions."
The
KBW Bank Index
(I:BKX)
rose 2% to close at 67.04, with all 24 index components ending higher. Shares of
New York Community Bancorp
(NYCB) - Get Report
jumped over 3% to close at $15.69.
SunTrust
(STI) - Get Report
of Atlanta was up nearly 3% to close at $35.75. Big banks seeing shares rise over 2% included
Bank of America
(BAC) - Get Report
, which closed at $14.95;
BB&T
(BBT) - Get Report
, closing at $36.43;
KeyCorp
(KEY) - Get Report
, at $12.59;
PNC
(PNC) - Get Report
, at $77.65; and
Regions Financial
(RF) - Get Report
, which closed at $10.26.
Mastercard and Durbin
Investors were pleased with Mastercard's second-quarter results, reported late on Wednesday. The payment processor reported second-quarter earnings of $848 million, or $6.96 a share, increasing from $700 million, or $5.56 a share, in the second quarter of 2012, excluding special litigation charges taken during the prior period. Net revenue was up 15% year-over-year, to $2.096 billion.
Mastercard said the revenue growth was driven by a 13% increase in transaction processing volume, to $1 trillion, with an 11% increase in the number of processed transactions, to 9.5 billion during the second quarter.
Oppenheimer analyst Glenn Greene rates Mastercard "outperform," with a 12-to-18-month price target of $640, and in a note to clients on Wednesday wrote that the stellar second-quarter results were "driven by solid revenue/volume growth, lower incentives, and 400bps of margin expansion."
"However, overshadowing the strong results, a US district court judge opined against the Federal Reserve's interpretation of the Durbin amendment, thereby shifting sentiment, and creating a new regulatory overhang for Visa and MasterCard," Greene wrote.
Greene was referring to a
ruling on Wednesday by U.S. district court judge Richard J. Leon
in Washington that the Federal Reserve had "clearly disregarded Congress's statutory intent" when it finalized rules to implement the Durbin Amendment in 2011.
The Durbin Amendment -- named after Senator Richard Durbin (D., Ill.) -- of the Dodd-Frank Wall Street Reform and Consumer Protection Act of 2010 placed limits on the interchange fees paid by merchants to banks to processes debit card purchase transactions. The amendment also gave retailers more freedom to choose which network to use to route debit card payments. Durbin covered banks with total assets exceeding $10 billion.
The Federal Reserve in December 2010 estimated that the average debit card interchange fee paid during 2009 was 44 cents, and initially proposed a cap on interchange fees at 12 cents. After the usual comment period, the Fed in June 2011 issued its final ruling, for an interchange fee cap of 21 cents, plus an additional "5 basis points multiplied by the value of the transaction."
A group of retailers sued the Federal Reserve, seeking to overturn the new interchange rules, arguing that the Fed had taken "other costs" not "associated with authorization, clearing, and settlement ('ACS') of an electronic debit transaction," when setting the basic 21-cent interchange fee cap. The plantiffs also argued that the Durbin amendment called for merchants to have multiple choices of unaffiliated payment networks for each debit card transaction, and not just for transactions requiring the consumer to enter a PIN code.
But Judge Leon's ruling against the Fed's Durbin rules could actually benefit Mastercard.
"The opinion sets in motion the possibility that 1) interchange fee caps could be reduced again (income earned by banks -- top 3 issuers are
Bank of America,
Wells Fargo
(WFC) - Get Report
and
JPMorgan Chase
(JPM) - Get Report
; recall
Visa
(V) - Get Report
and MasterCard do not earn interchange fees) and 2) signature debit cards would also require two unaffiliated signature networks, similar to what was enforced on PIN debit transactions, forcing variable competition between Visa and Mastercard," according to JPMorgan analyst Tien-tsin Huang.
When discussing the effect of "forcing two unaffiliated networks for signature debit transactions," Huang in a note published Thursday wrote "Visa has more to lose than gain since it has 71% share in signature debit versus MasterCard at 29% in the U.S. Assuming competition results in shift to 50/50 share and pricing stays rational, we conservatively see $540M of revenue that could shift from Visa (6% revenue hit or ~$0.51 in EPS) to MasterCard (9% revenue benefit or ~$2.74 in EPS)."
That's quite a potential revenue shift for Mastercard.
The Likely Appeal by the Federal Reserve
"The Federal Reserve should certainly consider action to stay the district court decision challenging the rule," says Frank Mayer, a partner in the Financial Services Practice Group of Pepper Hamilton LLP in Philadelphia. "One issue is whether the district court has properly deferred to the congressionally deemed expert federal agency rule maker. This is known as Chevron deference."
"Generally a court must defer to the expert federal agency in their rule-making, absent a finding that the statute was unambiguous and the rule is inconsistent with congressional intent and the agency failed to abide by the administrative procedures act," Mayer says.
The Fed in an appeal is likely to challenge Judge Leon's view that the Durbin Amendment's language on costs that may be included in the maximum allowed interchange fee is ambiguous. "Congress has not in recent years asked a federal agency to establish prices for goods and services," Mayer says. "In asking the FRB to establish interchange fees that are 'reasonable and proportionate,' Congress moved away from that trend and many federal agencies lost experience establishing fair pricing and competition."
So Congress named the Fed the expert on analyzing and setting the interchange fees and rules for requiring more merchants to have more than one choice for processing debit card transactions, but Judge Leon has challenged the expert's opinions.
When considering the possibility of a lengthy appeals process, Mayer says "Time exigencies are critical as continuing uncertainty hurts commerce for everyone."
RELATED STORIES:
Mortgage Market Privatizing Faster Than We Thought: Ocwen Chairman
Ocwen Jumps On Earnings, Buyback Potential
U.S. to Become A Nation of Renters: Morgan Stanley
Card Fees: Fed Sent Back to Drawing Board (Update 1)
-- Written by Philip van Doorn in Jupiter, Fla.
>Contact by
.
Philip W. van Doorn is a member of TheStreet's banking and finance team, commenting on industry and regulatory trends. He previously served as the senior analyst for TheStreet.com Ratings, responsible for assigning financial strength ratings to banks and savings and loan institutions. Mr. van Doorn previously served as a loan operations officer at Riverside National Bank in Fort Pierce, Fla., and as a credit analyst at the Federal Home Loan Bank of New York, where he monitored banks in New York, New Jersey and Puerto Rico. Mr. van Doorn has additional experience in the mutual fund and computer software industries. He holds a bachelor of science in business administration from Long Island University.