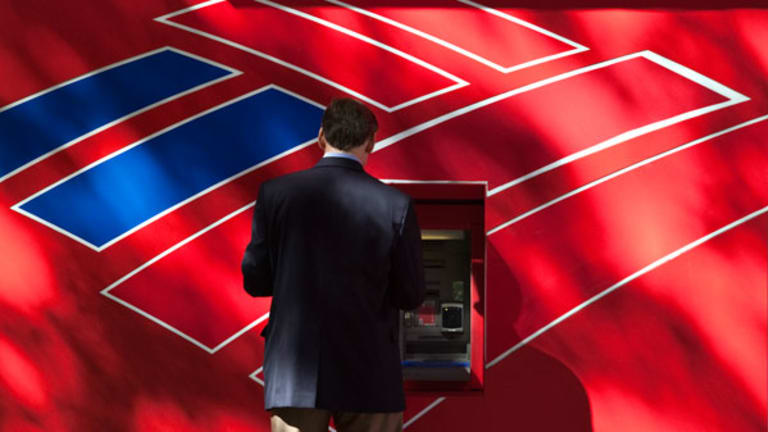 Bank Stocks Pull Back on Fiscal Cliff Fear: Financial Losers
Bank stocks late on Thursday trimmed earlier losses, as President Obama and the Senate returned to working on the fiscal cliff, while the House of Representatives was scheduled to return to work on Sunday.
Updated with market close information.
NEW YORK (
) -- The nation's biggest banks trimmed earlier losses late in Thursday's trading session, as Republican leaders confirmed that the House of Representatives would return to work on Sunday, in an effort to avert the Fiscal Cliff.
The "big four" U.S. banks all recovered from earlier 2% declines. Three of the big four saw 1% declines, including
Bank of America
, with shares closing at $11.47,
Citigroup
(C) - Get Citigroup Inc. Report
closing at $39.25 and
JPMorgan Chase
(JPM) - Get JPMorgan Chase & Co. (JPM) Report
, closing at $43.63. Shares of
Wells Fargo
(WFC) - Get Wells Fargo & Company Report
ended the day with a slight decline, closing at $34.18.
The broad indexes all ended with slight declines, recovering from earlier losses. The
KBW Bank Index
(I:BKX)
was down slightly to close at 50.95, with all but seven of the 24 index components showing declines.
Speaking on the Senate Floor Thursday morning, Senate Majority Leader Harry Reid (D., Nev.) was doubtful over the prospect of a happy New Year for taxpayers, saying "I don't know time-wise how it can happen now," and that "Democrats can't put together a plan on their own because, without participation of
Senator Minority Leader McConnell and Speaker Boehner, nothing can happen on the fiscal cliff."
House Speaker John Boehner (R., Ohio), along with House Majority Leader Eric Cantor (R., Va.) and Majority Whip Kevin McCarthy (R., Ca.) released a statement late on Wednesday, reiterating that the ball was in the Senate's court: "The House has acted on two bills which collectively would avert the entire fiscal cliff if enacted. Those bills await action by the Senate. If the Senate will not approve and send them to the president to be signed into law in their current form, they must be amended and returned to the House."
Also late on Wednesday, Treasury Secretary Timothy Geithner said in a
that the federal government would hit its $16.4 billion debt limit on Dec, 31. Geithner said that the Treasury would be ready to take "extraordinary measures" in order to "create approximately $200 billion in headroom under the debt limit."
Later on Thursday, Republican leaders in the House of Representatives said they would return to work on Sunday, and the Wall Street Journal said that the House would hold its first vote at 6:30 p.m. Sunday, citing an unnamed "GOP leadership aide."
Fiscal Cliff Won't Stop Capital Return
The Federal Reserve will begin its next round of annual
in February, and in March will hand down its decisions on whether or not to approve large bank's plans to return capital to investors through dividend increases and share repurchases.
In addition to worries over the Fiscal Cliff pushing the U.S. economy back into recession, there's a possibility that the dithering in Washington will keep the annual "patch" on the Alternative Minimum Tax from being passed in time for the Internal Revenue Services to avoid major delays in processing returns and sending refunds to millions of taxpayers. Acting IRS Commissioner Steven Miller sent a letter to Congress in November and
last Wednesday, explaining that unless the annual patch is passed, "30 million additional taxpayers will become subject to the AMT on their 2012 income tax returns."
A higher tax burden and a significant delay in processing refunds to taxpayers because of delays in determining whether they are subject to the AMT add plenty of fuel to the fears of another recession.
When the Federal Reserve conducts the stress tests, large banks' plans for returning capital will be subject to a "severely adverse scenario," under which domestic real GDP declines by almost 5% between the third quarter of 2012 and the end of 2013, with inflation slowing to 1%. Equity prices fall by over 50%, while housing prices and commercial real estate prices plunge by more than 20% by the end of 2014.
According to the Fed, under the severely adverse scenario, "short-term interest rates remain near zero through 2015," while "the yield on the long-term Treasury note declines to 1¼ percent in 2013 before edging up about 1 percentage point by the end of 2015. Spreads on corporate bonds ramp-up to 550 basis points over the course of 2013. As a result, despite lower long-term Treasury yields, corporate borrowing rates rise and reach a peak of 6¾ percent in mid-2013."
Meanwhile, "the international component of the severely adverse scenario features recessions in the euro area, the United Kingdom, and Japan and below-trend growth in developing Asia," with the eurozone slipping "into recession in the fourth quarter of 2012 and
remaining in this state until the end of 2013."
But even under this difficult scenario, analysts believe that the "big four" will all be approved to return significant capital to investors:
Bank of America is currently paying a nominal quarterly dividend of a penny, and the bank didn't request permission from the Federal Reserve to raise the dividend or buy back shares during 2012. Guggenheim Securities analyst Marty Mosby in a report on Dec. 19 estimated that Bank of America would be approved by the Fed to raise the quarterly dividend to a nickel, but did not predict any share buybacks during 2013.
JPMorgan Chase pays a quarterly dividend of 30 cents, for a yield of 2.73%, based on Wednesday's closing share price of $43.96. The company was approved in March to repurchase $12 billion in common shares through the end of 2012, followed by another $3 billion in the first quarter of 2012. After suspending the buybacks in May because of trading losses by its Chief investment Office, JPMorgan announced that in November that the company would resume buybacks in the first quarter of 2013, repurchasing up to $3 billion in shares. Following the 2013 stress tests, Mosby expects the company to be approved to raise the quarterly dividend to 40 cents and buy back up to $11.6 billion in shares.
Citigroup is currently paying a quarterly dividend of just a penny a share. The company's initial 2012 capital plan included a dividend increase and share buybacks, but was rejected by the Federal Reserve. The company's subsequent capital plan was approved in August, but didn't include a request to return additional capital to shareholders. Mosby estimates that following the next round of stress tests, the company be approved to raise the quarterly dividend quite significantly to 25 cents, but for the company to hold off on buybacks in 2013.
Wells Fargo is paying a quarterly dividend of 22 cents, for a yield of 2.56%, based on Wednesday's closing price of $34.33. Mosby estimates that the company will be approved to raise the quarterly dividend to 30 cents, and for Wells Fargo to repurchase $9.9 billion worth of shares in 2013, after buying back an estimated $4.7 billion in 2012.
RELATED STORIES:
MBIA Bonuses "Unwarranted and Ill-Advised," Says Regulator
Rating Agencies Know a Fate Worse Than the Fiscal Cliff
Banks Fined For Adding Pork to California's Mind-Blowing Debt
Capital One: How I Beat the Best With a 37% Stock Rocket
--
Written by Philip van Doorn in Jupiter, Fla.
>Contact by
.
Philip W. van Doorn is a member of TheStreet's banking and finance team, commenting on industry and regulatory trends. He previously served as the senior analyst for TheStreet.com Ratings, responsible for assigning financial strength ratings to banks and savings and loan institutions. Mr. van Doorn previously served as a loan operations officer at Riverside National Bank in Fort Pierce, Fla., and as a credit analyst at the Federal Home Loan Bank of New York, where he monitored banks in New York, New Jersey and Puerto Rico. Mr. van Doorn has additional experience in the mutual fund and computer software industries. He holds a bachelor of science in business administration from Long Island University.