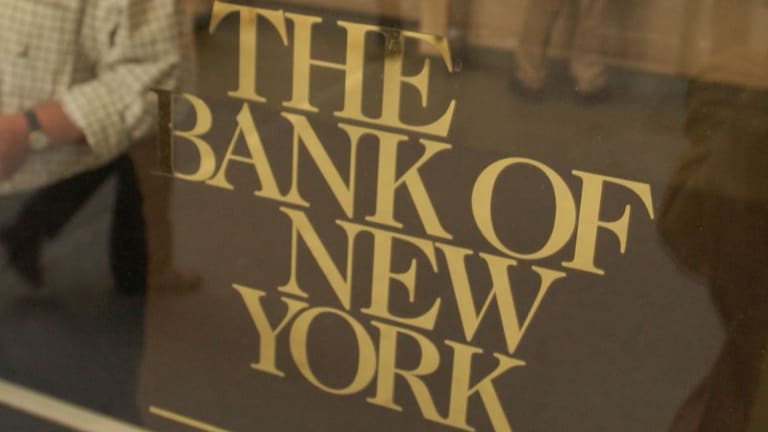 Bank of New York Mellon Slides After Whiffing on First-Quarter Earnings
Bank of New York Mellon's earnings drop on weaker revenue from interest income and investment management-related activities; shares plunge.
Bank of New York Mellon  (BK) - Get Bank of New York Mellon Corporation Report on Wednesday reported a drop in net income and per-share earnings from a year ago on weaker revenue from interest income and the firm's investment management business.
The stock tumbled 9.4% to $48.40 in trading on Wednesday.
BNY Mellon said it earned $910 million, or 94 cents a share, in the quarter ended March 31, down from $1.14 billion, or $1.10 a share, in the comparable year-earlier period. Analysts polled by FactSet had been expecting the New York-based bank to earn 96 cents a share. Total revenue dropped 7% to $3.9 billion from $4.18 billion a year earlier. 
"The year-over-year declines in revenue and earnings per share were primarily driven by the changing mix and cost of our deposits and the impact of the prior year asset management outflows," BNY Mellon CEO Charlie Scharf said in a statement.
Scharf added that "current expectations for the yield curve" are likely to have a negative impact our revenue growth "for the next several quarters."
Recent so-called yield-curve inversion - where short-term bonds yield more than long-term bonds, indicating investors think future economic growth won't be as strong as it is now - have impacted banks' earnings as stalling or falling interest rates mean less income.
Fee revenue decreased 9% to $3.03 billion from $3.32 billion, while net interest revenue dropped 8% to $841 million from $919 million. Revenue from investment-related services dropped 5% to $2.95 billion from $3.09 billion, while investment management-related revenue dropped 14% to $939 million from $1.09 billion.
Total assets under management dropped slightly to $1.8 trillion.