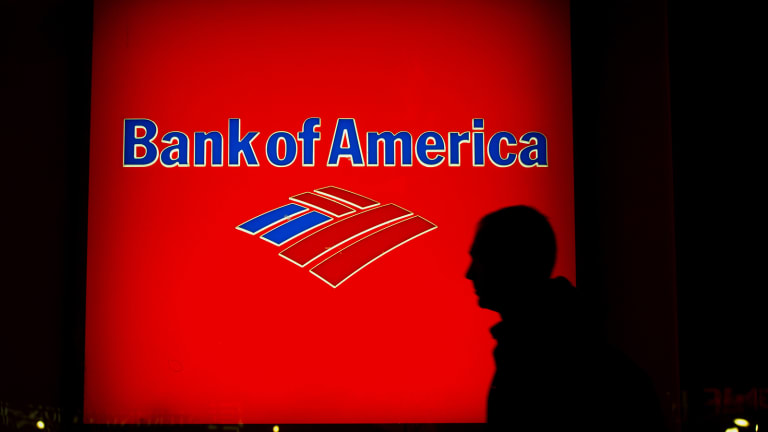 Big Banks Wells Fargo and Bank America Start Giving Cash Away
Bank of America and Wells Fargo plan to return more capital shareholders -- a way of juicing earnings per share by using more borrowed money to accelerate growth.
Bank of America Corp. (BAC) - Get Bank of America Corporation Report and Wells Fargo & Co. (WFC) - Get Wells Fargo & Company Report are accelerating plans to return capital to shareholders through dividends and stock buybacks, as regulators ease up on a nine-year-long push to make U.S. banks operate with less risk.
Bank of America said Tuesday in a press release it will buy back an additional $5 billion of its shares through June 2018, on top of $12 billion of buybacks announced earlier this year. Stock buybacks are designed to reduce the number of shares a company has outstanding, thus providing an instant boost to earnings per share. The risks also increase, since each share is then associated with a larger amount of company debt.
President Donald Trump has replaced most of the financial regulators who pushed to reduce risks in the aftermath of the 2008 crisis, a time when the U.S. banking system had to be rescued from collapse by multibillion-dollar bailouts from the Treasury Department and more than $1 trillion of secret emergency loans from the Federal Reserve. Most of the appointees are former investment bankers or lawyers for the financial industry.
Banks are taking advantage of the more industry-friendly stance to reduce capital levels that until recently had been rising. Capital in a bank is akin to equity, so operating with less of it essentially involves using more borrowed money - a concept known as leverage that accelerates earnings growth but also brings higher risk.
The Federal Reserve has approved the purchases, according to Bank of America's press release. The bank added that the Charlotte, North Carolina-based bank's capital level had recently increased by $5 billion due to the conversion by Warren Buffett's Berkshire Hathaway Inc. (BRK.A) - Get Berkshire Hathaway Inc. Report (BRK.B) - Get Berkshire Hathaway Inc. Report of preferred shares into common shares.
Wells Fargo CEO Tim Sloan said separately at an investment conference Tuesday that his firm aimed to return more capital to shareholders over the coming years. The goal is to reduce common equity to about 10% of risk-adjusted assets, he said. As of September, the figure stood at about 12%. The inverse of that plan is that leverage will increase. 
The San Francisco-based bank plans to increase share buybacks next year "and the year after that and the year after that," Sloan said.
More of What's Trending on TheStreet: