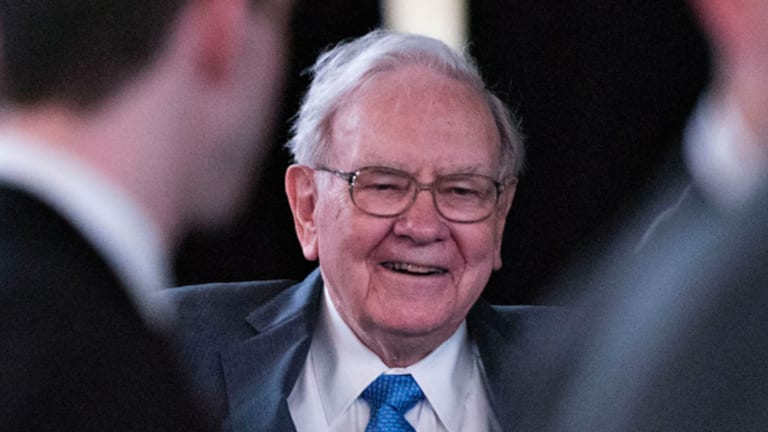 Warren Buffett Wrong on Bank of America? Check Out These Charts...
Despite the latest news the charts and indicators on Bank of America are mixed.
Bank of America (BAC) - Get Report is getting plenty of media attention this morning with the announcement of Warren Buffett's Berkshire Hathaway Inc. (BRK.A) - Get Report (BRK.B) - Get Report that it would exercise its warrants to buy 700 million shares of Bank of America's common stock.
Fundamentals and fundamental stories are good, but it only takes a few minutes to check the charts and indicators on Bank of America to round out the picture. Let's visit with the charts and indicators updated through Thursday's close.
In this daily bar chart of BAC, above, we can see that prices made a peak, or high, in early February, but for all intents and purposes the trend for BAC has been neutral or sideways since December. Over the past three months, the price of Bank of America has crossed below and above the declining-to-flat 50-day simple moving average line. The 200-day moving average line is pointed up, and has been positive since early November.
The daily On-Balance-Volume (OBV) line peaked and turned lower in March, suggesting that aggressive buying had stopped and aggressive selling had taken over. In the lower panel is the 12-day momentum study, which shows a bullish divergence with higher lows in March and June when prices make equal lows. This is not the most bullish divergence, but it is a divergence, and can signal a shift in the direction of prices.
In this weekly bar chart of Bank of America going back three years, above, we can see that prices are above the rising 40-week moving average line. Support is around $22 and the $26 level is likely to be resistance. The weekly OBV line made a high at the beginning of December and it hasn't been exceeded yet.
The trend-following Moving Average Convergence Divergence (MACD) crossed to a take profits sell signal in early March and is still pointed down. The two moving averages that make up this oscillator have begun to narrow. If these lines cross to the upside, it would be a fresh go long signal.
In this Point and Figure chart of Bank of America, above, we can see the neutral or sideways consolidation pattern we discussed earlier. There is a breakout on this chart at $24.43 and a price target of $26.95, which would be a new high for the move up.
Bottom line: everyone seems to get excited about large moves by Warren Buffett, both big moves into a stock and out of a stock. I prefer to wait to see how the market reacts, because the charts and indicators are not totally aligned with the bull case. A close above $26 will be bullish and a close below $22 would be bearish.
Bank of America's shares rose 0.1% to $24.34 early Friday afternoon.
This article originally appeared at 08:30 ET on Real Money, our premium site for active traders. Click here to get great columns like this from Jim Cramer and other writers even earlier in the trading day.
Visit here for the latest business headlines.
Read More Trending Articles:
Here's Why Amazon Could Feast on the Remaining Carcass of Rite Aid After Failed Walgreens Merger
Nike Officially Arrives on Amazon, but Then Adidas' Stock Does Something Bizarre
Walgreens Punches One of Its Biggest Rivals in the Face With This Surprising New Deal