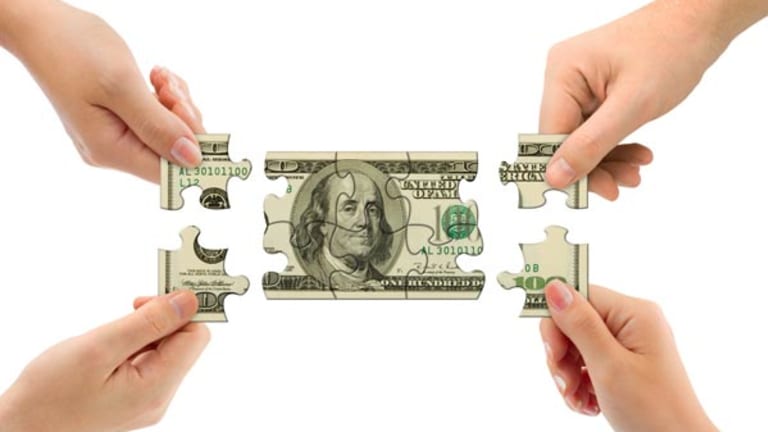 Bank of America Leads Sector Higher on Mixed Economic Data
Bank stocks were strong on Tuesday, as the broad market rebounded from the previous two sessions of losses on concern over emerging economies.
NEW YORK (TheStreet) -- Bank of America (BAC) - Get Bank of America Corp Report was the winner among large-cap banks on Tuesday, with shares rising 2.6% to close at $16.73.
The broad indices all ended with solid gains, following heavy losses over the previous two sessions, on a day with plenty of mixed economic news. The KBW Bank Index rose 0.9% to 68.54, with all but three of the 24 component stocks ending with gains.
The Census Bureau's initial estimate of new orders for manufactured durable goods in December was $229.3 billion, a decline of 4% from November. Economists polled by Thomson Reuters had on average estimated the durable goods number for December would rise 2% from November, based in part on a high level of year-end orders for Boeing (BA) - Get Boeing Company Report and a removal of the uncertainty because of the budget deal in Congress.
In fact, the Census Bureau said that the decline in durable goods orders was led by transportation equipment, with orders declining 9.5% to $73.1 billion during December.
Excluding transportation orders, U.S. durable goods orders declined 1.6% during December. With transportation and defense orders excluded, durable goods orders were down 3.7%.
S&P Dow Jones Indices announced that the S&P Case-Schiller 10-City and 20-City Composite indices of home prices were both down 0.1% in November from October, for their first sequential declines since November 2012. The 10-City Composite was up 13.8% year-over-year, however, while the 20-City index Composite was up 13.7% from a year earlier.
Despite the slight decline in the two indices, November was a good month for home prices, according to David Blitzer, who chairs the Index Committee at S&P Dow Jones Indices. "[T]he 10-City and 20-City Composites showed their best November performance since 2005. Prices typically weaken as we move closer to the winter. Las Vegas, Los Angeles and Phoenix stand out as they have posted 20 or more consecutive monthly gains," Blitzer said in a press release.
A steady year-over-year increases in home prices has continued since June 2012.
"Combined with low inflation -- 1.5% in 2013 - home owners are enjoying real appreciation and rising equity values. While housing will make further contributions to the economy in 2014, the pace of price gains is likely to slow during the year," Blitzer said.
Also on Tuesday, the Conference Board said the U.S .Consumer Confidence Index for January rose to 80.8 from 77.5 in December. "Consumers' assessment of the present situation continues to improve, with both business conditions and the job market rated more favorably," said Lynn Franco the Conference Board's director of economic indicators, in a statement.
"Looking ahead six months, consumers expect the economy and their earnings to improve, but were somewhat mixed regarding the outlook for jobs. All in all, confidence appears to be back on track and rising expectations suggest the economy may pick up some momentum in the months ahead," Franco added.
Next up: FOMC
The next major economic even will be the release of the Federal Open Market Committee's policy statement Wednesday afternoon. The committee is expected to taper the Federal Reserve's monthly "QE3" purchase of long-term U.S. Treasury bonds and agency mortgage-backed securities by another $10 billion to $65 billion. After many months of anticipation by investors, the FOMC in December announced its initial trimming of the monthly bond purchases to $75 billion from the $85 billion pace the Fed had maintained since September 2012.
But bond-buying and "tapering" aside, the Federal Reserve's main policy tool is the short-term federal funds rate, which has been locked in a range of zero to 0.25% since late 2008. The FOMC has repeatedly said this "highly accommodative" policy was likely to remain in place until after the U.S. unemployment rate fell below 6.5%. The unemployment rate declined to 6.7% in December from 7.0% in November. But the lower unemployment rate was driven in part by a 0.2% decline in the labor participation rate to 62.8%. The labor participation rate declined 0.8% during 2013 -- a large number of people have effectively been driven from the labor force.
Depending on how the job-creation numbers look over the next several months, the FOMC could decide to lower the unemployment rate bar before it considers raising the federal funds rate. Most banks are eager to see the federal funds rate rise, since it will relieve pressure on their net interest margins. More than five years after the rate was lowered to its current target range, the banks have seen the bulk of the benefit of lower funding costs, with savers taking it on the chin, while various classes of banks' assets, including home equity loans, have been repricing at lower rates.
Bank of America
Shares of Bank of America have returned 7% so far this year, following a 34.5% return during 2012. The shares trade for 1.2 times their reported Dec. 31 tangible book value of $13.79, and for 10.3 times the consensus 2015 earnings estimate of $1.62, among analysts polled by Thomson Reuters. The consensus 2014 EPS estimate is $1.33.
With fourth-quarter earnings season over for the big U.S. banks, the next major industry event is likely to be the Federal Reserve's release of results of its annual stress tests for major financial firms in mid-March. This will be followed a week later by the Fed's completed reviews of large banks' plans to deploy excess capital through dividends, share buybacks and acquisitions.
Bank of America following the last round of stress tests left its quarterly dividend unchanged at a penny a share, but also announced Fed approval to buy back up to $5 billion in common shares and $5.5 billion in preferred stock through the first quarter of 2014.
The company last year bought back $3.2 billion in common shares, lowering its share count by 1.7%, which boosted EPS.
"With a Basel III Tier 1 common ratio of 10.0% under the advanced approach (just above 9% on standardized) and an improved risk profile, BAC should perform well on the stress test," Jefferies analyst Ken Usdin on Jan. 16 wrote in a note to clients, Usdin also estimated Bank of America would gain regulatory approval to raise the quarterly dividend to 6 cents while being approved to buy $6 billion in common shares from the second quarter of 2014 through the first quarter of 2015.
Usdin Rates Bank of America a "buy," with a $20 price target, estimating the company will earn $1.35 a share this year, with EPS rising to $1.70 in 2015.
The following chart shows the performance of Bank of America's stock against the KBW Bank Index and the
S&P 500
undefined
since the end of 2011:
data by YCharts

Sheila Bair to Banco Santander: Don't Fake Outrage
AIG Is 'Top Long Pick' Among P&C Insurers
Philip W. van Doorn is a member of TheStreet's banking and finance team, commenting on industry and regulatory trends. He previously served as the senior analyst for TheStreet.com Ratings, responsible for assigning financial strength ratings to banks and savings and loan institutions. Mr. van Doorn previously served as a loan operations officer at Riverside National Bank in Fort Pierce, Fla., and as a credit analyst at the Federal Home Loan Bank of New York, where he monitored banks in New York, New Jersey and Puerto Rico. Mr. van Doorn has additional experience in the mutual fund and computer software industries. He holds a bachelor of science in business administration from Long Island University.