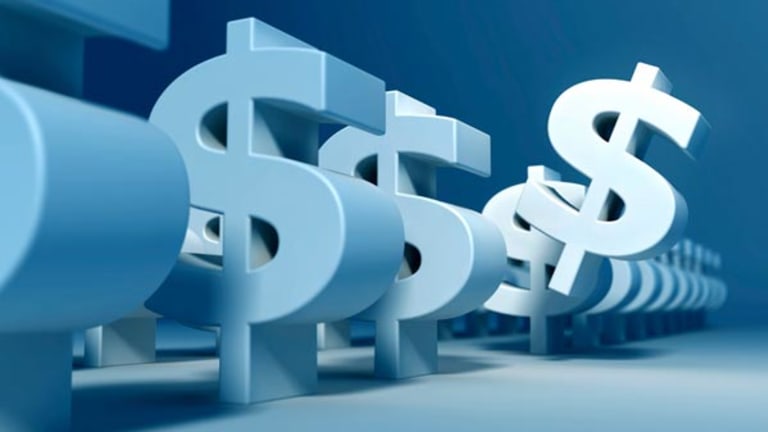 Publish date:
Bank of America: Financial Winners & Losers
The U.S. pay czar preps for his compensation edict; Bank of America talks to Bank of NY CEO; financial shares trade mixed Friday.
The U.S. pay czar preps for his compensation edict; Bank of America talks to Bank of NY CEO; financial shares trade mixed Friday.
(Financial Winners & Losers article updated for stock-price movements, for new details on Wells Fargo's TARP situation, and to include detail on the new House financial regulations bill.)
NEW YORK (
) -- Executive pay and the flight from TARP continued to dominate the atmosphere surrounding financial shares Friday.
The Obama administration's pay czar, Kenneth Feinberg, handed down his
edict on the executive compensation
packages of those companies that took the most bailout money, including
Citigroup
(C) - Get Report
,
AIG
(AIG) - Get Report
and the failed auto companies. The plan calls for pay restrictions on the 25th to the 100th highest paid employees at those concerns, according to Feinberg.
It was an active day in Washington Friday. The House passed a sweeping financial-services reform bill -- though diluted somewhat from the initial plan introduced by the White House earlier this year. The bill, which will now advance to the Senate, covers everything from consumer protections, to the governmental authority to dismantle bank behemoths during times of crisis, to heightened oversight of the trading of complex financial derivatives and the activities of hedge funds.
Back in New York, there's been no official word yet on whether Citigroup has formulated a TARP exit strategy that would receive the federal government's imprimatur, but rumors and leaked information have been swirling all week that, with talks ongoing, Citigroup wants to raise as much as $20 billion in a stock offering.
The rumor mill kept
, and the megabank's shares were among the few financial names in the green Friday afternoon. Its stock ended trading Friday at $3.95, up 2.1%.
The rage among megabanks for getting out from under TARP has in large part been motivated by a
desire to leave the pay czar's gaze
.
Bank of America
(BAC) - Get Report
, of course, already freed itself from TARP this week, and
Wells Fargo
(WFC) - Get Report
had apparently been
.
But rumblings cropped up Friday afternoon that Wells Fargo has been testing the waters for
possible public offerings of stock
, according to
CNBC
; the bank took $25 billion from TARP and $5 billion from Prudential amid the financial crisis, when it subsumed
Wachovia
.
Shares of Wells Fargo, which had been reticent to issue new stock for fear of dilution, fell 0.4% to $25.41 in Friday's regular session.
A day earlier,
Goldman Sachs
(GS) - Get Report
said it would spike the cash bonuses of its top management this year, bowing to shareholder pressure. Last month, a slew of AIG execs threatened to resign if their pay was cut, and word emerged Friday that the infamous insurer's general counsel, Anastasia Kelly, would be doing just that, the
New York Times
reported.
AIG shares were lost nearly 2% by the end of trading Friday, finishing at $28.37, while Goldman shares slid 0.4% to $166.
Meanwhile, Bank of America is reportedly
at the CEO of
Bank of New York Mellon
(BK) - Get Report
, Robert Kelly, as the replacement for its outgoing boss, Ken Lewis. Kelly told his own directors that he was speaking with Bank of America, according to a report by
The Wall Street Journal
.
Also Friday, at a Congressional hearing on Capitol Hill, the
Securities and Exchange Commission's
enforcement director vowed to
pursue charges against Bank of America
, stemming from the bonuses paid to
Merrill Lynch
executives when it acquired the firm in last year's crisis-induced shot-gun deal.
Shares of Bank of America gained ground Friday, closing at $15.63, up 2.8%, while Bank of New York moved in the other direction, falling 0.7% to $26.94.
Elsewhere,
JPMorgan Chase
(JPM) - Get Report
shares slid 0.75% to close at $40.96 in Friday's regular session.
The U.S. government
closed its auction of the bank's TARP warrants
on Thursday. So far, the Treasury Department has raised a little over $936 million in the JPMorgan sale, pricing 88.4 million warrants at $10.75 apiece. The TARP warrant auction is the second the Treasury has conducted, after selling $146.5 million in
Capital One Financial
(COF) - Get Report
warrants last week.
-- Written by Scott Eden in New York
Follow TheStreet.com on
and become a fan on
Scott Eden has covered business -- both large and small -- for more than a decade. Prior to joining TheStreet.com, he worked as a features reporter for Dealmaker and Trader Monthly magazines. Before that, he wrote for the Chicago Reader, that city's weekly paper. Early in his career, he was a staff reporter at the Dow Jones News Service. His reporting has appeared in The Wall Street Journal, Men's Journal, the St. Petersburg (Fla.) Times, and the Believer magazine, among other publications. He's also the author of Touchdown Jesus (Simon & Schuster, 2005), a nonfiction book about Notre Dame football fans and the business and politics of big-time college sports. He has degrees from Notre Dame and Washington University in St. Louis.